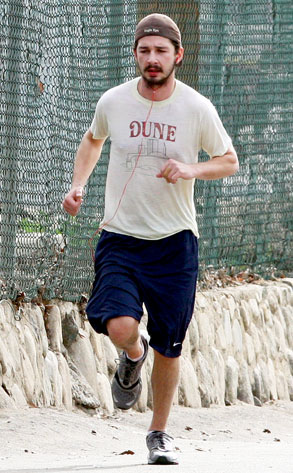 INFphoto.com
Nobody walks in L.A., but they sure do run.
Nearly 25,000 runners hit the pavement early Sunday morning for the 25th annual Los Angeles Marathon. Among the celebs participating in the 26.2-mile trek from Dodger Stadium to the Santa Monica Pier were Shia LaBeouf, The Lord of the Rings star Sean Astin, celebrity chef Gordon Ramsay and The Bachelor's Andy Baldwin.
Baldwin, an Ironman triathlete, doctor and officer in the United States Navy, finished first among the celebs at 3 hours and 24 minutes.
As befitting an overachiever, Baldwin still had energy to tweet "Congrats 2 all @LAMarathon finishers! Fun day out there!! But dang my dogs are sore. Ouch. Note to self...back 2 back marathon wkends hurt."
Ramsay came in at 3 hours, 36 minutes; LaBeouf crossed the finished line in 4 hours and 35 minutes; and Astin finished in 5 hours and 16 minutes.
________
How do celebs stay in such great shape? Check out our Sweatin' With the Stars photo gallery!