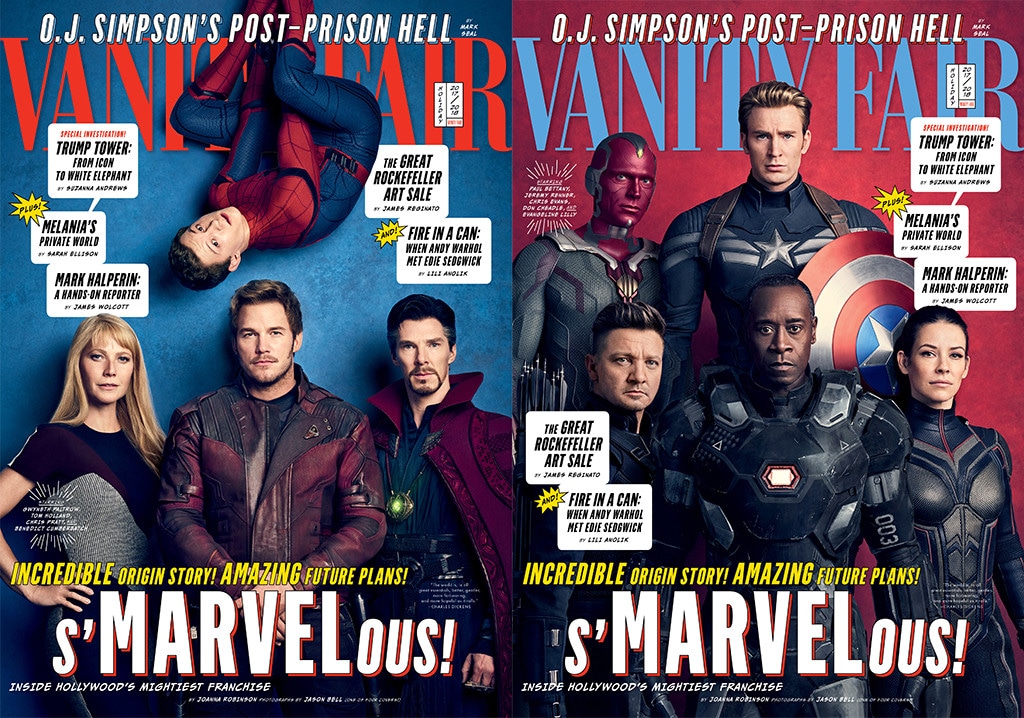 Jason Bell/Vanity Fair
The Marvel Cinematic Universe is expanding—but in some ways, it's also getting smaller.
Sometime in October, 83 actors assembled in Atlanta for a photo shoot to commemorate 10 years of moviemaking history—and Vanity Fair photographed the cast, in costume, for its Holiday Issue. Marvel Studios, which launched the MCU in 2008with Iron Man, released 16 more movies, grossing over $13 billion worldwide. It will release five more films through 2019.
So, what's next for the beloved heroes and villains?
Marvel Studios Kevin Feige was predictably coy about some of the characters' fates after Avengers 4. Of the 83 actors photographed, 17 of them appear on one of four magazine covers: Paul Bettany as Vision, Chadwick Boseman as Black Panther, Don Cheadle as War Machine, Benedict Cumberbatch as Doctor Strange, Robert Downey Jr. as Iron Man, Chris Evans as Captain America, Chris Hemsworth as Thor, Tom Holland as Spider-Man, Scarlett Johansson as Black Widow, Evangeline Lilly as Wasp, Anthony Mackie as Falcon, Elizabeth Olsen as Scarlet Witch, Gwyneth Paltrow as Pepper Potts, Chris Pratt as Star-Lord, Jeremy Renner as Hawkeye, Paul Rudd as Ant-Man and Mark Ruffalo as The Hulk. Other actors, including Zoe Saldana as Gamora and Sebastian Stan as Winter Soldier, appear inside the magazine's pages and online.
"For us old-timers—me and Robert and Gwyneth and Kevin—it felt like we were the upper-classmen," Jon Favreau, who directed the first two Iron Man movies and plays Happy Hogan, said afterward. "We were emotional thinking about how precarious it all felt in the beginning."
Johansson, whose character first appeared in 2010's Iron Man 2, is ready to pass the torch. "I feel a lot of joy for the next generation," she said. "It's a bittersweet feeling, but a positive one."
Feige promised a definitive end to the current franchise with Avengers 4. The movie, directed by Anthony Russo and Joe Russo, "bring things you've never seen in superhero films: a finale." Set for release on May 3, 2019, it comes after Black Panther (Feb.16, 2018), Avengers: Infinity War (May 4, 2018), Ant-Man and the Wasp (July 6, 2018) and Captain Marvel (March 8, 2019).
It's safe to assume many Avengers will die at the hands of Thanos (Josh Brolin), who has appeared periodically since the first Avengers movie in 2012. But the MCU will live on, Feige assured Vanity Fair. "There will be two distinct periods. Everything before Avengers 4 and everything after," the producer teased. "I know it will not be in ways people are expecting."
After Avengers 4, Marvel's contracts with Downey, Evans, Hemsworth, Johansson, Renner and Ruffalo expire. (Whether any of them plan to extend their contracts is, at this point, unknown.)
But, Disney CEO Bob Iger said Marvel Studios has the rights to 7,000 characters. "We're looking for worlds that are completely separate—geographically or in time—from the worlds that we've already visited," he said. Going forward, Feige said, "We've got another 20 movies on the docket that are completely different from anything that's come before—intentionally."
The Holiday issue of Vanity Fair is available everywhere Dec. 5.