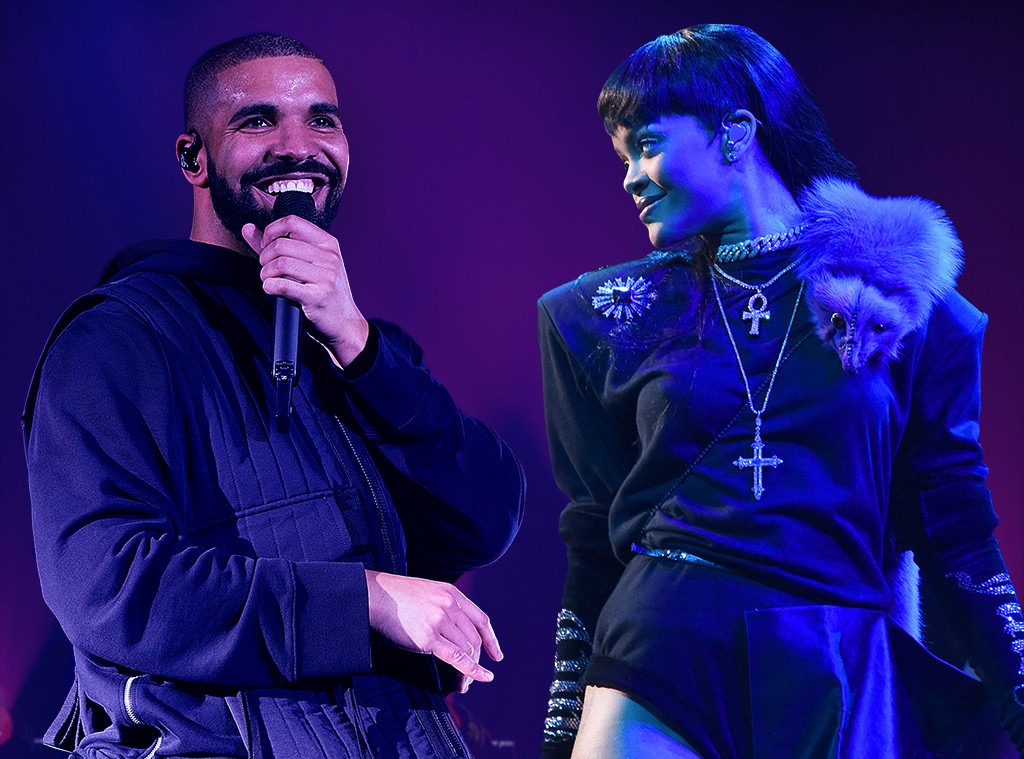 Getty Images
With more than 30 nominations between them for this year's Billboard Music Awards, Rihanna and Drake are bound to be the toast of the musical town. But, will their potential reunion play out like a sweet harmony or minor chord? 
If you need a refresher on this on-and-off pairing, they most recently rekindled their flames toward the end of last summer on the heels of their collaboration for his fourth studio album, Views, and her eighth studio album, Anti. 
"He still loves her and never stopped. Rihanna is the one that's been not wanting to settle down in the past," a source told E! News at the time. "They are having fun spending time with each other. Their music together got them close again."
Following the confirmation of their renewed romance, Drake took the stage at the 2016 MTV Video Music Awards a month later to present the songstress with the Video Vanguard Award—all while dropping the L-word. 
"She's someone I've been in love with since I was 22-years-old. She's one of my best friends in the world. All my adult life, I've looked up to her, even though she's younger than me," he said into the microphone as the crowd—and fans watching all over the country—roared with each word. 
However, despite a few months of partying and performing together (and don't forget the matching tattoos), suddenly they had split again. 
"Rihanna and Drake are seeing other people at the moment," an insider told E! in October 2016. "They are not exclusive anymore. They still love each other, but their schedules have gotten in the way."
However, the source noted that matters of the heart are much more fluid for these two. "Anything can change between them though, for better or worse," the insider added. "They are still in each other's lives."
So, what will happen if they're back in the same room nearly a year later? While we unfortunately don't have a crystal ball, we do have a few hopes and dreams:
1. A "Work" Redux
Because Drake is a confirmed performer for Sunday's show, what would be more epic than a surprise on-stage reunion to wrap up his set and simultaneously serenade the fans with one of the top songs of the year? 
2. An Award-Wining Speech
Since Drake did the honors nearly a year ago, perhaps RiRi will get the chance to express her feelings about her longtime collaborator during an acceptance speech. 
3. A Red Carpet Run-In
There's nothing quite like a carpet candid—particularly at the moment when two celebrity exes cross paths. 
4. An After-Party Dance-Off
We're crossing our fingers they go to the same after-party and end up in the middle of the dance floor with each other Hey DJ, please don't stop the music. 
5. Some Mid-Show Mingling
To whoever sets the seating chart at the T-Mobile Arena in Las Vegas: you know what to do. 
The Billboard Music Awards airs Sunday at 8 p.m. ET on ABC.