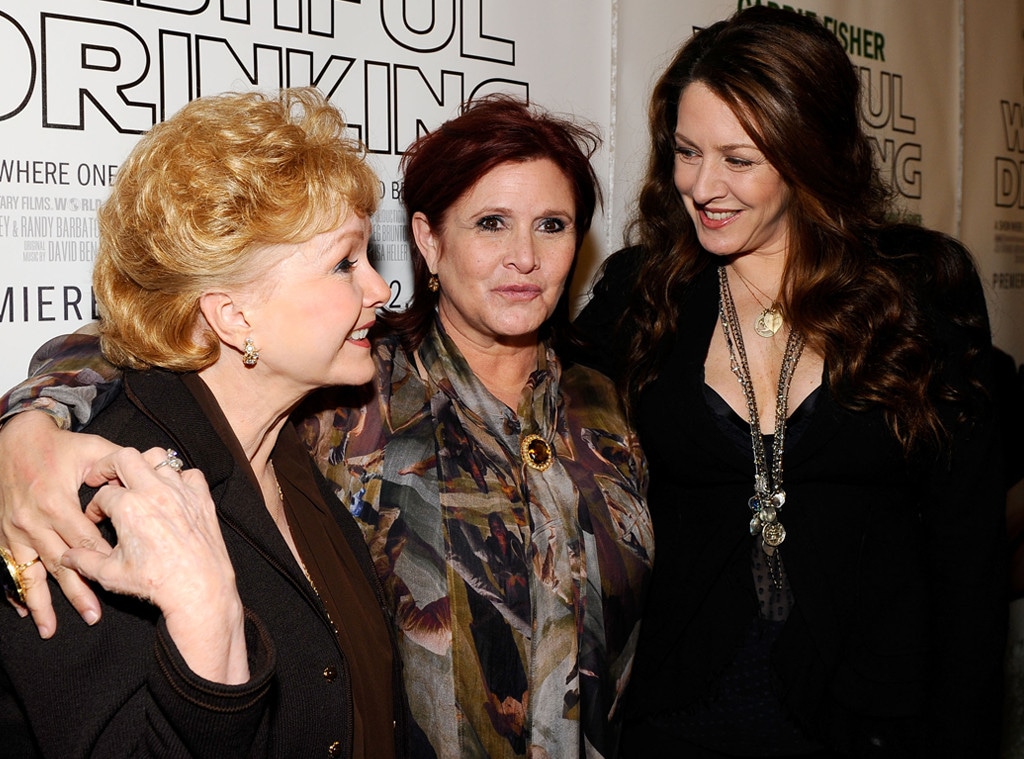 Kevork Djansezian/Getty Images
While the world mourns the consecutive sudden deaths of Carrie Fisher and Debbie Reynolds, the icons' family is feeling the double loss the deepest. 
"I've been having an out of body experience," Fisher's younger half-sister Joely Fisher said during an interview on Good Morning America Tuesday. "We lost our hero."
"We had the coolest big sister in the world," sister Tricia Fisher echoed. "She was a bad--s body, gun-toting princess. I mean—who has that?"
While fans knew her as the fierce Princess Leia, Joely and Tricia were privileged to witness the sensitive side of the Hollywood legend. "She was secretly soft," Tricia recalled. "She was extremely generous, like you would walk in and she would just hand you something in her room."
The sisters were close until the very end. Joely and Carrie had even texted the night before she boarded a plane from London to Los Angeles. It was on that flight that Carrie ultimately suffered cardiac arrest 15 minutes before landing and died four days later.  
"It was sort of out of the blue," Joely said of their conversation. "We talked about age because she was floored that she had just turned 60. We talked about our children. We talked about our frail mothers and promised to see her on Christmas."
Despite the tragic circumstance, the sisters kept their promise and spent the holiday at Carrie's hospital bedside with her 24-year-old daughter Billie Lourd and a worried Reynolds. 
"I remember just holding [Carrie's] hand and telling her that we were there, that we would make sure her daughter was whole, which she will be," Joely remembered.
It was at Carrie's bedside that Joely also shared a few foreboding moments with the actress' grief-stricken mother, who would pass away just a day after Carrie following a stroke. 
"I sat with Debbie and she said to me that she said she was praying for more time. She kept saying that she wanted more time and I knew that if Carrie wasn't going to survive this that Debbie would not," Joely predicted. "You knew it. You could feel it in her tiny, little, beautiful body. You could see it in her face. She would not last without her on the planet. She wouldn't and she didn't."
Now, in the wake of two great losses, Joely and Tricia are preparing to fill the gaps the best they can. 
"My sister Tricia Leigh and I vow to be whatever our niece Billie needs us to be," Joely wrote in a guest column for The Hollywood Reporter. "We will pick up the saber, use the force ... whatever. We will honor these two magical people who have left the tribe in the way they lived, with grandeur and grace. I want them back but since I know that is not possible, I will soldier on."