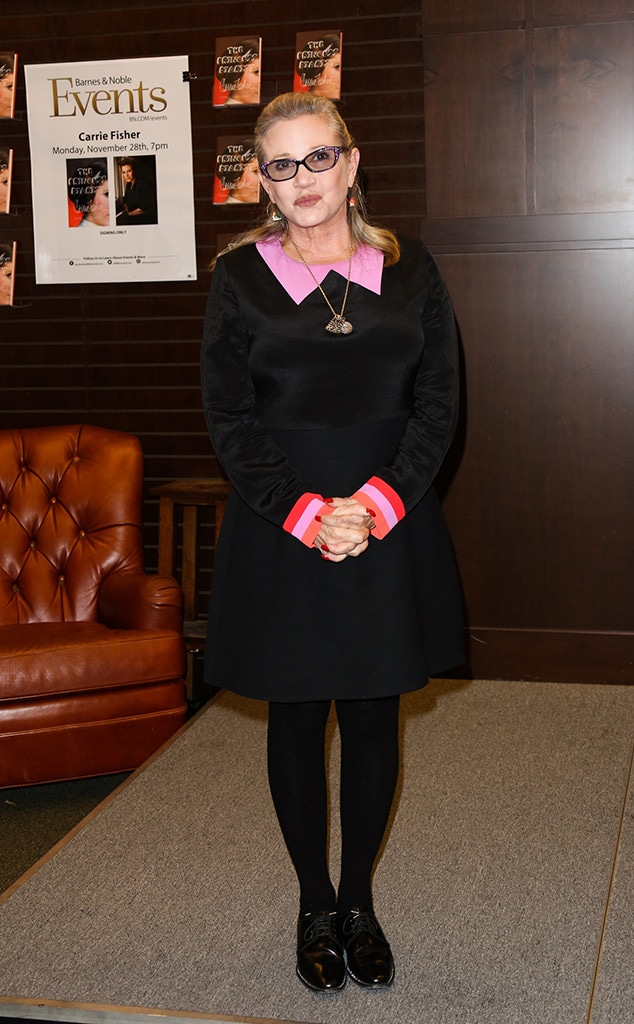 Paul Archuleta/FilmMagic
UPDATE: The Guardian reports that Carrie Fisher's brother, Todd Fisher, says the actress is "out of emergency" and has been stabilized.
________ 
May the force be with Carrie Fisher.
The iconic Star Wars actress suffered a massive heart attack on a flight, E! News confirms.
Fisher, 60, was flying from London to Los Angeles when she went into cardiac arrest. The LAFD tells E! News that they received the call at 12:11 p.m. PT and responded at LAX Gate 74. Paramedics were on standby when flight landed, and they provided "advanced life support" and aggressive treatment and transported patient to local hospital.
According to actress Anna Akana who was on the flight, certain passengers onboard administered CPR. An EMT also happened to be on the flight and helped carry out life-saving measures. The health scare occurred about 15 minutes before the plane was scheduled to land.
The UCLA Medical Center released the following statement to E! News: "Due to laws governing patient confidentiality, we can neither confirm nor deny reports about potential patients."
In recent weeks Fisher had been promoting her new memoir, The Princess Diarist. In it, she confirmed she and Harrison Ford had an affair. She also couldn't believe how shocked people were by the news.
"I am surprised at the reaction," she told Savannah Guthrie in an interview on Today. "I don't think it's that surprising."
She added, "A lot of the fans did think about it for a while. They made up Carrison as a word."
Although Ford was, at the time, married to Mary Marquardt and had two children, Fisher wrote in her memoir that his marriage ended "for reasons having nothing whatsoever to do with me."
Their relationship ended when filming wrapped, but Fisher still looks back on their time together quite fondly. "I was so inexperienced, but I trusted something about him," she said. "He was kind."
(The story was first published on Friday, Dec. 23, at 1:43 pm).