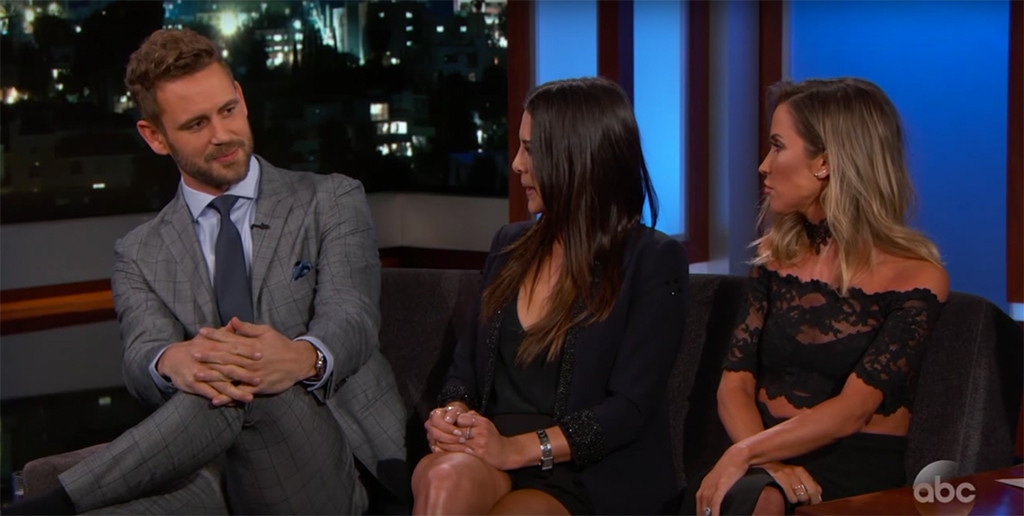 YouTube
Running into an ex can be awkward, but having to sit next to one while on a late-night show might be excruciating, which is exactly what Nick Viall had to endure Monday night.
This season's star of The Bachelor, Viall appeared on Jimmy Kimmel Live! alongside ex-girlfriends Andi Dorfman and Kaitlyn Bristowe. Although the three reality stars claimed the situation wasn't awkward, it definitely looked it. "Can I just say thank you for not picking me?" Viall told his exes.
Bristowe tried to break the tension by recalling a certain $1,000 bet she had with host Jimmy Kimmel, who previously made her and current fiancé Shawn Booth swear on a stack of magazines that they'd make it down the aisle. The couple had made the bet in July 2015, and since they're still together, Bristowe told Kimmel she was willing to make it double or nothing. 
"I'd advise against it," joked Dorfman. "You followed my lead once."
"And I regret it!" Bristowe responded, alluding to Viall. But she quickly added, "I'm just kidding."
Bristowe told Kimmel she and Booth would probably tie the knot in "another year."
Kimmel then steered the conversation back to the trio, asking them if they ever see each other or hang out. "Not a ton," Viall said. "We've run into each other. We're friendly." 
"This is so awkward," Dorfman interjected, adding that she and Bristowe frequently keep in touch.
"I feel like I'm not even apart of this," Bristowe said. "I'm happily engaged. It's been like a year and a half."
"Way to rub it in," Dorfman joked.
Watch the video to see just how awkward this reunion is.