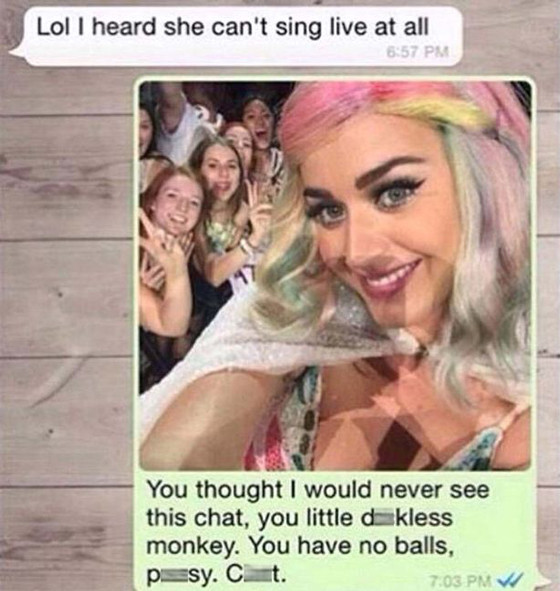 Memes aren't meant to be taken seriously.
And yet, that's exactly what happened when the media reported that Katy Perry sent a rude, expletive-filled message from a fan's phone during the Australian leg of her Prismatic World Tour. The meme was born out of truth, as Perry did indeed confiscate a fan's phone and read one of her messages aloud: "LOL I heard she can't sing live at all." The singer snapped a selfie and told the crowd, "He's not going to be happy about that. Just sent him a little picture." The fan clarified that the message came from a former flame. "He's your ex-boyfriend and you still have a WhatsApp group with him?" the 30-year-old "Dark Horse" singer asked her fan. "What are you doing? Do not text your ex. We need to talk after the show."
Once the concert ended, the selfie was turned into a meme that included an alleged message from Perry: "You thought I would never see this chat, you d--kless monkey. You have no balls, p---y. C--t." People thought Perry actually sent that message, so on Tuesday, she tweeted, "I NEVER wrote those words, that is an EDITED picture or the person added it after I took it. I would NEVER use the C word."