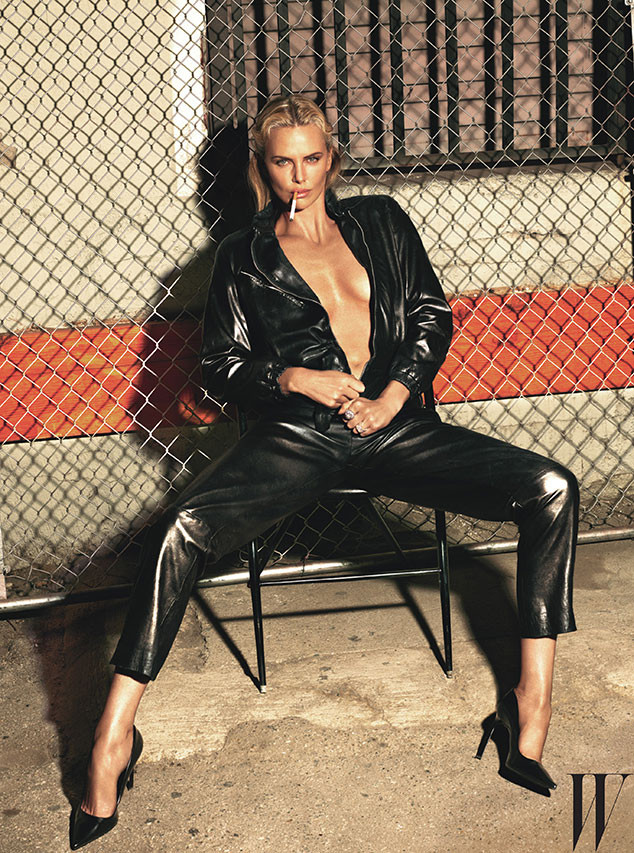 Mert Alas & Marcus Piggott
Smoking is no longer in fashion, though it is in a fashion magazine.
Charlize Theron lights up in W's May 2015 issue, on newsstands Apr. 28. Posing for photographers Mert Alas and Marcus Piggott, the Mad Max: Fury Road actress, 39, plays up her inner vixen by unzipping her New York Vintage jumpsuit and puffing on a cigarette in the edgy spread. In another provocative photo, the South African stunner sits in a car while wearing a Sonia Rykiel top and Prada briefs.
Looks can be deceiving, of course.
When she's not playing a part in movies or in magazines, Charlize is in full-time mommy mode. "I've never been a fan of bringing my characters home. Even when I just had my dogs at home, I didn't feel like it was fair to them: Cocker spaniels don't deserve Aileen Wuornos [from Monster] walking in the door," the star says, adding, "If anything, I'm more attracted to dark material since becoming a mother."
How has life changed since she adopted son Jackson Theron in 2012? "Choosing to be a mom in my late 30s has been really great for me," she tells W. "It's given me perspective."