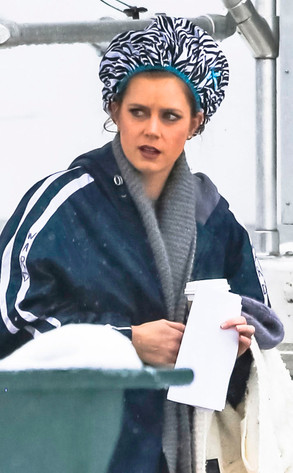 PacificCoastNews.com
Did it look like rain?
Amy Adams was presumably trying to keep her 1970s-style coiffure neat and tidy when she donned a zebra-print shower cap on the chilly Boston set of David O. Russell's as-yet untitled political thriller, based on the real-life Abscam congressional scandal.
The movie's cast reads like a veritable Russell all-star reunion, with Adams' costars including Christian Bale, Jennifer Lawrence and Bradley Cooper. Jeremy Renner and Louis C.K. are also along for the ride.
Cooper, meanwhile, was spotted on the set last week with curlers in his already pretty wavy hair. So, between him and Adams, it looks like the retro 'dos in this film are going to be outta sight.