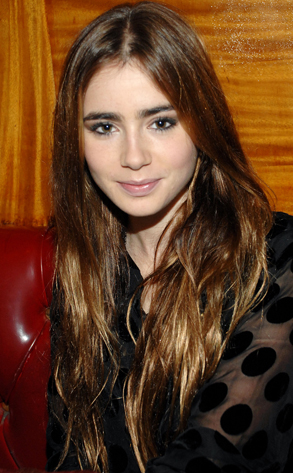 ANDREAS BRANCH/patrickmcmullan.com
Looks like Armie Hammer is going to be smooching Taylor Lautner's sweetheart.
Lily Collins, daughter of hitmaker Phil, has been cast as the titular princess in Snow White, Relativity Media's upcoming update of the Grimm fairytale turned Disney classic, the studio confirmed Friday.
The role of Prince Andrew Alcott, who traditionally awakens the princess from her poison-apple-induced sleep, went to Hammer last week, and Julia Roberts is onboard to play the evil Queen. Just days ago, The Lovely Bones star Saoirse Ronan had been linked to the role of Snow White, but... Lily obviously proved fairest of them all.
The positively charming sounding film—may it fare better than Red Riding Hood—is due in theaters June 29, 2012.
In the meantime, Hammer has been sharing the spotlight (and a few smooches) with Leonardo DiCaprio while shooting Clint Eastwood's J. Edgar. Collins previously appeared on the big screen in The Blind Side.