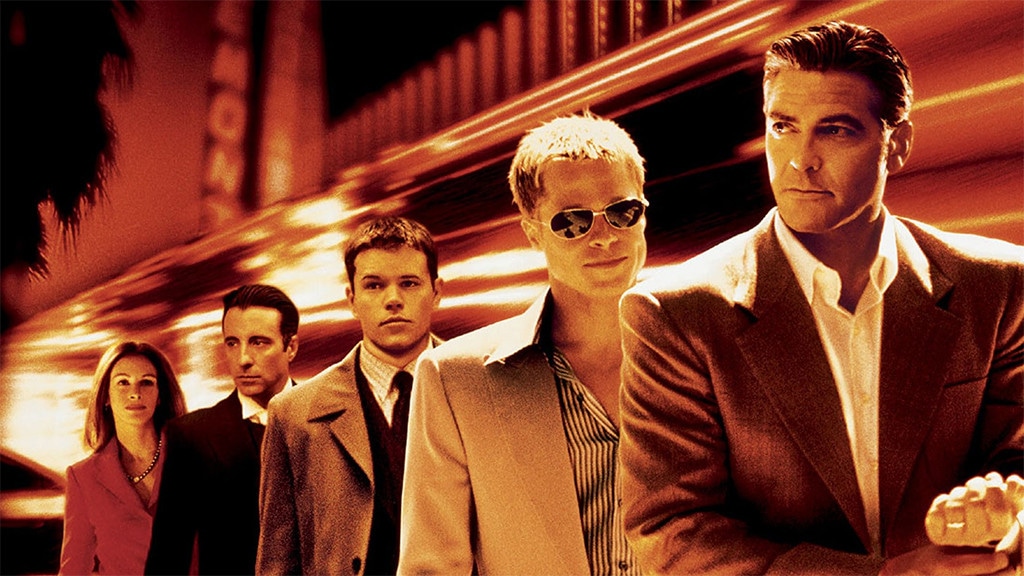 Warner Home Video
Why again does everyone assume that George Clooney and Brad Pitt are such great pals?
It's not because they rose up through the Hollywood ranks together, starting with Handsome Preschool. Rather, it's because of the bonhomie on display in the marvelous romp that are the Ocean's movies—star-studded ensemble films that grew bigger with every sequel, all three directed by Steven Soderbergh, and all three full of crafty but goodhearted rogues having way more fun than your average law-abiding citizen.
Ocean's Eleven, introducing Clooney as ringleader Danny Ocean; Pitt as his always-snacking, right-hand guy Rusty; Matt Damon as a talented pickpocket who's yet to tap into his full potential for thievery; and many more came out 19 years ago, cinematic proof that you can not have too much of a good thing when the finished product is pulled off as slickly as the first offering in the trilogy.
Frankly, Ocean's Twelve wasn't as good as the original thanks to that let's-cram-in-all-the-ideas approach that left much of the irreverence and the Rusty-Danny bond that made the first slick film so re-watchable by the wayside.
But it's packed with even more stars, as is 2007's Ocean's Thirteen, and when you get that many A-listers onboard, interesting stuff is bound to happen. And they all look so good. (Especially right now, when there's no upcoming wild weekend in Vegas, let alone a luxurious Roman holiday, for most of us to look forward to in the near future.)
Despite the wallop of star power, Jerry Weintraub, the late Hollywood power player who produced all three films and in 2007 was the first non-performer to have his hands and feet cast in cement in the courtyard of Grauman's Chinese Theatre alongside Clooney, Pitt and Damon, said it actually wasn't that difficult getting all those big names involved. "We didn't really have to wrestle anybody," he said in a behind-the-scenes featurette. "They wanted to come. When you have a great project, with a great director—you can get all the stars you want."
Added Soderbergh, "It seemed to me that this was one film that could withstand having a lot of stars in it because it really is an ensemble piece. But we'd have to make sure to get the right stars, the right cast, because they're supposed to have camaraderie, which is very hard to fake. It had to feel like they enjoyed each other's company without having it look like they were having more fun making the movie than you are watching it."
They came close to out-larking the audience, but ultimately everyone had a great time.
Moviestore Collection/Shutterstock
And George and Brad, who also starred in Joel and Ethan Coen's Burn After Reading together, are still friends to this day in addition to forever-linked as Danny and Rusty.
"When we went to Las Vegas to start shooting, we made a conscious effort on a production level to have the 11 guys hang out together," Weintraub said after Ocean's Eleven. "It wasn't hard to do because they all liked each other and as soon as they started spending time together away from the set, real friendships developed.
"You can't buy that. When you have actors who can't wait to go to work and work with one another other and be with each other, that's exciting. In all my years in show business, I don't think I've ever had as much fun as I've had on this movie."
Ocean's Eleven, Ocean's Twelve and Ocean's Thirteen are all currently streaming on Amazon Prime.
(Originally published Dec. 10, 2019, at 3 a.m. PT)