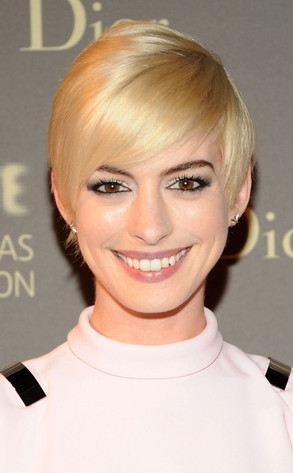 Ben Gabbe/Getty Images
How the mighty fall so quickly. Or how the mighty's hair falls, in this case. It was just Monday night at the Met Gala when Anne Hathaway wowed us with her modern peroxide 'do. It had volume and character and gave the Oscar-winning actress an edgy vibe.
Two nights later, her once-edgy blond hair has been styled into a bad pixie style that looks better suited for someone of the Vulcan race.
To make matters worse, to match the Star Trek coif, Anne's makeup artist, surely in the grip of a mind meld, completed the look with silvery white mod shadow and a pale lip.
Ladies, we're sorry, but if you decide to style your hair after a past decade, assume that your makeup shouldn't follow suit unless you are attending a costume party.