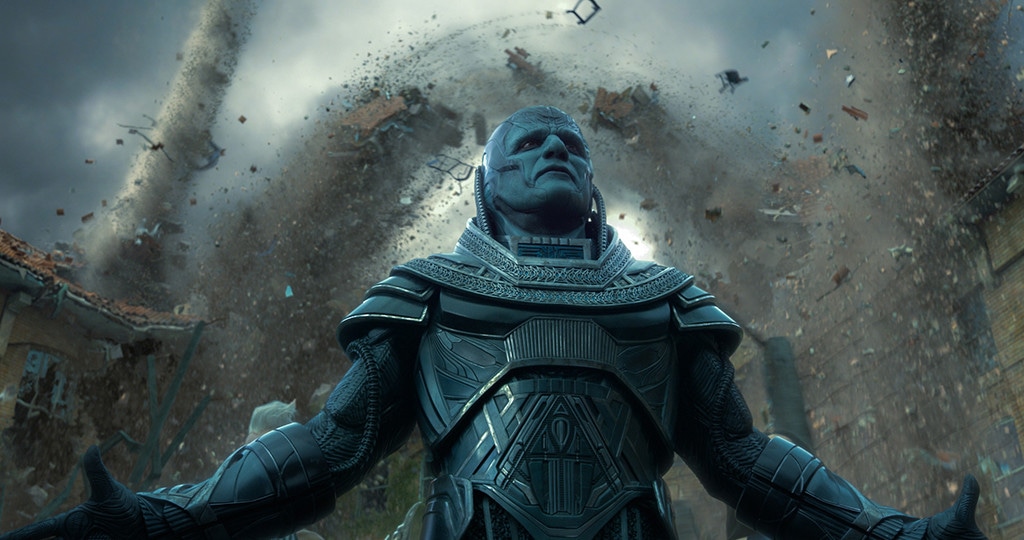 20th Century Fox
Making X-Men: Apocalypse was no picnic for Oscar Isaac.
As the 39-year-old actor recalls in a recent video for GQ, suiting up as the movie's titular villain was a labor-intensive process that made his job considerably more difficult. "Apocalypse, that was excruciating. I didn't know when I said 'yes' that that was what was going to be happening—that I was going to be encased in glue, latex and a 40-pound suit," Isaac lamented to the magazine. "I had to wear a cooling mechanism at all times and I couldn't move my head. Ever."
Isaac signed on to star in director Bryan Singer's blockbuster for the opportunity to share the screen with Rose Byrne, Michael Fassbender, Nicholas Hoult, Jennifer Lawrence, James McAvoy, Olivia Munn, Sophie Turner and other stars. Unfortunately, he didn't get to interact with them when Singer called cut. "I was like, 'Oh, I get to work with these great actors that I like so much.' But I couldn't even see them because I couldn't move my head. I had to sit on a specially designed saddle—because that's the only thing I could really sit on—and I would be rolled into a cooling tent in between takes," he said. "So, I just wouldn't ever talk to anybody."
The actor's costume was a constant pain point, as he often found himself sweating inside the helmet and the mask—which would, in turn, ruin his blue makeup. "I was also in high heels inside of a boot, so that was difficult to move at all. Every time I moved, it was just like rubber and plastic squeaking, so everything I said had to be dubbed later," Isaac recalled. "And then getting it off was the worst part, because they had to kind of scrape it off for hours and hours."
"So," Isaac added, "that was X-Men: Apocalypse."
Lawrence, who plays Mystique, has also voiced complaints about her costume. Though she no longer had to endure hours of body painting for X-Men: Apocalypse, as she had on earlier films, her new suit was no better. "The guys who made it were like, 'Well, she's a girl. She doesn't go to the bathroom,'" she shared with Graham Norton in 2016. "So, I pee standing up out of a funnel."