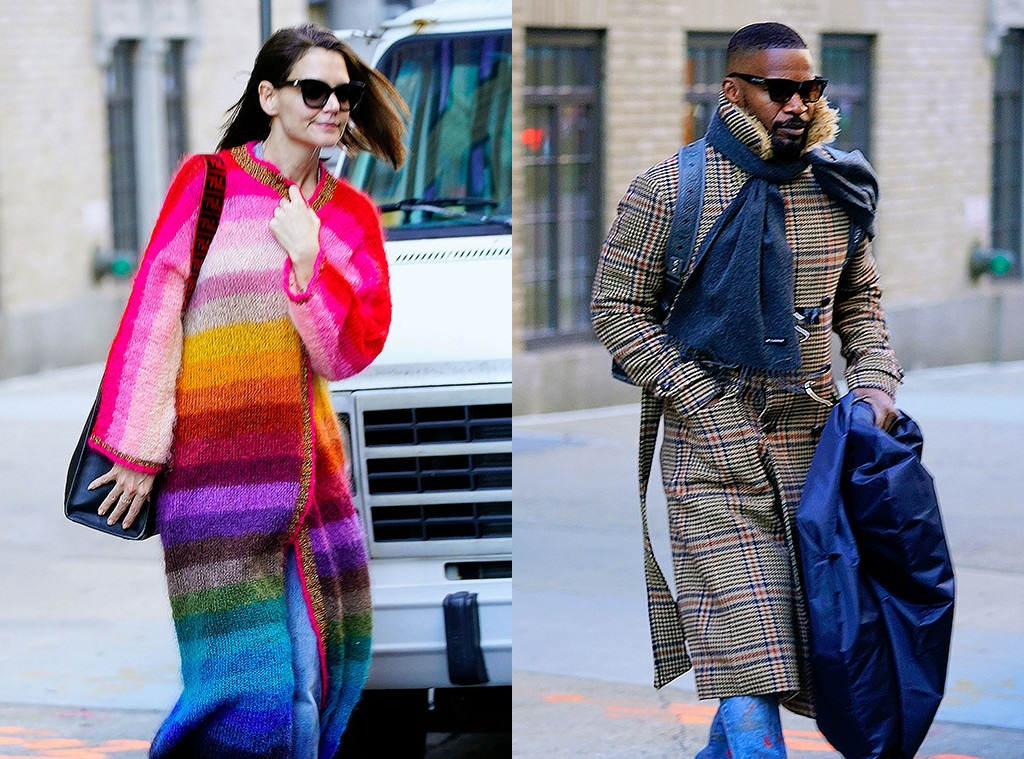 Jackson Lee / SplashNews.com
Katie Holmes and Jamie Foxx broke bread (or whipped cream?) together on Tuesday.
Holmes, who is celebrating her 40th birthday, was spotted enjoying an intimate meal with the Django Unchained star at the famous Serendipity in New York City. According to an eyewitness, Holmes' mom Kathleen Stothers-Holmes was also in attendance. Their outing involved the restaurant's pièce de resistance, "Frrrozen Hot Chocolate," which Kathleen and Foxx both ordered. Holmes indulged in a strawberry sundae and was later gifted a shopping bag of Serendipity merchandise when she left.
A second source told E! News, "Katie went to  Serendipity 3 late Tuesday afternoon to celebrate her birthday with Jamie Foxx. They arrived together, but exited the car separately. Katie looked great in a rainbow coat and had a smile on her face. A few seconds after she walked in, Jamie Foxx got out of the car and joined her inside."
Foxx donned a plaid coat, jeans and black scarf.
Their sly arrival and subsequent separate entrance into Serendipity comes as no surprise, given how under-the-radar their romance has been from the start.
Kevin Mazur/Getty Images for NARAS
The most PDA we've seen from them in the past is them holding hands on the beach, and even that came years after their rumored relationship started. In July, the couple enjoyed another low-key date night out in New York, which seems to be their go-to form of public outings together.
A source told E! News in April that their understated nights out together are on purpose. "They still plan to keep their relationship private. This is what has worked for them and what they are comfortable with," the insider said at the time. "They aren't a couple who is going to stroll down the street holding hands. They just want to stay off the radar and keep it to themselves. They have a routine that works well."
On Valentine's Day, Foxx even walked off the set during an interview on ESPN when asked about his relationship with the Dawson's Creek star.
While information about their relationship remains mostly private, at least we can now confirm thanks to their Serendipity date today that they both have a sweet tooth.
Happy birthday, Katie!