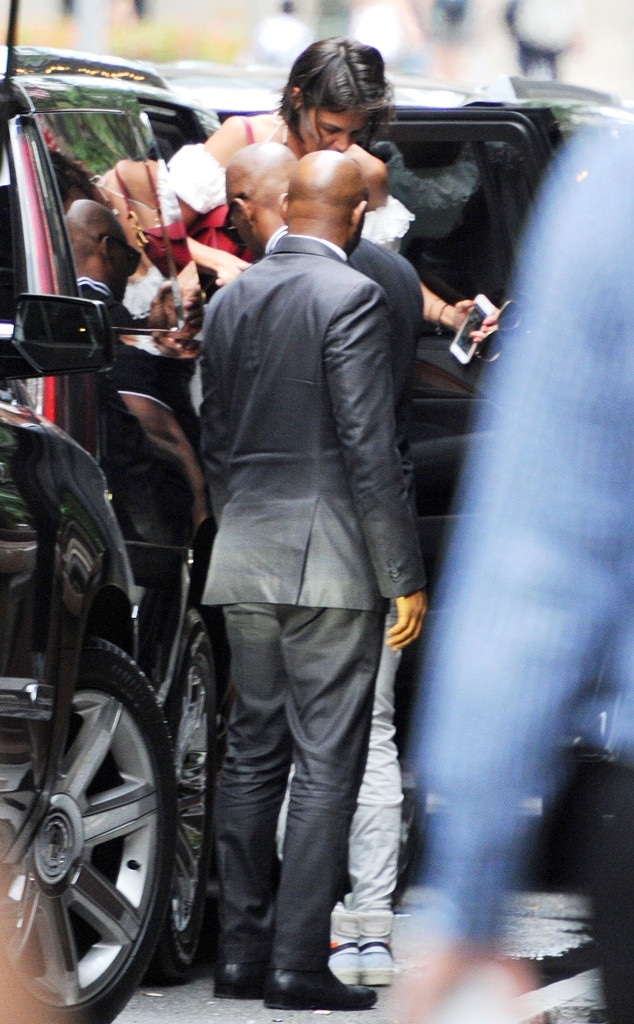 BACKGRID
Despite rumors to the contrary, Katie Holmes and Jamie Foxx are still in each other's lives. 
Following a false report last month alleging the private pair had split, the deeply low-key couple was spotted out in the Big Apple Monday night in midtown Manhattan further dismissing the claim. The occasion appeared to be another private date night as they arrived together in a limo SUV to A-list hot spot, Tao, according to an eyewitness. 
As the source described, the Oscar winner helped his real-life leading lady step down from the car. The actress was dressed for a fun summer night out in an off-the-shoulder white eyelet crop top and matching shorts with a pair of nude heeled sandals. As for Foxx, he stuck to a polo, white pants and shades. 
While they walked into the restaurant separately with some distance between them, they sat together in a dark area at the back of the restaurant. Per the eyewitness, the couple went unnoticed in the crowded restaurant as they were escorted to their table. After roughy an hour and a half, the two left separately using different exits. 
It was a busy night for the performer, who also appeared on The Tonight Show on Monday night. 
While the two shy away from discussing each other in public and keep their joint appearances to a minimum, they haven't forsaken dinner date nights for privacy. In late April, they were again spotted out in Manhattan for a meal at Nobu. While they've been linked for years, neither have publicly confirmed the romance, though their PDA-filled 2017 Labor Day celebration nearly a year ago seemed to say it all without uttering a word. 
"They still plan to keep their relationship private. This is what has worked for them and what they are comfortable with. They aren't a couple who is going to stroll down the street holding hands," a source previously shared with E! News. "They just want to stay off the radar and keep it to themselves. They have a routine that works well."
The insider added, "They aren't together 24/7 and they spend time apart. They both travel and have lives outside of each other but they are very happy with this arrangement and to be together when they can be."