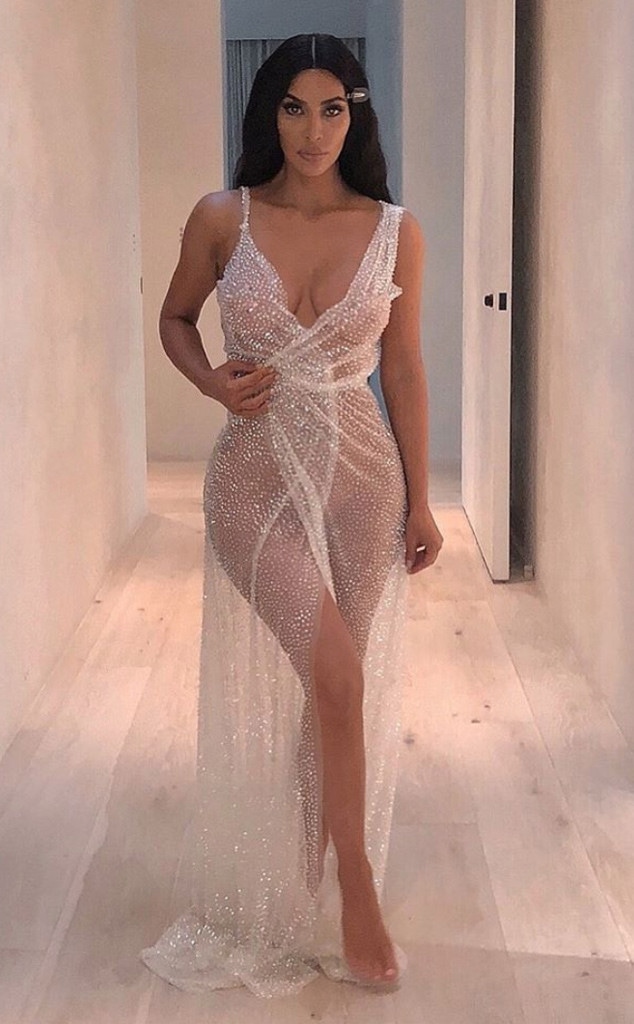 Instagram
Kim Kardashian is leaving little to the imagination.
The Keeping Up With the Kardashians star took to Instagram on Monday to share a photo of herself modeling a sheer and sexy dress. The KKW Beauty head dazzled in the see-through number, which appeared to be covered in sparkly crystals. 
Kim wore her long brown hair down for the picture and pulled a few luscious locks back with a clip. She then gave the camera a sultry stare.
"Fittings," she captioned the snapshot.
Her mom, Kris Jenner, and sister, Kylie Jenner were clearly fans of the look and gave it their stamp of approval with Instagram likes.
Kim has never been afraid to show a little skin. Just last month, she wore a striped, sheer Jean Paul Gaultier dress to the 2018 E! People's Choice Awards. She also bared it all when she went braless and wore a see-through bodysuit to New York Fashion Week in 2016. 
Earlier on Tuesday, Kim shared the cutest pics of her and her daughter, North West, at an impromptu photo shoot. "North came to visit me on set and said momma can we do photo shoot together just me and you! I followed her poses and direction so here it is! I always dreamed of having a baby girl & she's perfect," Kim shared on Twitter.
North took her rightful seat in the director's chair and instructed her mom to flash a peace sign for one picture and a rocker pose for the next. Then, for the last two, Kim and North hugged for an absolutely adorable photo.
To look back at some of Kim's other looks that were sheer perfection, check out the gallery above.
We can't wait to see what bold look Kim debuts next!