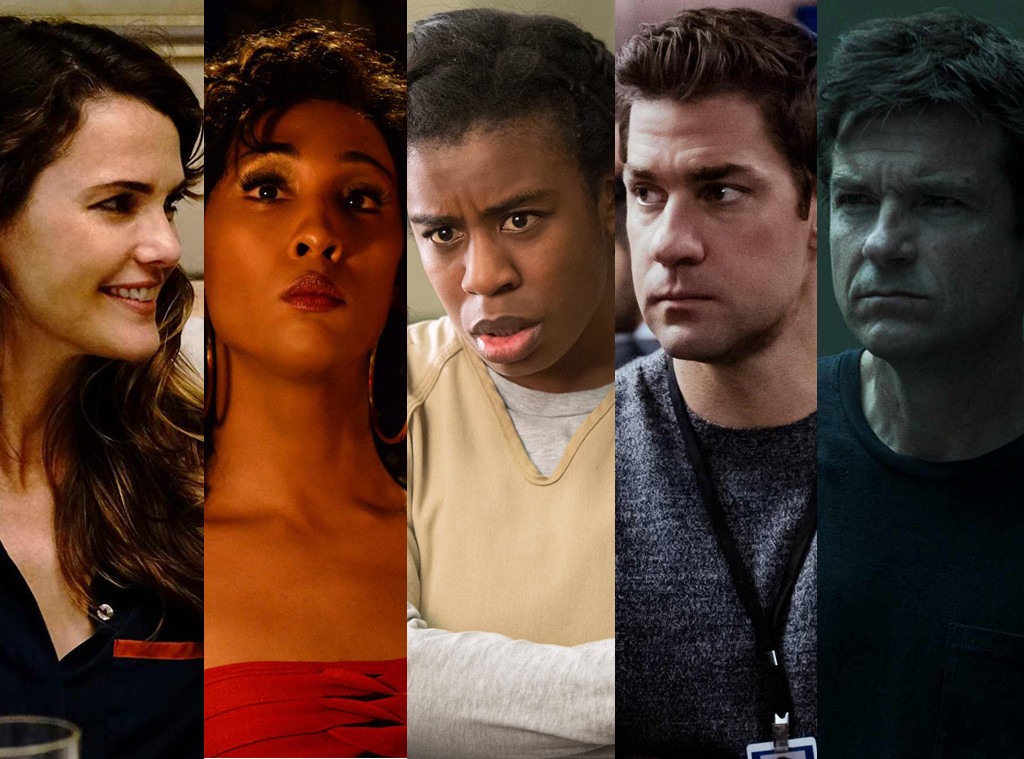 FX (2), Netflix, Amazon, Netflix
So…it seems actors really like Ozark. Like, really like Ozark. The Netflix drama picked up a number of nominations for the 25th Annual Screen Actors Guild Awards.
With Game of Thrones, Veep, The Crown and Stranger Things out of the running this year, new slots opened up for some deserving honorees. And while there were a number of surprises, including the unwavering love actors have for Ozark, there were quite a few snubs with many shows dominating categories, like The Marvelous Mrs. Maisel. There is one key takeaway: If you are an older actor in a Netflix series, you will get nominated for a SAG Award.
See the full list of nominees here and learn the biggest film snubs and surprises. Without further ado, the 2019 SAG Awards TV snubs and surprises…
SURPRISE: Robin Wright
The final season of House of Cards was uneven, and delayed, but Wright held it together. If it weren't for her, the drama wouldn't have been made.
SNUB: Keri Russell, Matthew Rhys
The Americans was FINALLY nominated for Outstanding Performance by an Ensemble in a Drama Series, but the leads were not singled out for their gripping performances.
SURPRISE: John Krasinski
Seems members of the Screen Actors Guild love streaming, especially when the actor at the center of it all isn't exactly known for the type of role they're playing.
SNUB: Pose
Where is the nomination for drama ensemble for Pose? Where?!
SURPRISE: Better Call Saul
AMC's Breaking Bad prequel is so good, including its ensemble cast. The only surprise here is because Bob Odenkirk is almost always routinely singled out. Give Rhea Seehorn an award!
SNUB: Orange Is the New Black
The Netflix dramedy is a SAG Awards favorite, as is Uzo Aduba, but the show was completely shut out from the nominations. Season six was kind of a reset of the series and was better received by critics than the previous one.
SNUB: The Good Fight
Again, what does Christine Baranski have to do?
SNUB: Betty Gilpin
Yes, GLOW was nominated for ensemble in the comedy category, but this was Gilpin's year. If The Marvelous Mrs. Maisel and Grace and Frankie can get two noms each in the Outstanding Performance by a Female Actor in a Comedy Series, GLOW could too.
SNUB: Benedict Cumberbatch
A Golden Globe nomination...an Emmy nomination...no SAG nomination for Patrick Melrose?
SNUB: The Good Place
After finally getting acknowledged by the Emmys and the Golden Globes, NBC's wickedly smart afterlife comedy picked up no awards for ensemble. This is wrong because The Good Place has one of the best ensembles on TV.
SNUB: Donald Glover
The awards show favorite picked up a nomination for Outstanding Performance by an Ensemble in a Comedy Series, but no individual love for his work in Atlanta.
SNUB: Yvonne Strahovski
This was Serena Joy's season of The Handmaid's Tale. Yes, Strahovski picked up a nom as part of the ensemble, but she deserved some individual love too.
SURPRISE: Ozark
Actors really, really, really like Ozark. Jason Bateman, Laura Linney, Julia Garner and the show's ensemble all picked up nominations.
SNUB: Will & Grace
Eric McCormack, Debra Messing, Megan Mullally and Sean Hayes are unstoppable together…are other SAG-AFTRA members not watching Will & Grace?
TBS and TNT will air the 25th Annual SAG Awards live on Sunday, Jan. 27, 2019, at 8 p.m. ET/5 p.m. PT.