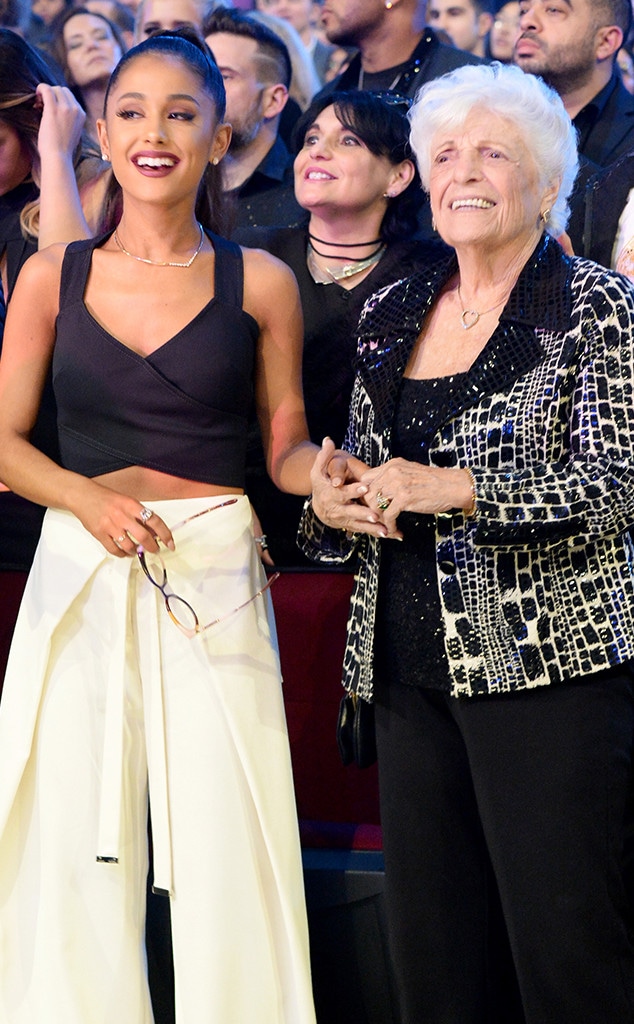 Kevin Mazur/AMA2016/WireImage
Tattoos to celebrate!
After attending the Billboard Woman of the Year Awards on Thursday night, where she received top honors, Ariana Grande celebrated by getting a new tattoo with her 93-year-old grandmother! The "Thank U, Next" singer took to her Instagram Story to document her Nonna, Marjorie Grande, getting her first tattoo.
"I feel fine," Marjorie said as she laughed at the pain with her family members, including Joan Grande and Frankie Grande. "I've had a little bit more excitement than this."
For her tattoo, Marjorie chose to have her late husband Frank Grande's nickname "Ciccio" inked on her left ring finger.
Grande also added to her growing tattoo collection late Thursday.
The Grammy nominee showed off her new ink, a crescent moon beside stars on the top of her left hand, on Instagram. Grande's go-to tattoo artist Mira Mariah also posted a photo of the new ink on social media, writing, "for the woman of the year."
Hours earlier, Grande took the stage in New York City to accept her Woman of the Year title. During her tearful speech, Grande told the crowd, "This is really special. I want to say that I find it interesting that this has been one of the best years in my career and one of like the worst years in my life."