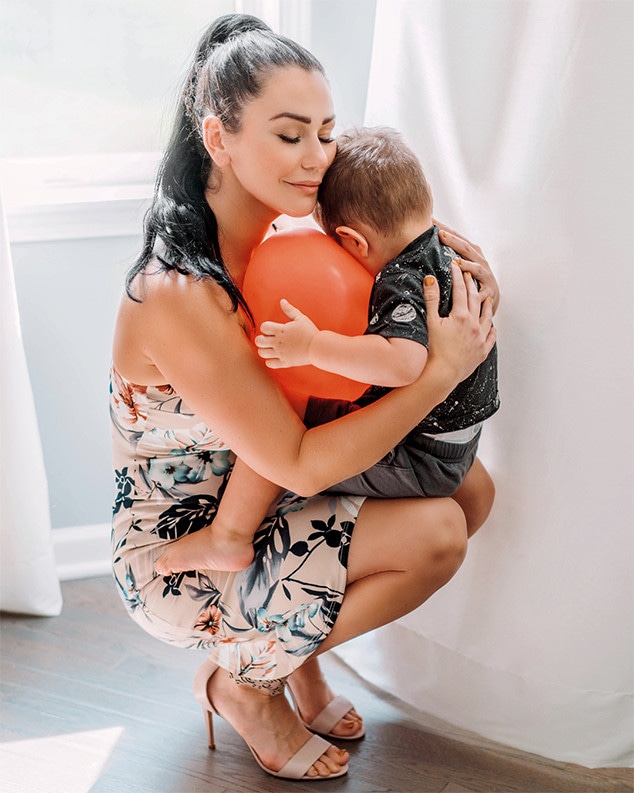 Instagram
It's like Jenni "JWoww" Farley's son Greyson can taste the rainbow!
On Saturday, the Jersey Shore star shared a sweet video of her 2-year-old son repeating colors after she said them. He imitated the words "red," "yellow" and "blue."
His attire of choice made the video even more special. Greyson was dressed up in a red superhero outfit straight out of The Incredibles. She captioned the video, "The way he says Yellow makes my heart explode."
JWoww has been open about Greyson's speech delays in the past, and on Wednesday she revealed that he was recently diagnosed with autism. She opened up about the diagnosis in an interview with HollywoodLife. 
She told the publication how Greyson's speech delay was difficult to watch compared to other kids his age. "It was really heartbreaking and frustrating as a mom when you see other two-year-olds that are speaking and living their best life," she told HollywoodLife. "Greyson is living his best life. He just doesn't know what you are saying!"
The reality star also revealed her skincare company Naturally Woww will be developing a children's line, and some proceeds from that will be going to organizations that focus on autism.
In August, JWoww spoke out after Greyson's second birthday and announced that her son with Roger Mathews still had not talked yet. "As a mother, I will go to the moon and back for my kids... no question. I live my life differently because of them," she wrote in an Instagram post. "To find out Greyson is 'behind' or 'delayed' crushed me... but only for a moment... that moment came from wanting to have 'perfect children' and 'how could this happen to me?'"
"But Grey is PERFECT and it CAN happen to anyone," she continued. "I want to help anyone going through what I'm going through... I'm sure people need support the way I've needed it. Greyson is still in therapy 3x a week... he's doing a lot better. We also changed his diet and removed unnecessary preservatives. I've had almost every test done you can think of because I'll never accept that this is best case for Grey... I'll always think outside the box and do anything that will try and help him achieve nothing short of greatness..."
On Wednesday, JWoww shared an update about Greyson on Instagram that openly talked about his autism. "Grey was recently diagnosed with autism. He's also been in early intervention for over 6 months now and doing amazing," she wrote. "Grey is and always will be my little prince."