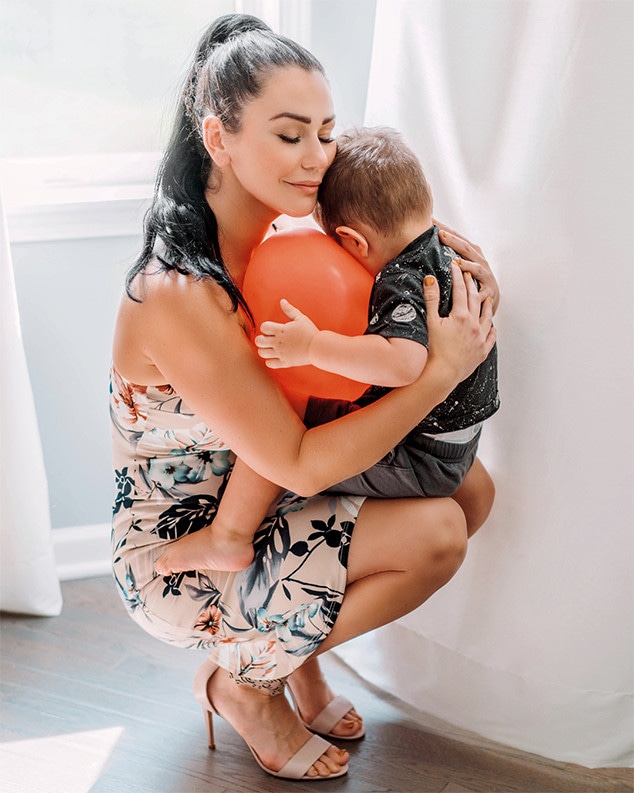 Instagram
Jenni "JWoww" Farley took to Instagram on Friday to thank fans for their support after opening up about her son's language delay.
On the season two premiere of Jersey Shore: Family Vacation on Thursday, the 32-year-old reality star got emotional as she revealed that her and husband Roger Mathews' youngest child and first son Greyson had just turned 2 and still wasn't speaking. She said he was undergoing therapy three times a week.
Jwoww later posted on Instagram a photo of her cuddling Greyson as well as a video of the child trying to say "Mama" as he climbed onto a chair.
"To everyone that tuned into @jerseyshore last night and messaged, commented etc about @greysonmathews with similar stories or just showing love I cant thank you enough," JWoww wrote. "As a mother, I will go to the moon and back for my kids... no question. I live my life differently because of them. To find out Greyson is 'behind' or 'delayed' crushed me... but only for a moment... that moment came from wanting to have 'perfect children' and 'how could this happen to me?'"
"But Grey is PERFECT and it CAN happen to anyone," she said. "I saw that last night when the messages came in by the hundreds. I decided to share that side of my family on Jersey Shore because I want to help anyone going through what I'm going through... I'm sure people need support the way I've needed it. Greyson is still in therapy 3x a week... he's doing a lot better. We also changed his diet and removed unnecessary preservatives. I've had almost every test done you can think of because I'll never accept that this is best case for Grey... I'll always think outside the box and do anything that will try and help him achieve nothing short of greatness..."
She added, "I don't sleep much lol.. He's my world and I want to give him the best life... because he deserves it...and to my son @greysonmathews.. if you ever see this in the future... you're mommy might be a bit crazy, loud and dramatic but when it comes to you and your sister... I will fight for you two until my last breath... and continue to fight for you after death... your mommy will hold your hand and stand by your side for eternity."