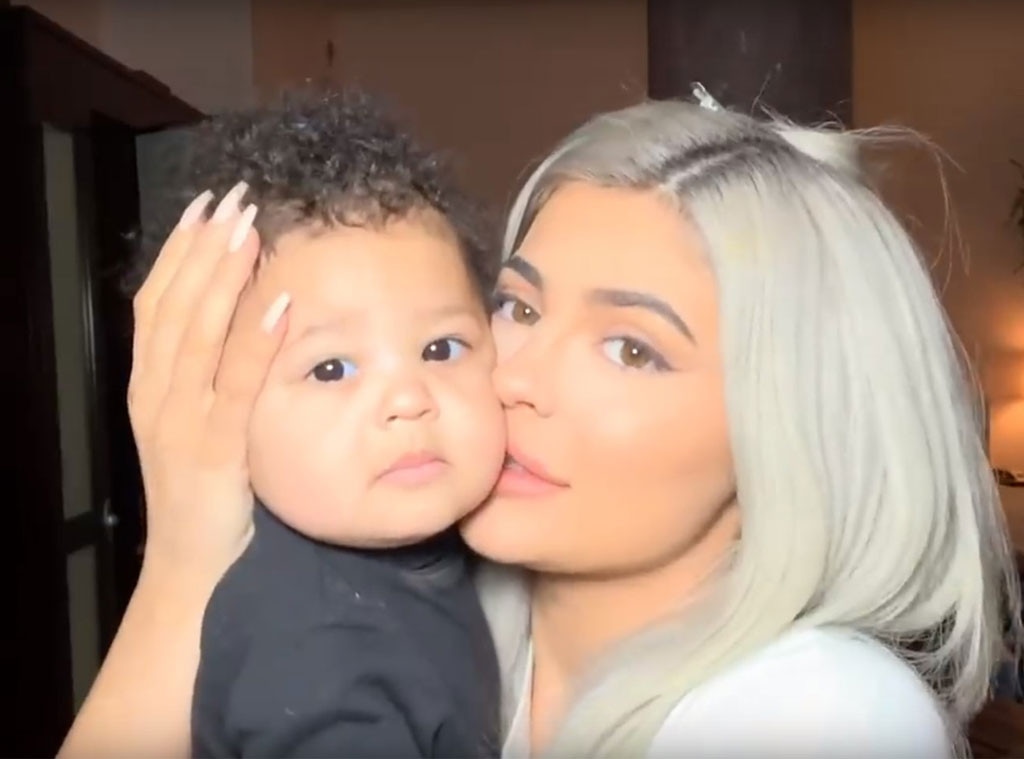 YouTube
Stormi Webster need not say any words, but the little girl is already a mesmerizing YouTube sensation.
Kylie Jenner and Travis Scott's baby is almost 10-months-old (already!) and she's proven herself to be a key player in some of Kylie's best snapshots and videos. On Wednesday, the Kylie Cosmetics creator posted a makeup tutorial video on YouTube that demonstrated how to copy Kylie's stylish and almost effortless-looking eye makeup. It was her explanation on getting ready while she joins Travis on his Astroworld tour.
A few minutes into the video, the Keeping Up With the Kardashians star brought Stormi on camera, who had apparently just arisen from a nap.
Anyone who has ever taken a midday snooze can definitely relate to the baby.
With Travis' song "Sicko Mode" playing in the background, Kylie held Stormi and said gleefully, "Liner's on and Stormi's awake!" Although, "awake" might be a generous term.  
Kylie asked her, "Are you awake?" but Stormi just looked to the side. Was she eyeing her bed?
The 21-year-old makeup mogul then started humming a song to her daughter, but she wasn't too receptive. A few moments later, however, Stormi could be heard saying some words that sound something along the lines of "blah blah blah blah." She's just warming up her singing voice for when she supports her daddy at the Astroworld concert at Madison Square Garden!
Towards the end of the video, Kylie gave a little more context as to how she, Travis and Stormi travel in style. She said, "Me and Travis have our own room and I always get a separate room so I can put all the clothes..." but then she got interrupted by Stormi's singing again. "I always get a separate room for all my wardrobe, my makeup and of course, Stormi."
She does that so her daughter can "have more space to play" when they're staying away from their home. Kylie also revealed that she's an expert packer because she puts all of her clothes in her suitcase before she travels and hanging up her attire is the first thing she does whenever she checks in.
Looks like we can learn more than just makeup from this tutorial!
A few weeks ago, Kylie posted a video of herself trying to teach Stormi some new vocabulary words—including "Kylie Cosmetics." It didn't necessarily go to plan, but baby steps.
On Tuesday, the reality TV star supported Travis at his Madison Square Garden concert, which was apparently his biggest show to date. She dressed up in style—per usual—and wore an Astroworld shirt and high-waisted bright orange pants. Before heading off to MSG, she posted a picture of herself on Instagram with the caption "the look ya give when ur hubby is performing at madison square garden tonight."
The "Stargazing" rapper couldn't be happier to have his family by his side, too. He's ever the doting dad and is set on giving Stormi the best life possible. While visiting Children's Healthcare of Atlanta at Egleston Hospital, he said he was currently living his "life goal," which includes Stormi being "a part of what I'm living."
He said at the hospital, "You cut a lot of stuff out so that Stormi can have her best life, illest, illest time."