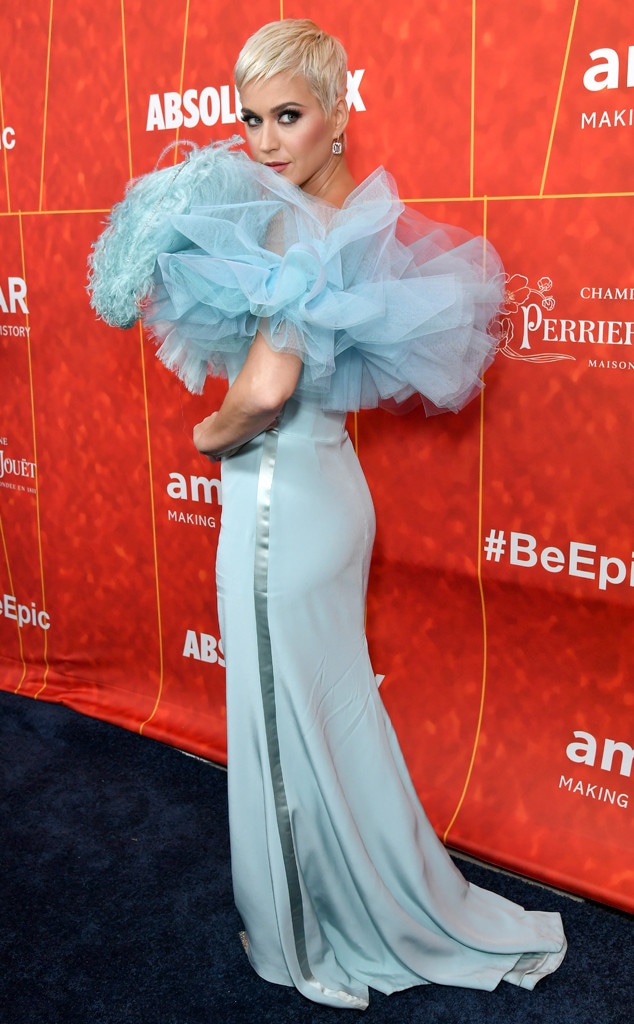 Rob Latour/REX/Shutterstock
Katy Perry is paying tribute to her close friend Angelica Cob-Baehler who died on Nov. 21 due to cancer. She was 47.
The "Roar" singer posted a series of photos of herself on Instagram alongside Cob-Baehler and their friendship throughout the years. "Six days ago, one of my biggest champions and realest friends, Angelica Cob-Baehler moved on from this place. She was one of the strongest women I have ever known - fighting her cancer like friggin' Rocky, enduring chemo, immunotherapy, a tracheotomy, feeding tubes for months on end, and experimental cancer treatment trials," Perry began. "I watched her go through many stages for over a year, but a few things remained constant: her sarcastic/wicked sense of humor, her positive outlook, and the incredible love she had for her family."
According to Variety, Cob-Baehler was a music business executive who worked for a number of record labels, including Atlantic, Virgin Records, Sony and The Firm. It was at Columbia Records where she met Perry and the two of them became confidantes. Perry's album for that record company was apparently never released. Throughout her career, Cob-Baehler also worked with John Mayer, Ice Cube and his son O'Shea Jackson Jr., 30 Seconds to Mars and more.
The "Chained to the Rhythm" singer wrote in her post that she and Cob-Baehler had "a lot of wins together for over 10 years" and that the executive "practically willed me into existence as a young artist when she 'stole my files' from limbo at Columbia Records and brought them to life at Capitol Records."
Perry continued, "She was like a big sister to me, showing me the ropes and always having my back. She never became a yes-person and was quick to check me when I needed checking—that was family."
She revealed why she "procrastinated" posting about Cob-Baehler's death on social media. "It makes it feel a little too final," she surmised. "But I don't believe people ever really die—she just had to leave that body behind. Out of body, and full of spirit now."
Cob-Baehler is survived by her husband—"who was the definition of ROCK"—and two daughters, who Perry called "amazing young girls." Perry concluded, "I'll never let them forget that Angelica embodied the angel in her name, was a woman of incredible integrity and character, a massive giver, and a DOPE human being."
Today marks Giving Tuesday, and Perry encouraged her fans and followers to donate money on behalf of Cob-Baehler and her favorite charity.
Perry was recently named Forbes' highest-paid woman in music, beating out the likes of Taylor Swift and Beyoncé, and it's clear Cob-Baehler had a tremendous impact on this achievement.
Our thoughts go out to Perry and the rest of the Baehler family.