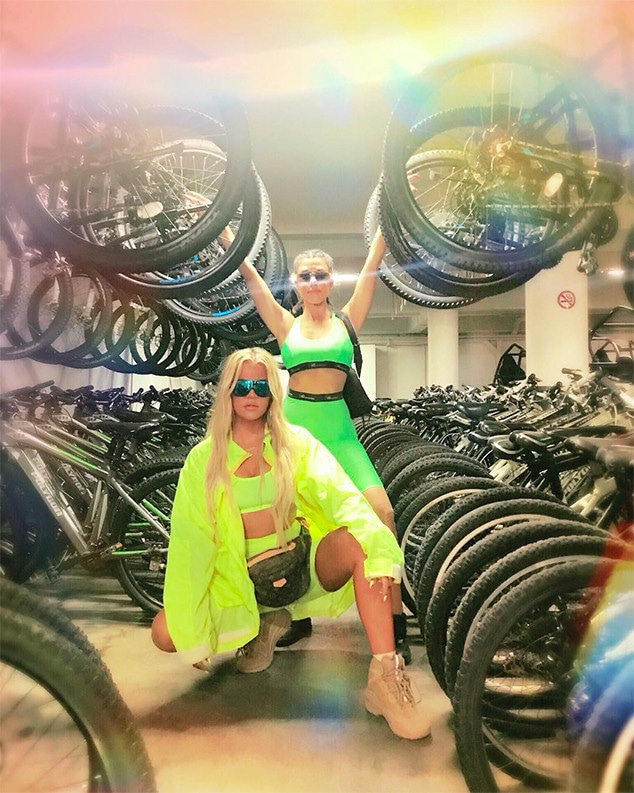 Instagram / Khloe Kardashian
Kourtney Kardashian, is that you?
Her sister Khloe Kardashian posted on her Instagram page on Sunday a photo of the two wearing coordinating sporty neon yellow and green outfits and sunglasses while posing in a bicycle shop. Khloe is sporting her signature long blond hair and Kourtney is wearing what appears to be a braided platinum blond wig...or it might be the bright lighting.
Many fans commented that they almost mistook Kourtney for her ex Scott Disick's girlfriend Sofia Richie, who used to have lighter blond hair. One user said they initially thought Kourtney was Hailey Baldwin, Justin Bieber's new wife.
"Power Rangers unite!! My BFF!!!" wrote Khloe, who tagged Kourtney in the photo.
The sisters' pic appeared to have been taken last month during a family trip to Bali.
On Saturday, Kourtney posted a photo of herself with her signature long dark brown hair, sitting in a lounge chair outside and using on her laptop while wearing a bikini. Her and Scott's third and youngest child, her 3-year-old son Reign Disick, is also seen in the pic.
"Christmas shopping," Kourtney wrote.
In addition to Khloe, Kylie Jenner also currently sports blond-dyed hair, while sister Kim Kardashian has gone blonde in the past.
Kourtney has dyed her hair blond before, back in high school.
"I'm just a brown-haired girl," she told People in 2017. "It just suits me. I like my dark hair."