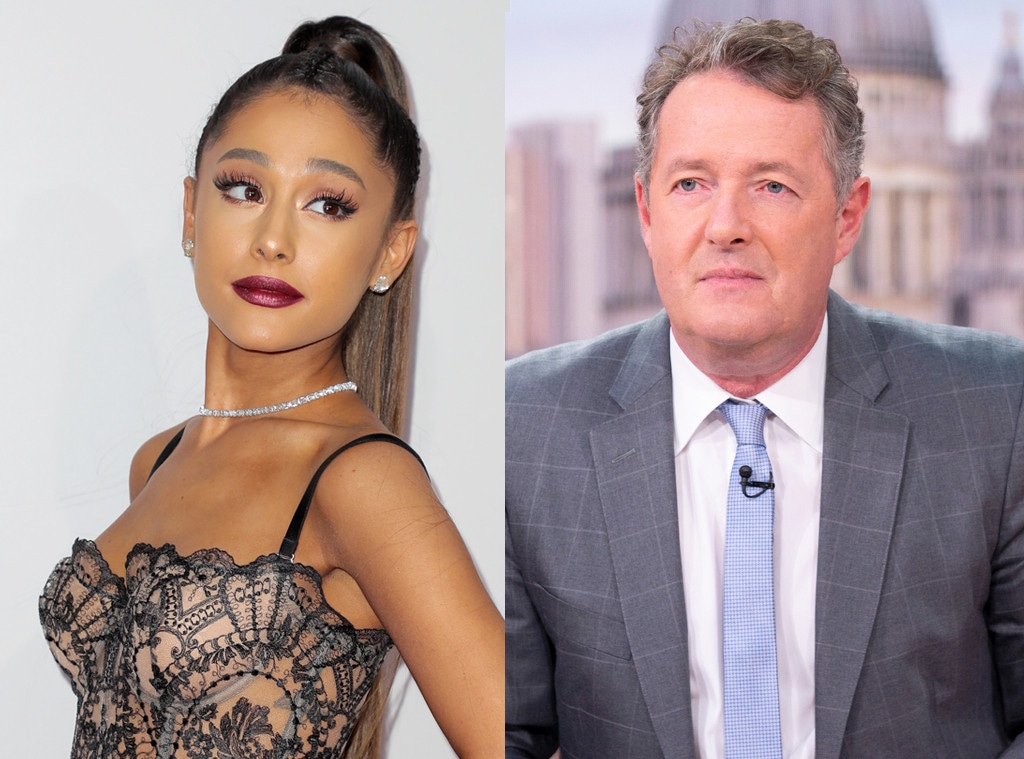 Shutterstock
Ariana Grande is saying "thank u, next" to Piers Morgan.
The singer took to Twitter on Wednesday to fire back at the journalist after seeing his critical comments about Little Mix and Ellen DeGeneres. It all started on Monday when Morgan criticized DeGeneres' montage of celebrity men, in celebration of International Men's Day.
"Ellen drooling today over famous men's bodies on #InternationalMensDay2018. Yet I've been abused all day for complimenting @hollywills on her legs," Morgan tweeted. "The hypocrisy of modern feminism laid bare.."
The following day, Morgan returned to Twitter to criticize Little Mix over a recent promo photo for their upcoming album. The photo shows the group stripped down with critical words written on them like "weak" and "slutty." 
After seeing the photo, Morgan attempted to say that Little Mix "stole" the idea from the Dixie Chicks, who had previously done a similar shoot for Entertainment Weekly in 2003.
"Hey @LittleMix - when are you going to admit you stole this idea from @dixiechicks?" Morgan tweeted the group.
That's when Ariana Grande's mom, Joan Grande, stepped in to defend Little Mix.
"Honestly what is wrong with you @piersmorgan ?" Joan asked. "Didn't your mother ever teach you, if you have nothing nice to say, don't say it! You came for @TheEllenShow yesterday which was disgraceful, she is an angel. @LittleMix today, did you ever hear of paying homage? And..well never mind."
"Hi Joan, my mother taught me to speak my mind & never be afraid to express honestly held opinion," Morgan replied. "Ellen's a hypocrite - and as for Little Mix, I'd just prefer they use their talent to sell records rather than their nudity. As your own daughter does...!"
After that tweet, Grande wrote to Morgan, "Ellen is an incredible & kind human being.. I use my talent AND my sexuality all the time because i choose to. women can be sexual AND talented. naked and dignified. it's OUR choice. & we will keep fighting til people understand. i say this w all due respect but thank u, next."
"Hi Ariana! How lovely to hear from you so soon after your mother," Morgan replied. "Of course, women can do what they like - but if they/you use nudity to sell records to impressionable young female fans, I'll continue to call them/you out on it. All due respect, but thank YOU. Next..."
"also @piersmorgan, i look forward to the day you realize there are other ways to go about making yourself relevant than to criticize young, beautiful, successful women for everything they do," Grande tweeted. "i think that'll be a beautiful thing for you and your career or what's left of it."
Grande then discovered Morgan's tweet from earlier this week for International Men's Day, which included a stripped down photo of him, in promotion of his column. 
"when u do it it's ok tho right?" Grande tweeted. 
"Is that your screensaver?" Morgan replied, to which Grande assured him it's not. "nah and it ain't ur girls' either i can promise u that."
After seeing Grande's tweet, telling Little Mix to "keep fighting the fight," the group replied, "thank you ♥️ what we do with our bodies is our choice and we felt liberated owning the negative words thrown at us as women. We'll never stop talking/writing music about issues that affect so many women around the world. We have a voice to use it! we love you Ari the girls x."