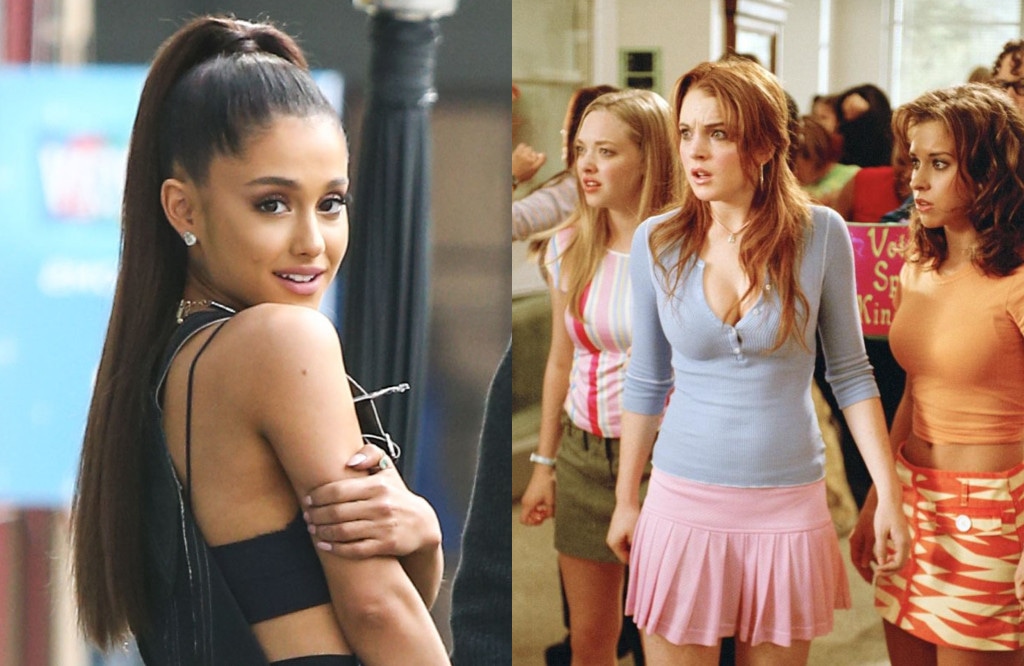 Getty Images; Paramount Pictures
Ariana Grande's new music video is going to be so fetch!
The 25-year-old singer got her fans in a frenzy this week after she posted a series of references to popular early '00s teen and romantic comedy movies such as Mean Girls—leading many to wonder if her "Thank U, Next" music video would be inspired by the films. Grande has since confirmed the news.
First, the pop star posted a picture of Gretchen Wieners (Lacey Chabert), Karen Smith (Amanda Seyfried) and Regina George (Rachel McAdams) walking down a school hallway. She then posted several closeups of the clique's queen bee, including one of her wearing her bunny Halloween costume. Grande then posted a picture of herself wearing her own bunny mask.
But the real kicker came when Grande shared an image of her kissing her cousin, Courtney.
"'Yeah but she's my FIRST cousin'" the recording artist captioned the photo, referencing one of Seyfried's most memorable lines. As fans will recall, Seyfried's character Karen justified making out with her cousin Seth in the film because he's her second cousin, which she said is different than a first cousin.
Grande also cited two other notable lines for the film in her Instagram posts, including the one where Lindsay Lohan's character Cady is asked if she'd like someone to butter her toast and the one where Regina yells at Karen for suggesting The Plastics go to Taco Bell when she's on an "all-carb diet."
Grande also posted several references to Legally Blonde on Instagram. For instance, she shared a picture of her posing next to Jennifer Coolidge, who played the nail technician Paulette in the 2001 film.
"new best friend .... thank u, next,"  the "God Is a Woman" star wrote.
In addition, she posted a picture of a dog floating on a rafter that resembled Elle Woods' dog, Bruiser, as well as a photo of her wearing bright orange and carrying a laptop that resembled the one Reese Witherspoon's character bought when she went to Harvard.
"Whoever said orange was the new pink was seriously disturbed," Grande captioned the latter image, quoting Witherspoon
The new video may also contain references to 13 Going on 30. Grande hinted that her new hairstyle was inspired by the 'do Jennifer Garner's character sports in the movie. She also posted a picture of the dollhouse given to her by Mark Ruffalo's character. 
On Wednesday, Grande shared a few Bring It On photo parodies.
"I transferred from Los Angeles, your school has no gymnastics team this issaalast resort ........ ok I've never cheered before so what?'‬ #thankunext," she wrote.
We can't wait to see the new music video!