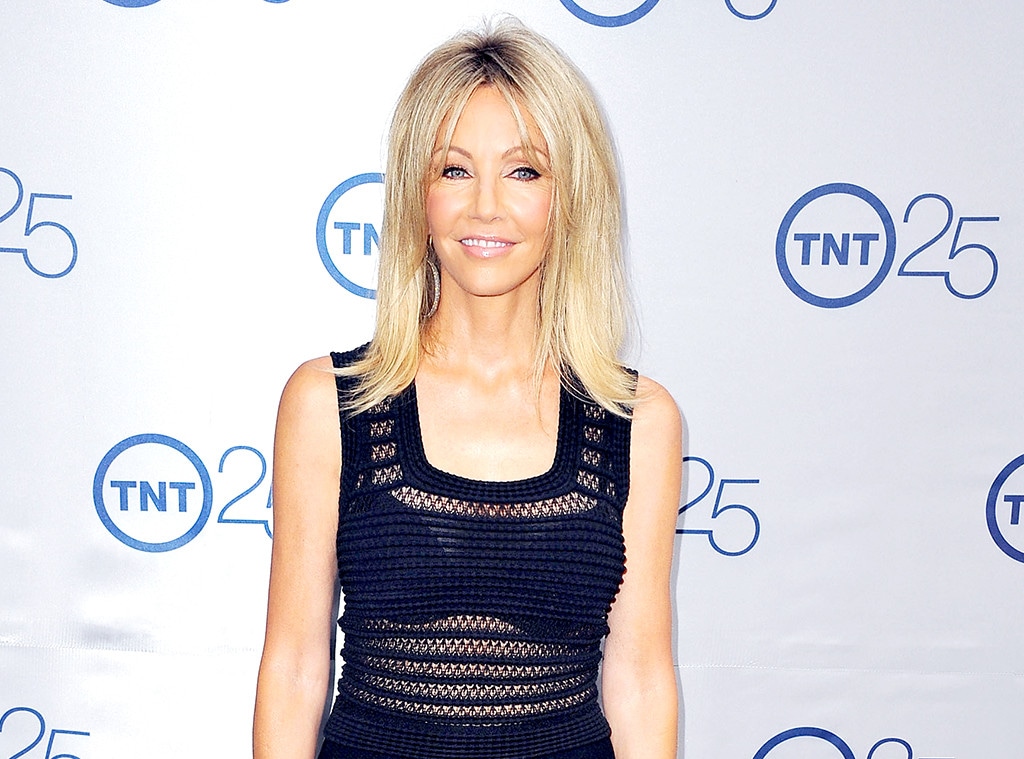 Angela Weiss/Getty Images
Family and friends remain "very concerned" for Heather Locklear.
On Sunday, Locklear was reportedly placed on a 5150 psychiatric hold after Ventura County police received a medical call around the area of her home during the afternoon. According to TMZ, Locklear's therapist believed she was having some sort of breakdown, and the police were called.
The Melrose Place actress returned to rehab in June, just a few days after being hospitalized for a psych evaluation for reportedly threatening to kill herself. According to a source, "Heather Locklear was doing amazing while being in rehab recently. She left to celebrate her daughter Ava [Sambora]'s birthday and to attend her boyfriend Chris [Heisser]' daughter's wedding in October."
The source said Locklear was apparently "supposed to continue treatment but thought she was on a good path and wasn't seeking help after leaving. Heather was doing great and was sober."
Ventura County Sheriff's Office
Her loved ones believed she had changed, too. The source added, "While in rehab, she made several promises that she would never let this happen to her again but eventually slipped and this being the worst relapse than any of her others."
"Everyone was rooting for her and wants her to get the help she needs," the insider shared. "Her daughter Ava is hopeful and supportive."
Her rehab check-in in June came just one day after getting arrested for allegedly attacking a police officer and EMT. On June 24, police arrived at her home when an "extremely intoxicated" Locklear was reportedly arguing with her friends and family. A watch commander for Ventura County Sheriff's Office told E! News at the time, "Before taking her in, they wanted to get her medically cleared, due to the level of her intoxication and behavior. So, an ambulance was called. As she was being treated, she kicked an EMT, which is a crime."
At the time, she got two misdemeanor charges: battery upon an officer and emergency personnel. A few weeks later, however, the district attorney's office added three charges to her original arrest, including one count of battery on a peace officer, one count of battery on an EMT and one count of resisting, obstructing or delaying a peace officer. Her lawyer pleaded not guilty on her behalf.
In February, she was arrested for felony domestic violence and "misdemeanor battery on a peace officer." It was later revealed that Locklear's sister told police that claimed Heisser "had tried to kill" Locklear. A search warrant at the time, which was obtained by E! News, said, "it appeared that Chris was restraining Heather on the bed. Neither of them was striking each other or appeared to be struggling."
The warrant said that Heisser denied hitting her and that she struck him and he was defending himself. However, she "continued to scream that Chris tried to kill her, but she would not calm down enough to give the deputies a statement."
The actress also apparently told police officers after putting a hobble around her ankles, "You f--king deserve your kids to die! You f--king deserve it! And when you find yourself in that position, think of me!"
Locklear then checked into a rehab facility after this arrest.
On Sept. 19, Locklear briefly returned to social media after a hiatus and posted a message about addiction and recovery. "Addiction is a ferocious and will try to take you down. Recovery is the best revenge," she typed out. "Be kind to everyone you meet, your light just might change their path."
E! News has reached out to Locklear's rep and attorney for comment.