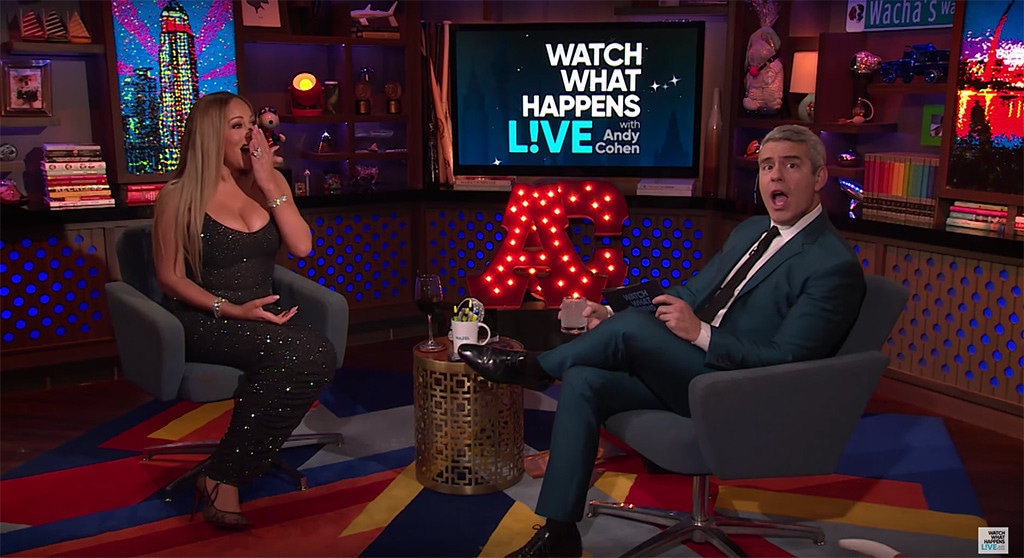 YouTube
Well, that's one fan encounter Mariah Carey will never forget. 
During her guest appearance on Monday's episode of Watch What Happens Live With Andy Cohen, the singer received a call from a fan, who confessed to faking a marriage proposal at her Las Vegas concert just so he could meet her.
"You were so sweet and invited us backstage," the caller admitted. "I didn't know how to get your attention."
At first, Carey seemed a bit surprised.
"You really faked it?" she asked. 
But after the superfan apologized to the "Hero" star and said he felt "horrible" about the lie, she revealed she didn't have any hard feelings.
"You know what? I can't believe you did that, but I aint mad at you," she said.
In fact, it turns out the caller still hasn't tied the knot.
"Even more reason why I aint mad at you," she said. "Well, I forgive you."
In addition to hearing the confession, Carey answered a few fan questions, including one from the trickster, who asked if "GTFO" was about any particular person.
"'GTFO' was my anthem while writing it…Anytime I needed to, like, get out of a room, like, leave a moment, something bleak, I was like, 'Let me go.' Like, you know?" Carey said. "We just needed to say that to a lot of people, certainly people more than others, and I think it still stands." 
Watch the video to hear her full interview.
(E! and Bravo are both part of NBCUniversal).