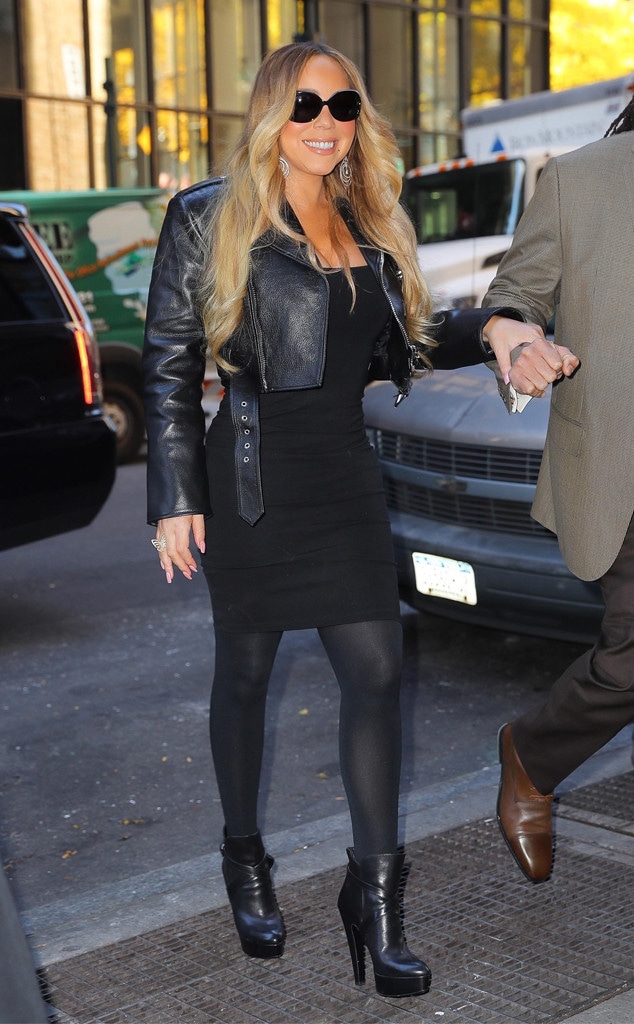 Spartano / BACKGRID
It's a good time to be Mariah Carey.
The holiday season's officially kicked off thanks to her seminal track "All I Want for Christmas Is You" making its annual return to the charts. Her album Glitter, the soundtrack to her much-maligned 2001 film, has miraculously reached No. 1 on iTunes, nearly two decades after its release. Her 15th studio album, Caution—her first in four years following the iconic and insanely entitled Me. I Am Mariah... The Elusive Chanteuse—dropped on Friday, Nov. 16. She remains boo'd up with boyfriend, backup dancer Bryan Tanaka. 
Once again, it's finally feels like the Celebration of Mimi.
And for a minute, it looked like we might not make our way back to this place. Because as the Lambily knows all too well, the past few years for Carey have been, well, rocky, to say the least. And it all started when an unlikely whirlwind romance had all the air knocked out of its sails.
Jonathan Leibson/Getty Images
When the singer met billionaire James Packer, both were rebounding from separations—his from second wife Erica and hers from second husband Nick Cannon—and neither seemed like they really belonged in one another's orbit. Packer famously hated personal publicity and Carey, well, her career thrived on it. But connect they did and soon they went from spending time on his yacht and walking red carpets together in New York and Macau to an engagement, which arrived on January 21, 2016 when Packer got down on one knee at New York's Eleven Madison park, presenting the massive 35-carat Wilfredo Rosado-designed engagement ring that Carey's then-personal assistant and manager Stella Bulochnikov (more on her later) had him buy from her uncle in NYC's jewelry district.
Immediately after the engagement was announced, the problems began. A proposed wedding date of March 1, less than two months later, meant that prenup negotiations had to begin in earnest. And as Packer admitted in new biography The Price of Fortune, there were "problems" on the reported 37-page document that stipulated that Carey would receive $115,385 per week if the couple divorced, up to a maximum of $30 million.
As Packer's friend, Australian businessman Kerry Stokes tells it in the book, friends of the guy were so concerned that he felt he needed to step in and take complete control of his personal affairs. First order of business? Postponing the wedding and sending Packer to Israel for some space. "We did have some issues at the time because Mariah's agent was most insistent that they would not be separated and the wedding take place," Stokes said, according to excerpts published by the Daily Mail. "James was upset at not seeing [Mariah]. But he wasn't sure. He was obviously engaged to her. He was obviously emotionally involved. The fact that it was postponed, he was happy to get the chance to get himself into a better place. James was still reasonably intent on marrying her [after Israel]. But the boat had been moved, the occasion had been cancelled, circumstances had changed. To restart it all was not easy. During that process it [the wedding] all fell apart."
All the while, cameras were rolling on Carey's life for her impending reality series, Mariah's World, which was set to debut on E! that December. And despite some reconciliation over the summer, by the time Packer viewed the pilot in September, it was clear that their divergent philosophies on publicity were too insurmountable. At the end of the month, the engagement was off and the relationship was over. "I then head back to the boat, Mariah and I break up and Mariah gets off the boat," Packer said in the book of the day he arrived in Naples, where his yacht was docked, following the funeral of Israel's former president Shimon Peres.
Speaking about the breakup in November while promoting Mariah's World, Carey told E! News' Zuri Hall that it wasn't hard to relive the wedding planning captured on the series. "No it's just, you know, all things in life it's just like you gotta see what's meant to be and if it's meant to be it's meant to be and if it's not then ultimately you just have to accept that and move on," she said.
But while she was publicly putting up a brave face, privately, she and Packer were locked in battle over a settlement that carried over into the following year. By February, they reached a settlement of reportedly around $8 million, with Carey keeping the engagement ring. Though she'd begun to move on with her life, slowly falling for Tanaka as the engagement was falling apart, as seen on Mariah's World, the hits kept coming.
Who can forget the performance on Dick Clark's New Year's Rockin' Eve? Meant to ring out 2016 on a high note, the performance left us all scratching our heads. It was clear that Carey couldn't hear the backing track among the deafening roar of Time's Square, as she alternated between attempting to sing "Emotions" and explaining to the audience watching what was going on. 
"We didn't have a check for this song, so we'll just sing. It went to number one," she said on live television as millions watched her just sort of meander around the stage. "We're missing some of the vocals, but it is what it is." The puzzling five minutes lead to a he said-she said between Carey's camp and Dick Clark Productions over who was really to blame for the performance that had everybody talking. Not the best way to start a new year.
What followed in 2017 was exactly one new non-soundtrack track, "I Don't," a guest spot on Lionel Richie's All the Hits Tour not exactly befitting a legend of her status (no tea, no shade to Richie, but he should've been the one guesting on her tour), and a dissolution of her working relationship with Bulochnikov in November. 
"After working together for almost three years, Mariah Carey and Stella Bulochnikov have determined that it is in their mutual best interest to part ways on day-to-day management," a statement from Bulochnikov read. "During their time working together, they have accomplished great things, including, most recently, Mariah Carey's new music and motion picture projects for this upcoming holiday season. Mariah Carey and Stella Bulochnikov remain partners in a number of business ventures, and will continue to support each other in those endeavors."
By April of this year, that had soured completely when Bulochnikov filed a summons notifying Carey of her intention to sue for violation of the U.S. Civil Rights Act, California Fair Employment and Housing Act, breach of contract and breach of fiduciary duty among others, seeking money damages. Bulochnikov's accusations towards her former boss purported that Carey was frequently naked in front of her, owed her money in the millions for unpaid commissions and, as her laywer Pierce O'Donnell alleged to The Blast, "is addicted to alcohol, prescription pills, and marijuana."
Theo Wargo/Getty Images for M.A.C
In response to the claims, Carey's rep told E! News "Stella Bulochnikov was terminated from employment as Mariah's manager due to failure to perform her job effectively and ill-serving her client. Stella was not under contract for employment. She has been spreading false rumors to any media outlet that will publish them. We won't respond to lies and threats. Again, if this frivolous and baseless claim is filed, we will defend against it vigorously and successfully. It is also interesting to note that this is the first lawyer who will move forward on Stella's behalf, having previously gone through three others who wouldn't."
As of September, O'Donnell was still leveling threats at Carey, telling Life & Style that if the singer did not settle the millions in "unpaid commissions," his client would go on the record in a "blockbuster expose lawsuit." "The truth will be revealed," Bulochnikov threatened. "It'll come out in court."
Around the same time that Bulochnikov made her intention to sue clear, Carey was also opening up to the world like never before, revealing in the April 23 issue of People magazine that she's been living with bipolar ll disorder for nearly two decades. Inspired to tell her story after seeing people like Pete Davidson, Lady Gaga and Demi Lovato speak about their mental illnesses, the songstress told the publication that she was first diagnoses in 2001 after she was hospitalized for a mental and physical breakdown. Not wanting to believe it at the time, she spent years after her hospitalization "so terrified of losing everything [that] I convinced myself the only way to deal with this was to not deal with this."
"Until recently I lived in denial and isolation and in constant fear someone would expose me. It was too heavy a burden to carry and I simply couldn't do that anymore. I sought and received treatment, I put positive people around me and I got back to doing what I love—writing songs and making music," she told the magazine. She said she's now in therapy and taking the proper medication to manage the disorder, which is characterized by extended periods of depression, hypomania and mood swings.
"I'm just in a really good place right now, where I'm comfortable discussing my struggles with bipolar II disorder. I'm hopeful we can get to a place where the stigma is lifted from people going through anything alone. It can be incredibly isolating," Carey added. "It does not have to define you and I refuse to allow it to define me or control me."
As the mother of seven-year-old twins Monore and Moroccan, whom she co-parents with Cannon, began dealing with her disorder in a constructive manner, her life and career began its current upswing. She returned to Dick Clark's New Year's Rockin' Eve a year after the infamous performance and truly delivered, reminding everyone that sometimes a fluke's just a fluke. She signed a new worldwide deal with Live Nation Entertainment, which brought her back to Las Vegas for her new residency The Butterfly Returns, which opened in July to critical acclaim. She got to work on Caution. She headlined the iHeartRadio Music festival in September. And she'll be returning to Europe with her All I Want for Christmas Is You tour in December.
After a rocky few years, it appears the worst may finally be behind her. And that's something to sing about.