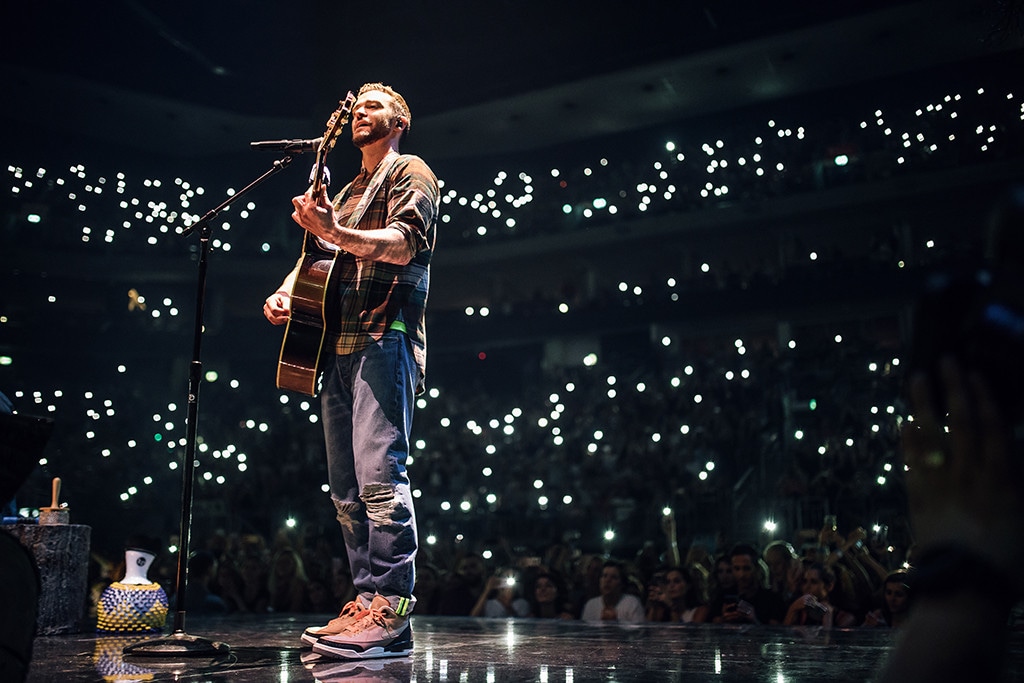 Mark Nguyen/Live Nation
By the time Justin Timberlake's Man of the Woods Tour ends its run in 2019, the 37-year-old singer-songwriter will have performed 112 shows across Europe and North America. But as his fans can attest, no concert is the same—and in fact, they'd probably even argue each one is better than the last. "I have a ton of fun performing with my band and dancers, and we keep it fresh every night," Timberlake tells E! News in an exclusive interview. "But I do believe in being well-rehearsed so you can get to the stage and forget all of that and just be in the moment."
To create a more intimate environment, Timberlake brought in production designers Brian Buckner and Josh Zangen to create an outdoor aesthetic that coincides with the theme of his fifth studio album. Working with production manager Robert "Hydro" Mullin, lighting director Brian Vaughan and creative producer/lighting designer Nick Whitehouse, he created an immersive, one-of-a-kind experience. "I'm always looking for new ways to make my concerts feel unique and be as close as I can to the fans. This stage design was birthed out me wanting everyone to feel the energy towards the middle of the floor," he says of the TAIT stage design. "I also wanted it to look like a movie set when you entered the building, so there's that, too."
Kevin Mazur/Getty Images for Live Nation
Timberlake got even closer to fans thanks to the Verizon Up rewards program, which gives customers access to VIP event tickets and everyday prizes simply by paying their wireless bills. "Getting to interact with people is one of my favorite things about touring," Timberlake explains to E! News. "That's why I was excited about Verizon creating an opportunity for my fans to get stage-side access throughout the tour through the Verizon Up rewards program."
"I was able to connect with so many fans in the Verizon Up section," the "Say Something" singer adds. "A standout was definitely when one of them had me help with a gender reveal onstage."
Kevin Mazur/Getty Images for Live Nation
Fans can still see Timberlake when his Man of the Woods Tour stops in Denver, L.A., New York City, Philadelphia, Washington, D.C. and other cities across North America. But those who missed the chance to see him live can learn more about him through his recently published book, Hindsight. Rest assured, everything fans ever wanted to know about Timberlake is in its pages. "We went through a pretty vigorous editing process, so it's all there," he promises. "I just wanted to give anyone who was curious a little window into my creative house, so to speak."