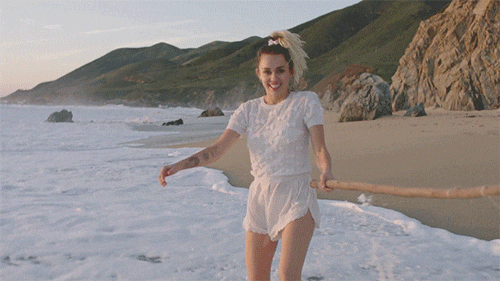 RCA
Get ready to raise a glass, twerk it out and party in the U.S.A., because it's Miley Cyrus' birthday!
The iconic singer is officially 26 years old today and it's time to celebrate. We can't stop, and frankly we won't stop, toasting Cyrus on her birthday and neither should you.
The Tennessee native has given us a lot to celebrate during her two-plus decades worth of work in the entertainment industry. She's been Hannah Montana, killed it as a Disney Channel star, acted in romantic comedies and sang her heart out for years.
Her albums have been teen-based pop, country soul, edgy rock, and outrageous Bangerz that we won't soon forget.
One thing's for sure, the birthday girl knows how to bring the fun and keep it coming, so we've rounded up our favorite music videos throughout her career to honor her today, and every other day for that matter.
The "Malibu" singer has shown such an evolution throughout her music career, not to mention in her personal life over the years, and we've enjoyed watching all of her different musical sides.
From her Disney days to her most-recent record, Younger Now, full of heartfelt ballads—and everything in between—Cyrus has proven she has a voice, stories to tell, and the guts to share them with the world.
In honor of her 26th birthday we only ask two things of you. First, that you vote for your favorite music video from the artist below. Second, that you give Cyrus a birthday shout out, because famous people deserve a little love on their birthday too.
Cheers to 26 Miley! We love you and all your wild, crazy and fun times...not to mention the music that's documented it all.
"Malibu"
"Malibu" comes from the Tennessee native's sixth studio album and it's like a gorgeous daydream. It shows Cyrus in her element…by the ocean, in the forest and by a waterfall. She is natural and pure Miley and it's just a beautiful video. In between seeing her be playful and enjoying life in a bikini, you see her carrying colorful balloons, rolling through fields of wildflowers and just being herself.
"Can't Be Tamed"
In 2010, the 26-year-old singer released this video and fans still can't get enough of it. The whole thing starts with people attending a gala to see a dangerous and intriguing black bird, played by Cyrus, in a cage. She brings the drama, heat and her epic dance moves to this story as she proves she can't be tamed in her bird form. The entire video is a fantastic dance routine that we can't help but become hooked on.
"Wrecking Ball"
Who could ever forget this iconic music video? "Wrecking Ball" begins with Cyrus starring at the camera, crying, before she walks around a concrete room wearing a white tank and underwear carrying a sledgehammer. She then comes in on a wrecking ball, naked, and starts knocking things down. It's very sexual and very memorable.
"Party in the U.S.A."
We can't stop and we won't stop loving this music video. It is from the days when Cyrus was a part of Hollywood Records and we just love it so much. It shows off Cyrus' country roots throughout the video as she wears cowboy boots, sings from the tailgate of a truck and just has a fun time at a country bash. It's a party in the U.S.A., duh.
"We Can't Stop"
Party Miley is always a fun Miley! Off of her Bangerz album, "We Can't Stop" is a serious party jam and the video is equally as fun and crazy as the lyrics in the song. Throughout the video you see Cyrus singing on a bed as party scenes of her twerking, dancing in a bear costume, swimming in a pool full of friends and more shenanigans take place. She even jumps on an elliptical and then drags a taxidermy animal while wearing a fur coat before partying harder. It's a giant ragger and it's definitely outrageous.
"7 Things"
2008 Miley was a whole different Miley and we loved her oh, so much. The video for "7 Things" shows the Disney darling version of Cyrus, rocking a sweater-vest dress, as she belts out her song with a grunge-style band behind her. There are other young girls rocking out as well in the video and throwing their teddy bears and love notes from their exes around. It's pretty much the perfect breakup anthem from the days when you were a teen and had a little more angst to let out.
"The Climb"
Wow, this is a throwback! "The Climb" is one of Cyrus' most powerful tracks and the video is just as touching and fun to watch. It shows the artist playing her guitar under a blue beam of light in between clips of her walking with her guitar case in hopes of finding something more. It also replays parts of Hannah Montana: The Movie, which is where the single first appeared.
"BB Talk"
If you've ever wanted to see Cyrus as a giant baby all you have to do is watch this "BB Talk" video. There are clips of the singer in a giant baby bonnet, sitting in a crib, playing with a rubber ducky in a bathtub and wearing a lot of other strange baby costumes throughout the video. Yes, it's weird, but very memorable.
"Who Owns My Heart"
This track came out towards the end of Hannah Montana and it proved that Cyrus had a wild-child side to herself. It's one of her more tame music videos to date, but it also shows off her ability to go full-on party girl. In the clip you see the singer getting ready for a night out, driving up to a mansion in a limo and then inside dancing at a crazy bash. She rocks teased hair, a skimpy ensemble and really owns the night.
"Younger Now"
In 2017, the former Disney Channel star dropped the "Younger Now" video and it is quite a story. It shows Cyrus going back to her country roots, showing off different sides of her past and totally owning them. She plays guitar while riding on a pageant float, dresses like a cowgirl, hangs out with a rowdy clique of old people at a circus, and even channels Elvis with some of her hair and wardrobe choices. There are also clips of older ladies doing circus acts before you see Cyrus fall from the sky into the '50s where she starts dancing like she's at a sock hop. It's totally random, but somehow works.
Now that you've relived all of Cyrus' best music videos, it's time to vote for your favorite. It's a hard task, but you can do it. Just think, what would Miley do and you'll be good to go!
Miley Cyrus' Best Music Videos