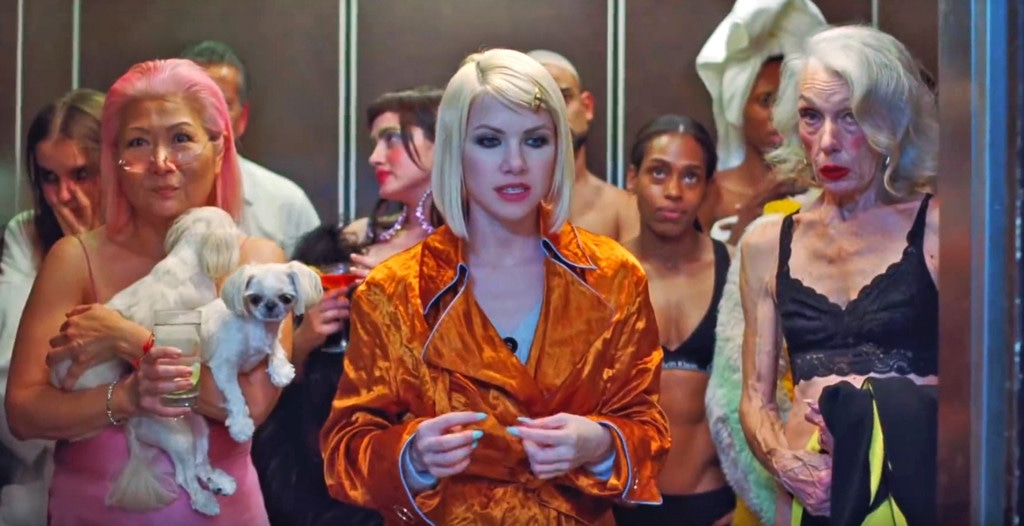 VEVO
Happy birthday Carly Rae Jepsen!
On Wednesday, the Canadian crooner turned 33 years old and she's currently hot on the heels of her latest single release of "Party for One."
The pop star dropped the song at the beginning of the month, along with a music video that really embodies the track's empowering mantra.
Whether Jepsen decides to celebrate her birthday with a big bash or just a party for one, we're celebrating by looking back at her best music videos ever.
On her birthday it seems only fitting to reminisce about how much Jepsen has grown, both as a person and an artist, over the years, right? Yes, duh!
Lucky for you, you won't have to go any farther than this post in order to do just that.
We've done all the legwork for you by compiling Jepsen's best music videos for a birthday-themed stroll down memory lane below. You're welcome!
Since the artist has so many good videos it was hard to narrow it down to the best of the best, but we managed to make it work!
If you want to watch the pop princess have some fun in the sun or get wild in the woods, then you've come to the right place because she has videos for each of those worlds.
If you'd rather see the star take on dramatic, rocky relationships, then we've got that covered as well with a few more music video picks.
Either way, you're going to be dancing the whole time you watch these videos. Trust us, repeat views are bound to happen as well.
We love all these videos so much that we can't decide which one is our favorite, but that's what you're for.
Once you've indulged in all things Carly Rae, make sure you vote for her best music video in our poll below!
"Tug of War"
Watch Jepsen fall head over heels for a gorgeous guy in this video and then struggle with separation when he goes out and leaves her at home alone. TBH we've all been there!
"Bucket"
This song is so sunny and sweet that it only makes sense the video brought that feeling to life with a fun-filled trip to the ocean. Jepsen and her besties seem like they're having a blast on the beach throughout the video and we want an invite next time!
"Sour Candy" feat. Josh Ramsay
Rocky relationships are always hard and this collaboration with Josh Ramsay from the pop punk band Marianas Trench definitely depicts just how tough it can be to work through those rough patches. The visual shows Jepsen and Ramsay in couples' counseling, but it doesn't seem to be working. Check out the full video to see what happens next.
"Call Me Maybe"
In case you forgot, "Call Me Maybe" was Jepsen's big break and the video for it definitely made its own massive splash as well. The music video—which has been viewed over one billion times—shows Jepsen shamelessly hitting on her new neighbor, who is quite the hottie. In the end, things don't turn out quite how she plans, but that doesn't matter because the video is such a blast to watch.
"Good Time" With Owl City
Fittingly enough, this video is simply, well, a good time. Jepsen and the boys from Owl City cruise around in convertibles and cute cars before meeting up with a bunch of friends at a camp site. Let's be honest, there's nothing like a little campfire fun in the summertime!
"This Kiss"
In this music video, the Canadian singer is all about the thrill of the chase. The pop star finds herself smitten with a bad boy, and while it might not be the smartest move, she ends up flirting with him as they chase each other around the club.
"Tonight I'm Getting Over You"
The video for this empowering anthem is all about loving, fighting, making up and moving on. The story documents Jepsen's roller coaster relationship with an on-again, off-again flame, and we're living for the drama!
"I Really Like You"
It's been years since this video came out and we're still obsessed with the fact that Tom Hanks stars and lip syncs every word to Jepsen's upbeat pop song. Seriously, watching the acclaimed actor mouth every lyric to the single while making his way through the city is just so much fun. Oh, and that choreography at the end? It's too cute.
"Run Away With Me"
After watching this video, we desperately want to jet set across the globe and frolic around every major city. Jepsen just seems to have so much fun dancing in fountains and singing in squares that we want to join in ASAP. Plus, it just looks so romantic, don't you think?
"Your Type"
This song, and its corresponding music video, are both about feeling the need to capture people's attention. In the song, Jepsen sings about knowing that the person she's interested in doesn't feel the same. In the video, she performs for bar patrons who don't seem to care at all that she's totally crushing it, giving off the same sad feelings as the lyrics on the track. The good news is that when her dream sequence kicks in everything changes...for the better.
"Boy Problems"
In this video, the 33-year-old singer laments that her friends are all sick of her complaining about her dating woes, and comically shows other women who are also feeling like a burden to their girl squad. The video is just so silly and fun.
"Cut to the Feeling"
Don't be fooled...this is the official music video for Jepsen's 2017 banger. It may seem like a behind-the-scenes clip for most of the video, but by the end it segues seamlessly into a high-quality video, complete with stage lights and spectacular cinematography.
"Party for One"
Jepsen and her co-stars all embody empowerment in this video. It shows the sad singer checking in alone into a hotel, but it quickly spins into a fun and freeing experience. The hotel's other solo patrons follow her lead, until the power goes out, which is when they all join together for a party in the lobby.
So there you have it, our top 13 music videos from the singer! Now it's your turn to sound off on which music video is your all-time favorite in the poll below.
PS: Don't forget to show Jepsen some love today...it is her birthday after all!
Carly Rae Jepsen's Best Music Videos