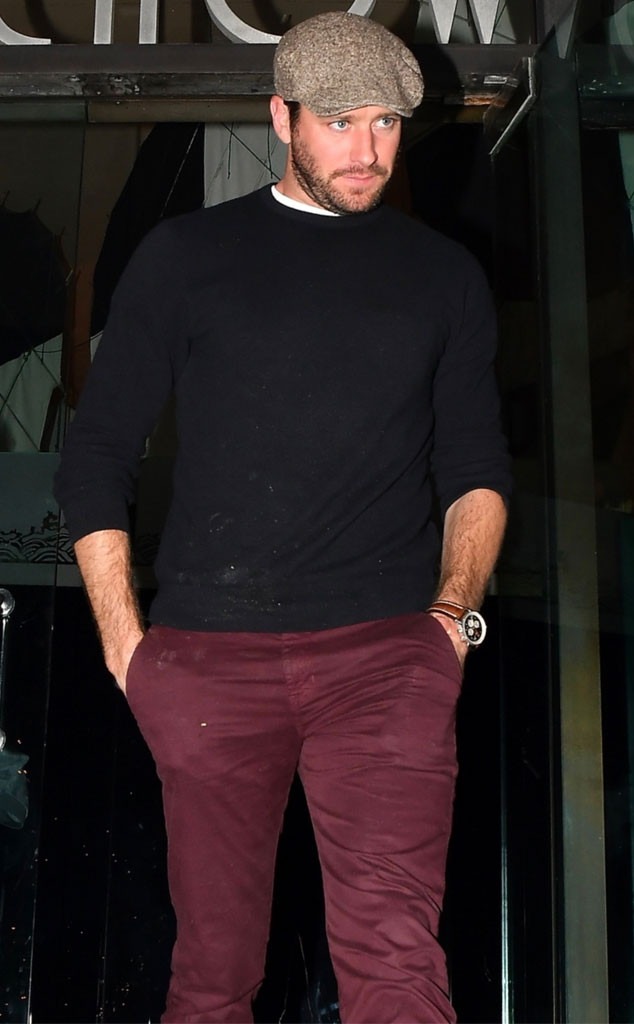 CLICKSNAP / BACKGRID
UPDATE: Two days after the Oscar nominee sparked backlash for criticizing stars' tributes to the late Stan Lee, Armie Hammer is saying sorry. 
"While attempting to provide some unnecessary social commentary about the current selfie culture, I (in true a--hat form- thank you Jeffrey Dean Morgan) inadvertently offended many who were genuinely grieving the loss of a true icon," he tweeted on Thursday. "I want to apologize from the bottom of my heart and will be working on my Twitter impulse control."
_______________________________________________________
Armie Hammer has a problem with the way celebrities are honoring Stan Lee. 
The comic book legend, who famously created many of the Marvel Universe's beloved superheroes, died on Monday at 95 years old. Naturally, all the fans he touched with his creations and the stars who brought such comic book characters to life showered the internet with posts in homage to Lee. In the age of social media, grieving stars typically use their platforms to commemorate icons who have passed away. 
As the tributes poured in, however, Hammer took issue with how celebrities were remembering the late legend. Specifically, he called out the photos they posted of themselves with Lee. 
"So touched by all of the celebrities posting pictures of themselves with Stan Lee... no better way to commemorate an absolute legend than putting up a picture of yourself," the Call Me By Your Name star tweeted on Monday. 
"They... worked with him...?" a reporter responded. "Me.... too...?" Hammer retorted. The actor voiced a character in Lee's Mighty 7 in 2014. 
"Maybe they're just remembering how it felt to meet him with those photos," another fan reasoned on Twitter. "That's how I would feel. I never got the chance."
"If Stan impacted your life (ie. All of our lives) with his work, post his work that touched you the most," Hammer wrote back. "Posting a selfie makes his death about you and how cool you felt taking a picture with him."
When someone asked, "What else u supposed to do when someone dies armie," he responded, "If your answer is 'post a selfie' then I think we need a cultural revamp across the board."
However, the internet was not having his argument. "Armie you can't be serious right now...you're doing worse than what you tweeted about and are making his passing and the things he's done by proving some irrelevant point? i have no idea what makes you think you know how people should be allowed to grieve..." another reader weighed in. 
"Ahhhhh okay so as long as someone expresses sadness for another person passing in a way that ticks your own personal checklist of approval, then it's all g? Got it," someone else fired back. 
Hammer's criticism clearly did not go over well and Twitter users did not hold back in their retorts. "Literally stop talking, you're not making this any better. the fact that you're telling people how to grieve is so gross," another tweet read. 
As one critic simply put it, "Armie stop it ain't worth it my dude you're wrong here."
(Originally published November 13, 2018 at 7:37 a.m. PST)