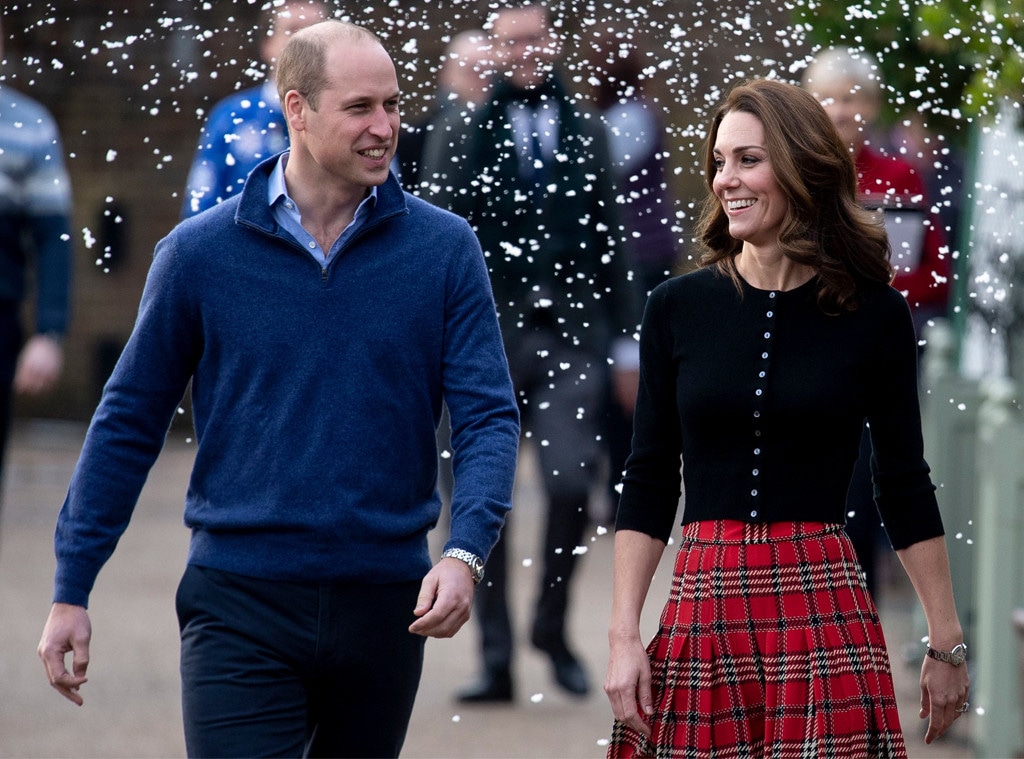 WILL OLIVER/EPA-EFE/Shutterstock
For years, Kate Middleton was arguably the most beloved member of the royal family. Sure, Prince William was great, Queen Elizabeth II had her devoted disciples and people were always going to be interested in what Prince Harry was getting up to, particularly if that involved squiring around a new prospective princess. But in terms of undisputed star power, no one garnered more notice than Kate. 
The Duchess of Cambridge upstaged her Duke at nearly every photo op and pretty much all royal news could be boiled down to one of three categories: Who designed Kate's look—and is it an outfit she's recycled from before? Is she testing out a new hairstyle—could bangs be next? And, wait, could that possibly be the hint of a baby bump?!
Then a funny thing happened. Harry decided to settle down. 
Every bit as charismatic as Kate, and media trained to boot, Meghan Markle was poised and warm, had a slew of causes she was already passionate about and was a shiny new character sending royal watchers aflutter. That her official coming out party—her and Harry's breathlessly viewed May nuptials—coincided with Kate's six-month maternity leave following the April arrival of Prince Louis only made Meghan's star shine brighter and soon it became easy to forget that there was another princess bride with a perfectly bouncy blowout and a knack for pairing designer fashions with affordable wares. 
That all changed Oct. 23. At her sixth official event back, a state dinner in honor of the Netherlands King Willem-Alexander and Queen Maxima, Kate topped her ice blue Alexander McQueen gown with the diamond-and-pearl Lover's Knot tiara (a favorite of Princess Diana's) and the Royal Family Order brooch, reminding everyone she was the original style queen.
It's not so much that there's any sort of inherent competition between the two duchesses. Despite what fun it is to speculate otherwise, insiders swear they're each happy to cede center stage at any one given time. And they've made it a point to share the spotlight in recent weeks as rumors of their alleged feud reached a crescendo that even the palace couldn't ignore, smiling side-by-side at Prince Charles' 70th birthday celebration, November's Royal Foundation Dinner and, of course, Christmas Day services at St. Mary Magdalene Church. 
But for all of her seemingly shy tendencies, Kate, who marks her 37th birthday today, isn't content to fade into the background. The newly named patron of Evelina London Children's Hospital is deeply committed to moving the needle on pet causes such as mental health, underprivileged youth and the importance of the arts and she's fully aware that her influence is only set to grow as William inches close to the throne. "A couple of years ago, you might have seen her being a little bit timid," Susan E. Kelley, owner and editor of the fashion cataloguing site What Kate Wore, opined to Vanity Fair. "Now, she seems like she's in a more take-charge position. I'm beginning to see the person who's going to be queen emerging." 
The first hints came Oct. 2 when Kate returned to her roots, both figuratively and literally helping a group of grade-schoolers at Sayers Croft Trust Forest School and Wildlife Garden make leaf crowns, dig for "minibeasts" and water plants.
Eddie Mulholland - WPA Pool/Getty Images
In her element—and her trusty Zara jeans and 14-year-old Penelope Chilvers boots—the mother of Prince George, 5, Princess Charlotte, 3, and nearly 9-month-old Louis doled out cups of juice, helped fill up a water jugs at an outdoor sink and regaled the group with tales of how she's helped her eldest two hunt for spiders in the gardens of their Kensington Palace home. And much like Meghan had done days earlier, she closed her own car door on the way in. 
A week later, the former art history major confidently added her brush stroke to Dairo Vargas' "Someone To Turn To" painting at the inaugural Global Ministerial Mental Health Summit, joking he was "very brave" to allow her and William to contribute. 
And while it was Meghan's suspiciously voluminous Givenchy coat that pulled focus at Princess Eugenie's Oct. 12 wedding, the normally PDA-shy Kate (in McQueen, the same label she wore for her own vows) drew notice for brazenly resting her hand on William's upper thigh. 
And if those actions didn't appropriately convey that she had returned to duty, her statement-making ensemble at the Buckingham Palace state dinner got the point across quite nicely. In addition to the tiara, first crafted in 1914 for Queen Mary, she draped herself in Queen Alexandra's pearl-and-diamond wedding necklace and a diamond-encrusted brooch featuring a painting of the Queen, and gifted to Kate by the monarch herself. 
The greatest honor bestowed upon a female family member, the Royal Family Order was presented to Kate last year. "Catherine is enormously proud to be have been given the brooch," a family friend told Vanity Fair. "She waited a long time for it, and I think she was very keen to be photographed in it. It's a badge of honor as far as she is concerned and she's absolutely thrilled." 
So you could say she put a bit of thought into the ensemble. "After that long break, she has certainly come back with a bang," Kaitlin Menza, co-host of the Royally Obsessed podcast asserted. "I think that's what she's trying to convey: 'I'm back, baby.'" 
And here to stay, her ensemble for December's Buckingham Palace diplomatic reception also featuring the Lover's Knot tiara and Royal Family Order pinned to a glittering Jenny Packham gown. 
Though, in the hearts of those who follow her, she never truly left. For all the news about pieces from Meghan's Commonwealth tour selling out left and right, according to Brand Finance's British Luxury 2018 survey, Kate is still the royal deemed most likely to convince U.S. shoppers to buy items by U.K. brands and the most liked U.K. icon, coming in three places above Meghan, 37. 
"Although Meghan has now joined the Firm—and temporarily taken the spotlight away from Kate—I don't think she will ever eclipse her," Claudia Joseph, author of How to Dress Like a Princess, told Vanity Fair. "There is a lot of affection for Kate both as a mother to three gorgeous children and a future Queen." 
Of course she intends to make statements that extend beyond fashion. Having fully grown into her senior position in the Firm after seven years, three heirs and too many walkabouts and tête-à-têtes with the Queen to count, she's passed off her commoner-finding-her-way-amongst-the-blue-bloods crown to Meghan, who's just starting her journey—and her family—with Harry. 
"She found her role as a working member of the royal family through bringing up her own children and realizing what's important to her," ABC News royal commentator Omid Scobie told Vanity Fair. "One of the things that we'll see her really focusing on for the months ahead is working to help support disadvantaged children in the U.K....Kate has this plan in place to really work with a number of organizations, including the Royal Foundation." 
In the past the daughter of former flight attendants has been labeled with the reputation of a somewhat reluctant royal, with some never shaking the image of the newly engaged University of St. Andrews grad confessing to ITV News' Tom Bradby that she was a bit apprehensive about the role she was taking on. "It's obviously nerve-wracking, because I don't know what I'm sort of...I don't know the ropes," she admitted in the 2010 interview, the first time much of the world heard her voice. "William is obviously used to it, but no I'm willing to learn quickly and work hard."
She's done both quite admirably. To hear insiders tell it, Kate's soft-spoken demeanor, modest hemlines and ever present pantyhose belie her true personality. Behind the scenes, those in the know insist, she's a true force of change. "The Duchess of Cambridge has been labeled work-shy in the past," says Vanity Fair's royal correspondent Katie Nicholl. "But, actually, she's taken on just a few patronages, things where she's really made a difference. Early intervention with young children in primary schools, putting mental health on the map with Heads Together, was her idea. She's been very instrumental." 
And incredibly effective. Lorraine Heggessey, CEO of the Royal Foundation, revealed to People it was Kate that suggested they team up to direct their focus towards eradicating the stigma that's long been attached to mental illnesses. "I have found her to be incredibly wise," she told the mag, noting that while she's not the type "who pushes herself forward, she is very confident in her views. She often spots the nub of the issue or a critical thing that needs dealing with." 
DAVID HARTLEY/Shutterstock
Still, don't expect her to start strong-arming her fellow duchess. While Kate admittedly doesn't have a ton in her common with her new sister-in-law, any supposed rivalry is the hopeful invention of eager tabloid editors. 
"People who are often saying, 'Well, is she jealous of Meghan?' She's really not," asserts Nicholl. "Kate is happier in her life now that she ever has been. She has everything she wants. She has William, she has three beautiful children...she is where she always wanted to be."
Yes, it's true that Kate is saddled with certain expectation Meghan is exempt from. A presumptive queen consort who has the somewhat Herculean task of raising another future king, she's expected to toe the line in her sensible L.K. Bennett heels while Meghan, the wife of the so-called "spare heir" is somewhat more free to subtly share her viewpoints on more hot button issues, referencing the #MeToo movement in her speech at the first annual Royal Foundation forum, labeling herself a feminist on her official royal family bio and proudly turning her Windsor Castle vows into a cross-cultural celebration. 
Despite their differences, the pair have every reason to continue working together. "If they're clever, both of them, they will make sure this is a relationship that works," says Nicholl. "They could and should be great allies."
Kate has already done her part, acting as a steadying force for Meghan as she adjusted to her new life, extending an open invitation to drop by her Kensington Palace apartment if she ever had questions about what lie ahead. "Since very early on she made it clear that should Meghan ever need something, or just want to chat, she shouldn't hesitate to get in touch," an insider told E! News. "Kate knows how difficult it is navigating one's way through this very different world." 
Their affection has been on display ever since, with The Crown historical consultant Robert Lacey noting to People that, for Meghan, Kate and the Queen "seem to be her closest friends and partners in the official set-up." 
While an insider acknowledges to Us Weekly that the Berkshire native and the avowed California girl come "from two totally different worlds," they're now inhabiting the same small sphere. "They are two women under serious amounts of pressure, stress and under a huge spotlight that no one can relate to," the source told the outlet, "they will always have a bond that no one can break."
And for Kate, Meghan affords her the chance to go off-grid when necessary, say, for instance when she wanted the chance to recover from the taxing toll of childbirth in private. With Meghan picking up the slack, dutifully turning out to walkabouts in increasingly lust-worthy ensembles and doling out hugs and handshakes to eager devotees, Kate was able to enjoy her longest maternity leave yet, only stepping out for select obligations such as Harry and Eugenie's weddings, June's Trooping the Colour parade and Louis' July christening. 
"The fact that there is a new glamorous sister-in-law in tow is not going to worry her one bit," underlines Nicholl. "I think Meghan came at the right time for her because it was at a time when Kate wanted to step out of the spotlight." 
But now that she's back and she has a few things she'd like to say and some tiaras she intends to wear, well, she's ready to reclaim her throne. Respectfully, of course.