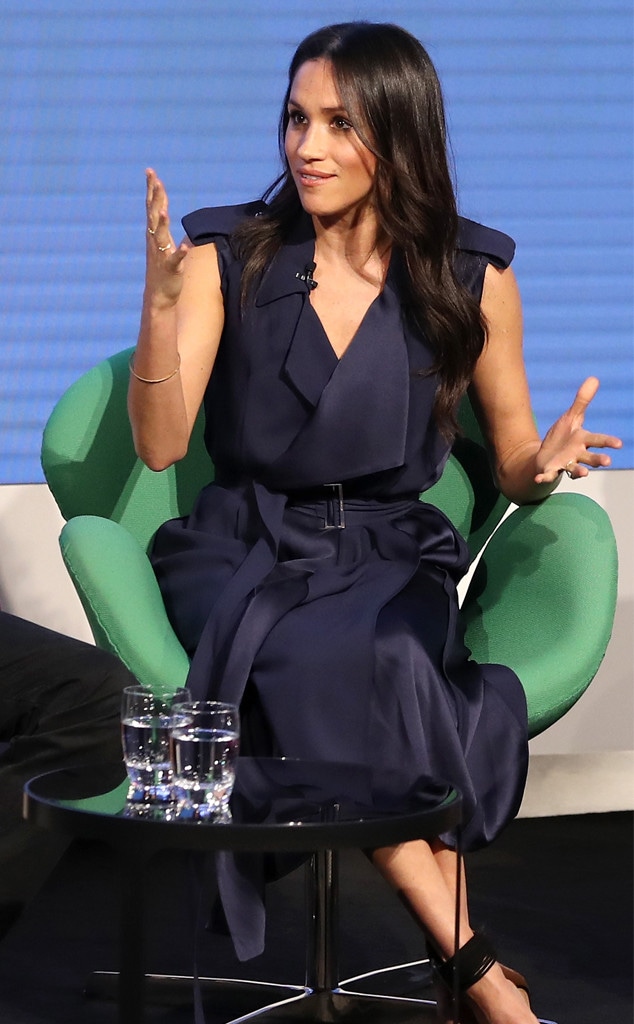 Chris Jackson - WPA Pool/Getty Images
Much like women everywhere, Meghan Markle doesn't need to find her voice—she already has one and she's using it. 
The future royal made that clear when she took the stage at the first annual Royal Foundation Forum on Wednesday in London. Flanked by her future husband, Prince Harry, and future sister-in-law, Duchess of Cambridge Kate Middleton, the American star eloquently tackled several questions, including her thoughts on the Royal Foundation and her future plans to contribute as a member of the royal family. 
Having already devoted much of her time championing on behalf of women and girls, the former Suits actress and ongoing activist has been working "quietly" behind the scenes with organizations in preparation to take her official post after her May nuptials. 
While discussing her intentions for her part in the foundation, Markle highlighted an important distinction about the kind of work she—and everyone else—needs to focus on in the realm of empowering women and girls.
CHRIS JACKSON/AFP/Getty Images
"I hear a lot of people saying when speaking about girls empowerment, finding and knowing their worth and women's empowerment as well—you'll hear often people say, 'Well, you're helping women find their voices,'" she explained on stage. "I fundamentally disagree with that because women don't need to find a voice—they have a voice. They need to feel empowered to use it and people need to be encouraged to listen."
As she noted in her impassioned remarks, that variance has been highlighted by the #MeToo Movement and Time's Up campaign rooted partly in her former industry. 
"I think right now in the climate we're seeing with so many campaigns, with #MeToo and Time's Up, there's no better time than to really continue to shine a light on women feeling empowered and people really helping to support them—men included in that."
As the bride-to-be concluded, "It makes such a tremendous difference."
Markle wrapped up her serious note with a smile. As she quipped, "I guess we wait a couple months and then we can hit the ground running."
We can hear those wedding bells already!