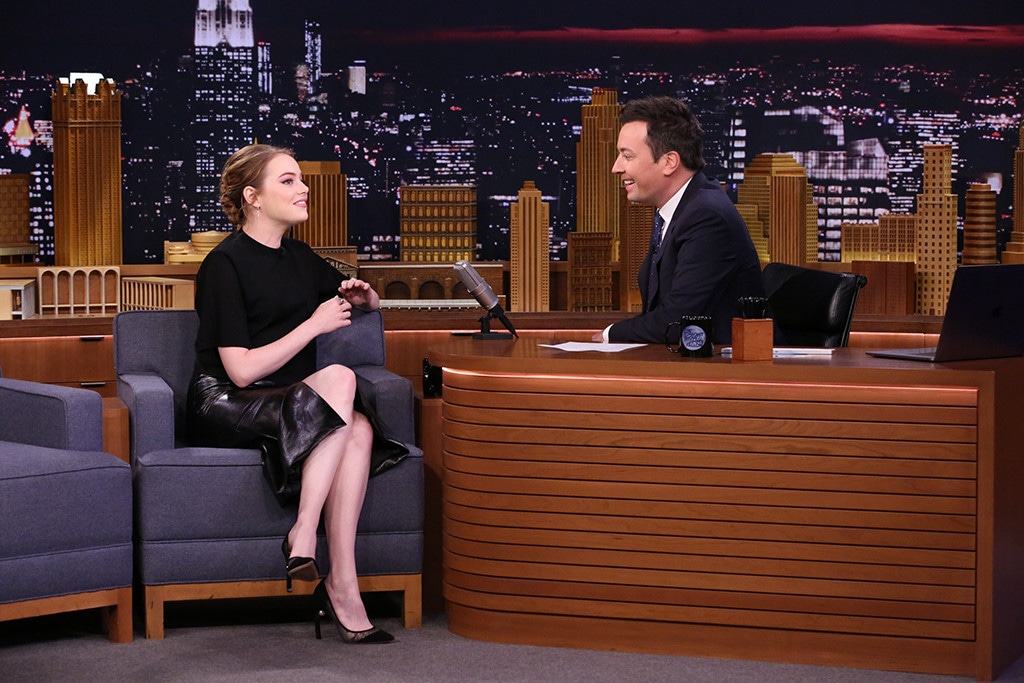 Andrew Lipovsky/NBC
By now, Emma Stone's love of the Spice Girls is well-documented.
But when the 30-year-old Oscar winner appeared on The Tonight Show Thursday to promote her movie The Favourite, she initially tried to play it cool after Jimmy Fallon asked if it's true that she's obsessed with the world-famous girl group. "Not me," Stone said. Before long, the animated actress laughed, saying, "Guess what? Actually, I was lying just now. I am! I am one!"
Asked to pick a favorite member, Stone fired back, "Who do you think my favorite is?"
The answer was obvious to Fallon (and just about everyone else): Emma Bunton.
"I was super blonde, and my real name is Emily, but I wanted to be called Emma because of Baby Spice. And guess what? Now I am," Stone laughed. "So, that's, like, pretty messed up. It wasn't necessarily because of her, but in second grade, did I go up to the teacher and ask her to call me Emma? Yes, I did. And was it because of Emma Lee Bunton from the Spice Girls? Yes, it was."
Stone can't wait to see Bunton reunite with Mel B, Mel C and Geri Halliwell when the Spice Girls embark on a tour next summer without Victoria Beckham. "I saw them in concert in the '90s, I saw them at O2 Arena in 2008, and they recently announced a new tour. I will be going to that somehow!" Stone said. "I don't think tickets are on sale yet, but I'm gonna figure it out."
Sensing Stone's excitement, Fallon then asked her to take BuzzFeed's "Which Spice Girl Are You?" quiz—and much to the actress' surprise, she did not end up with her beloved Baby Spice.
Watch the video now to find out Stone's result from the quiz.
(E! and NBC are both members of the NBCUniversal family.)