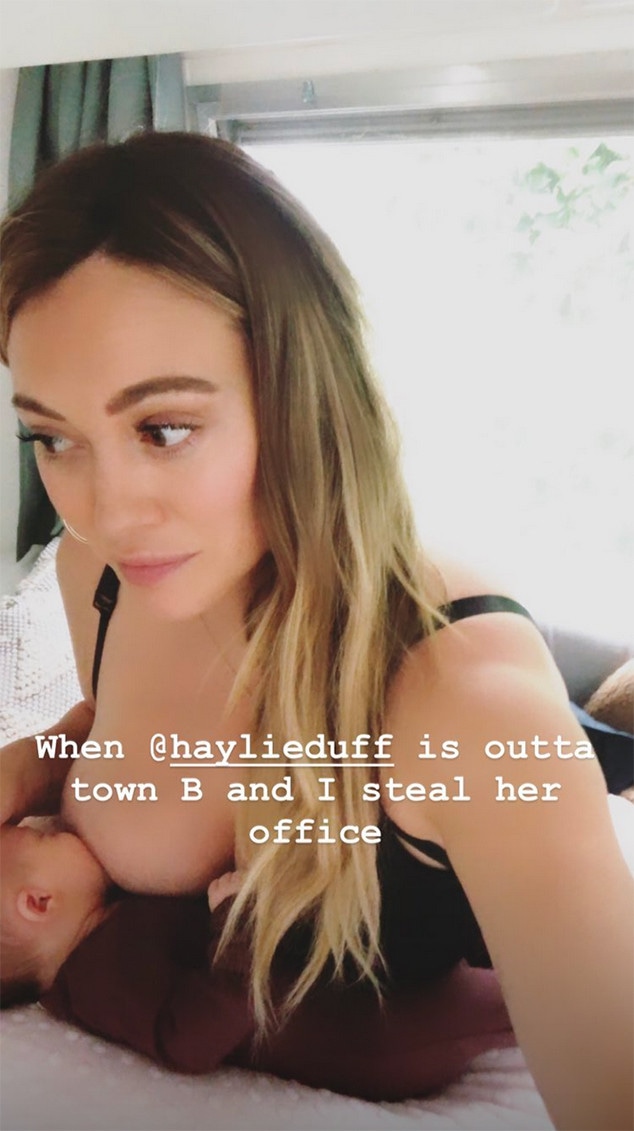 Instagram
Since giving birth to daughter Banks Violet Koma late last month, Hilary Duff hasn't been shy about sharing photos of her newborn baby girl via social media. Taking to Instagram Stories Wednesday, the 31-year-old Younger actress uploaded a photo of herself breastfeeding her sweet mini-me, captioning the shot, "When @haylieduff is outta town B and I steal her office." An hour earlier, Hilary shared a snapshot of Banks napping, writing, "Not a care in the world."
The caption could also apply to Hilary herself.
Lest anyone criticize her for sharing a picture of a bonding moment with her daughter, Hilary only posted her breastfeeding photo on Instagram Stories—where users can't comment on it. When she appeared on The Meredith Vieira Show in 2015, Hilary spoke about how nursing her son Luca Comrie, now 5, was once a topic of debate among fans. "I remember when I started working again, seven months after breastfeeding Luca and introducing formula. People [were] being like, 'Oh, you didn't make it to a year?'" Hilary remembered. "It felt like a big feat for me!"
In the past, the actress has defended herself whenever her parenting decisions were criticized by strangers on social media. Two years ago, for example, she posed for a seemingly innocuous picture with her son at Disneyland, in which they kissed on the lips. Amid backlash, she fired back on Twitter, writing, "For anyone commenting that a kiss on the lips with my 4-year-old is 'inappropriate' go ahead and click a quick unfollow with your warped minds and judgment."
Hilary also told Meredith Vieira she believes mom-shaming is essentially "adult bullying," adding that "heavy-handed advice" that isn't "coming from a mean place" is just as unwanted. "We want to do everything right and perfect, because we love our children so much, and it's basically just judgment on doing things differently from one another," the "Come Clean" singer said. "Obviously, we know not one thing works for every family or every child or every mother."
Hilary, who is not yet engaged to boyfriend Matthew Koma, is the first to admit motherhood is hard work. Despite how things may appear on social media, she admitted to E! News in April, "I don't always balance it all. I do the best that I can, and some months are crazier than others."