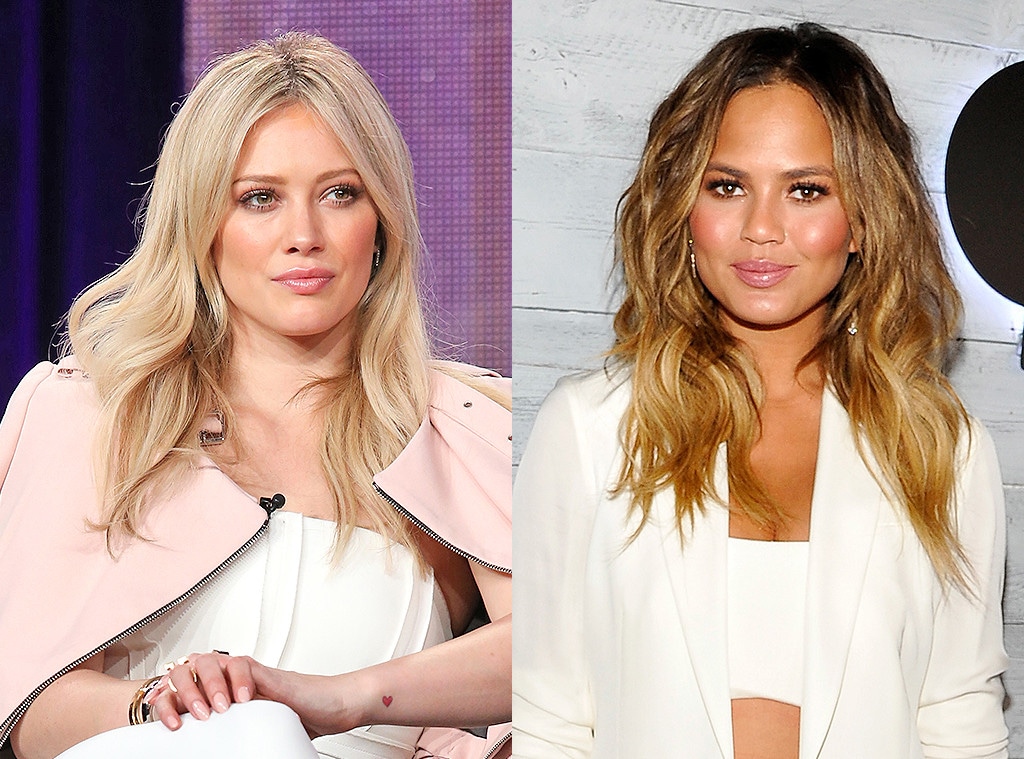 Getty Images
Is the Internet really trying to say that it doesn't want celebrities to share private moments with their fans on social media anymore?
Because, judging by recent trends, that seems to be exactly what some people want.
Over the last couple of years, "shaming" in all its shamefulness has become a popular mode of communication among the bored/disgruntled/judgmental/sad-sad-sad set, and as more celebrities have become parents in the golden age of Instagram and Twitter, the more the shaming once directed at women's bodies and their appearance has expanded to encompass their parenting skills and, at times, their actual children.
Just this morning, Hilary Duff and Chrissy Teigen acknowledged the usual vitriol in the air in different ways.
After Duff posted a picture of herself smooching son Luca outside the It's a Small World ride at Disneyland, some of the responses turned out to be...wait for it...negative, because the mom was kissing her 4-year-old on the lips.
Happily, tons of supportive commentary poured in in response to the garbage, much of it coming from moms who stood up for Duff's display of affection.
"It is a lovely picture of a mother and her son, a picture filled with love and affection! If anything, this should be a mom's goal in life! Love you Hilary, and don't let the negativity get to you! Just be happy," wrote @jazzymd33, who also wondered why anyone would actually bother to take time out of their day to leave a negative comment.
A question for the ages, jazzymd33.
Anyway, unfortunately the negativity got to Duff enough for her to reply—tersely, yet calmly—this morning with, "For anyone commenting that a kiss on the lips with my four-year-old is 'inappropriate' go ahead and click a quick unfollow with your warped minds and judgment."
Also to be found in Instagram feeds this morning is a new video of Chrissy Teigen and John Legend's daughter Luna, sitting and waving at the camera while dressed in a pink onesie. It's the sweetest.
But two-thirds of the caption Teigen wrote is a knowing preemptive shush at those who would be just dying to add their 2 cents about Luna's rosy cheeks.
"We miss you, papa!! Can't wait for you to come home! (Yes she has rosy eczema cheeks, yes we are taking care of it, no it's not a gluten allergy, no it's not our makeup, no it's not from our perfume, yes she's just a baby)."
Yeesh. Yet that seems to be what the celebrity moms have got to do these days—issue a disclaimer acknowledging that some people might find fault with a pic, but try to slow your roll if it's at all humanly possible.
Teigen might understand that better than anybody these days, having flipped her Twitter feed to "private" in October after it just got too rough out there for the model and cookbook author who has been the target of more than anyone's fair share of misplaced taunting, whether it's been over her admission that she chose to have a daughter during the IVF process, to how she was holding Luna, or having the audacity to go out to dinner with her husband a week after their baby was born. And before that, not-very-good samaritans were on pregnancy watch for her for ages.
"It's not haters or trolls or generally mean people," she explained at the time after a follower noticed her altered account status. "I just feel like I am absorbing bad s--t 24/7. My body and mind cannot handle it anymore."
Sara Jaye Weiss/StartraksPhoto.com
But in the meantime, Teigen has taken what she's been forced to absorb and used that hard-fought wisdom to support others.
After Kristin Cavallari took heat on social media from people who thought her sons looked too thin in a picture she posted of them in their swim trucks, Teigen came to her defense, tweeting, "I will never know why parents criticize others so harshly, knowing they'd go insane if they were on the receiving end ALL THE TIME." She added, "NO parent out there thinks they're perfect. I loathe these s--thead commenters. Who would want to make someone feel horrible for fun?" she continued. "Anyway, love you @KristinCav and screw everyone's bored ass!"
But Cavallari, who tweeted Teigen back appreciatively, is no rookie when it comes to defending herself, having seen unasked-for opinions flood in at other times.
"Yep, I starve my children. Just blocked the most people I've ever blocked in my entire life. Happy 4th hahaha," she tweeted; the former Laguna Beach star followed later with, "I love that people are sending me articles about the dangers of being a vegan. Maybe send it to someone that's actually vegan."
Yet she probably didn't actually love it, and why would she?
Most moms would proudly fight tooth and nail to protect their kids from harm, but—just like in the rest of the world—the most common form of battle these days is cyber warfare. That's where the threats are coming from, whether it's online bullies who are targeting their schoolmates or, in many a case, perfect strangers slinging garbage.
Even the celebs who can absorb great deals of haterade themselves and carry on with nary a hair out of place are more prone to clap back when their child is involved.
Dunkin D/WCP/FAMEFLYNET PICTURES - This photo was posted on parent's social media in accordance with E!'s No Kids Policy
For instance, not long after Kim Kardashian posted about North West's first swimming lesson in December 2013, a Twitter troll snarked on the E! star, writing it was nice to see mother and daughter together "for a change."
Kim, who usually isn't one to reply to online taunts, wasted no time tweeting right back, "U sound so ignorant. Bc I don't tweet or instagram my every move w my daughter means I am not with her 247? We share what we want. Or is it bc I go support my fiance at every show & I post pix? When the baby goes down 4 bed or a nap, parents are allowed 2 work & support each other, maybe even have fun too."
After then 13-year-old Ariana Biermann's weight became a topic of conversation on social media, her mom Kim Zolciak took to Instagram to give the trolls what for. 
"My sweet, smart, motivated princess @arianabiermann she has the biggest [heart] and is even more beautiful on the inside and you LOW LIFE assholes who have the audacity to make your rude comments, 'she finally lost weight' 'she finally came into her own' WTF is wrong with you!" the Don't Be Tardy star wrote. "You are the problem with society. What possesses you to sit behind a computer and write a negative comment?!!!! can you imagine if you took the time to write something positive or nothing at all how wonderful this world would be!!! You leave my baby alone she is a child!!!! Got it!!!"
And when Willow Smith was being knocked for her hairdo, and she was being knocked for letting her daughter get that particular haircut, mom Jada Pinkett Smith took the opportunity to both defend her 12-year-old's creativity as well as her own parenting, and teach people a lesson about female empowerment.
"The question why I would LET Willow cut her hair. First the LET must be challenged," the actress wrote on Facebook. "This is a world where women, girls are constantly reminded that they don't belong to themselves; that their bodies are not their own, nor their power or self determination."
"I made a promise to endow my little girl with the power to always know that her body, spirit and her mind are HER domain," she added. "Willow cut her hair because her beauty, her value, her worth is not measured by the length of her hair. It's also a statement that claims that even little girls have the RIGHT to own themselves and should not be a slave to even their mother's deepest insecurities, hopes and desires."
Todd Williamson/Getty Images for Bleecker Street
And that defensive instinct sticks, no matter how old your kid is.
Blythe Danner went to bat for daughter Gwyneth Paltrow, who's in her 40s, just last year in response to criticism that had gone into overdrive over...well, over Gwyneth's almost offensively high level of put-togetherness.
"I am so blessed that I'm old. I know how to get online. I don't know how to Twitter, toot, tweet," Danner laughed on Today. "I don't know how to do any of it, and I don't look for it, because I know so much of it is just trying to sell papers or whatever that's called over the Internet. I know that she's the most extraordinary girl who can do everything. Incredible mother! She's raising hundreds of thousands of dollars for my husband's oral cancer foundation—things she doesn't talk about a lot. She's becoming a great environmentalist. I'm so proud of her. I think she's so accomplished that people get kind of intimidated by it. Great cook, great mom, great actress."
Practically from the day they give birth, famous parents increasingly end up the targets of everyone's unsolicited opinion, be it about breastfeeding, the baby's name, how they're holding the baby, Mom's postbaby bod—the list goes on.
If you choose to stay on social media or, even more intrepidly, engage on social media, it's probably best to develop a thick skin for one's self.
But the need to defend one's babies—be they 4 months old, 4 or 40—is an instinct you never grow out of.