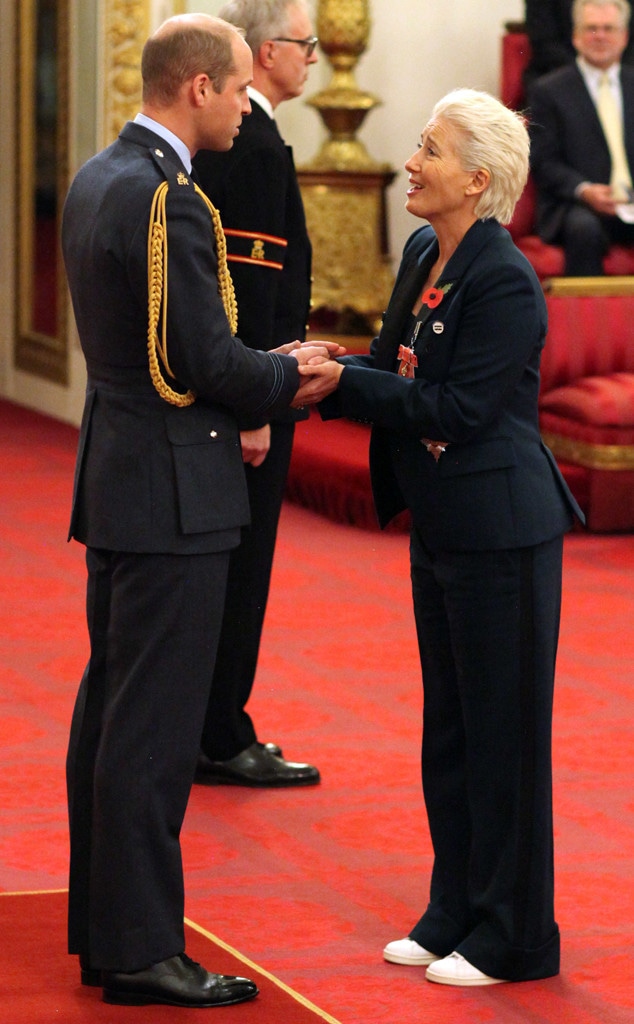 Jonathan Brady/PA Wire
Emma Thompson shared a cheeky moment with Prince William on Wednesday while receiving her damehood at Buckingham Palace.
The 59-year-old actress said she "sniggered" when the Duke of Cambridge presented her with the honor and even asked if she could give him a kiss. 
"I love Prince William," she gushed. "I've known him since he was little, and we just sniggered at each other. I said, 'I can't kiss you, can I?' And he said, 'No don't!'" 
However, Thompson didn't seem too bothered by the rejection. 
"If you're first up, you have to be more formal on such an occasion," the Love Actually star said, "but he's looking wonderful and doing so well. He said, 'This day isn't about me, it's about you'.'"
In fact, it looks like Thompson is fond of several members of the royal family, including Prince Harry and Prince Charles.
"It's really lovely because I've always loved the boys, and I've always been a long-term correspondent with their dad," she said. "It's a very lovely feeling."
Thompson collected the honor with her family members by her side. The proud supporters included her husband, Greg Wise, as well as her daughter, Gaia, and her son, Tindyebwa Agaba, whom the actress adopted in 2004. 
The Sense and Sensibility star wore an elegant blue suit and white sneakers for the momentous occasion. 
It's no surprise the star received the honor. After all, she's received a number of awards over the course of her career, including two Oscars, two Golden Globes and three BAFTA Awards.