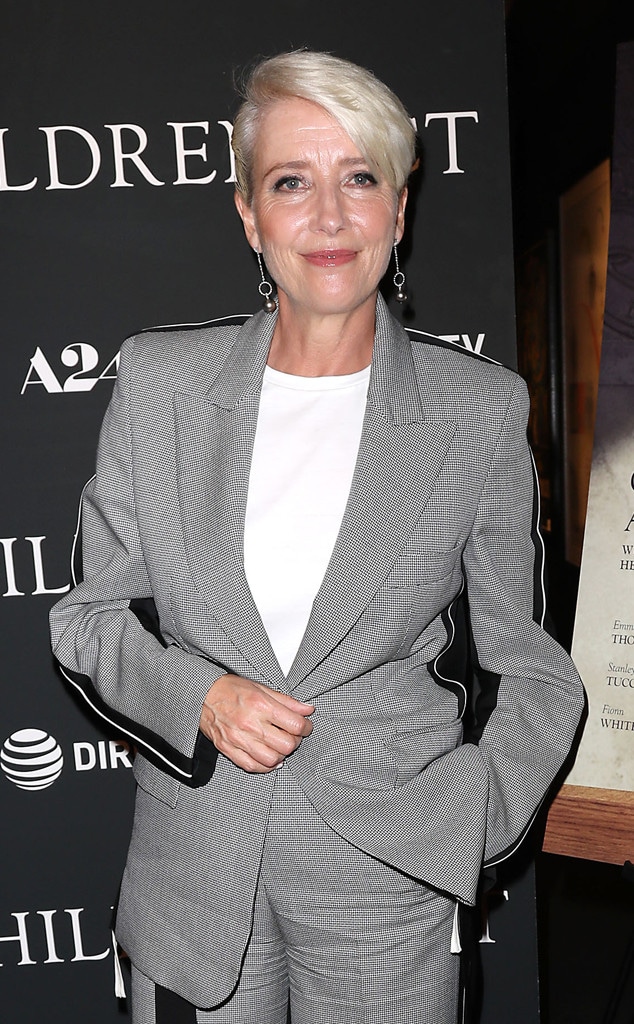 Kristina Bumphrey/StarPix/REX/Shutterstock
As Emma Thompson recently put it to Vulture, "I don't think...that I have ever enjoyed being alive as much as I do now."
And what a life she's lived already. At 59 years old, the famous dame has dozens of films under her belt, two Academy Awards, countless other honors and the wisdom that only decades of life can bring. 
Fortunately for the rest of us, the star divulged some of what she's learned in the course of her life during a conversation with Vulture. First stop: relationships. 
In her latest role in The Children Act, Thompson plays a respected judge whose marriage has been affected by her demanding career. "What we see in the film is the relationship between my character and Stan's [Stanley Tucci's] crumbling, and then a new one starts to grow. Which is what happens in all long-term relationships. Or if it doesn't, someone's in denial," the actress told Vulture. 
While she doesn't think every marriage necessarily faces a "crumbling," she believes change in relationships is inevitable. "If the relationship hasn't changed for long periods of time then the people in it are probably serving a facsimile of what the relationship used to be," Thompson said. "People change and life changes and you can't have the same relationship as when you first met. When people say, 'Our relationship has been bliss,' I just go, "I don't believe you."
As she elaborated, the typically candid star explained her frustrations with how romance was packaged to women. "I was angry about the lies and fairy tales that were sold to young women—that romance was the be-all and end-all, the actress said, referencing an op-ed she penned decades ago. "Now I'd say that what happens after happy-ever-after is where love begins. Falling in love is an exalted state, but it is a temporary state, and I suppose what I was taking issue with was the idea that this temporary state was supposed to last. Nobody told us it doesn't. It's like childbirth: Everybody lies. Nobody tells you the truth."
On the topic of pregnancy, Thompson, who gave birth to daughter Gaia Romilly Wise in 1999, addressed how she thinks a lack of honesty is affecting how some women give birth. 
"There's no honesty about 'yes, it's painful' and people are now terrified of that pain. So you're getting an awful lot of elective C-sections, which is a huge operation and very difficult to recover from. The pain of giving birth is now 'optional' and yet there's no honesty about what that option can actually do to your body," she told Vulture. "It's odd how frightened we've been made to feel about the pain of it [childbirth]."
The star also identifies with the problems aging brings women in the still male-dominated industry. 
"It's so annoying to be female and consistently going, 'Have I got to see a f--king story again about a guy who does things that I've already seen a guy do a million times?' So I'm bored. The difference now, as I get older, is that I'm released by my boredom. I no longer bother. I'm free to go and look for new ideas and new voices. I'm able with absolute comfort and ease to reject so much. It's fantastic being this age. I'm old," she said in the interview.
"We're constantly watching films where older men have wonderful roles and older women really don't. But I'm a character actor, don't forget. If you've got form and you're a character actor, you're much better off because you're not fighting the way you once looked."
With her 60th birthday in April, Thompson is counting her blessings. 
"It feels extremely fortunate. My dad died at 52. My uncle was 51. My sister-in-law, a couple years ago at 51. I've got quite a number of friends who have dropped off. You can't take survival for granted. What else do I feel? The work I'm doing is more fulfilling and happy-making than ever," she said. :I think your 60s, if you are well, are the most fantastic decade. No more periods: resolved! Menopause over: hooray! Kids grown up: bye! Marriage, if you've managed that long — 20 or more years — you're fine. So this should be one of the most powerful patches of your life, the youth of old age as it were. I'd say it's the best bit ever."