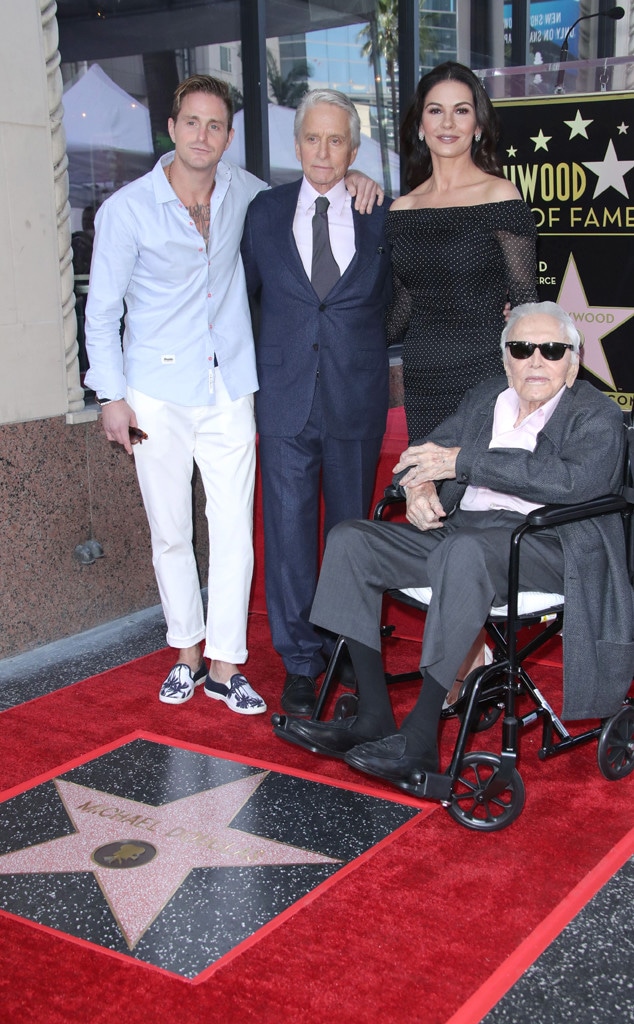 Matt Baron/REX/Shutterstock
Michael Douglas was surrounded by his loved ones as he received a star on the Hollywood Walk of Fame.
The Oscar winner, 74, received one of the highest honors in the acting world on Tuesday, as he was presented with a star on the iconic Walk of Fame, recognizing his years of work in the industry. To help celebrate the special day, Michael's eldest son, Cameron Douglas, 39, and Michael's wife, Catherine Zeta-Jones, 49, were there by his side. Michael's dad, Hollywood legend Kirk Douglas, 101, was also in attendance for the special day.
During his speech at the ceremony, Michael gave shout-outs to his family members that were there celebrating with him.
"I'm so proud to see my son Cameron," Michael said, before thanking the love of his life, Catherine, for her "support" as well as her "patience."
"By the way, in another week we're celebrating our anniversary, our 18th anniversary, so thank you for the 18 best years of my life sweetheart," Michael said as the audience cheered.
He then went on to talk about his father, getting emotional as he spoke.
"And my dad is here," Michael began, seemingly holding back tears. "In a month, Kirk turns 102 years old. So those of you who took the under on him making 80, you lost a long time ago, alright?"
"I know, I know, no son of yours is celebrating his 50th anniversary in the business," Michael said to his father. "But it means so much to me, dad, that you're here today. Thank you for your advice, for your inspiration, and I'll say it simply and with all my heart, I'm so proud to be your son."
Kirk will officially turn 102 on Dec. 9.
Watch the video above to see more from Michael's Walk of Fame speech!