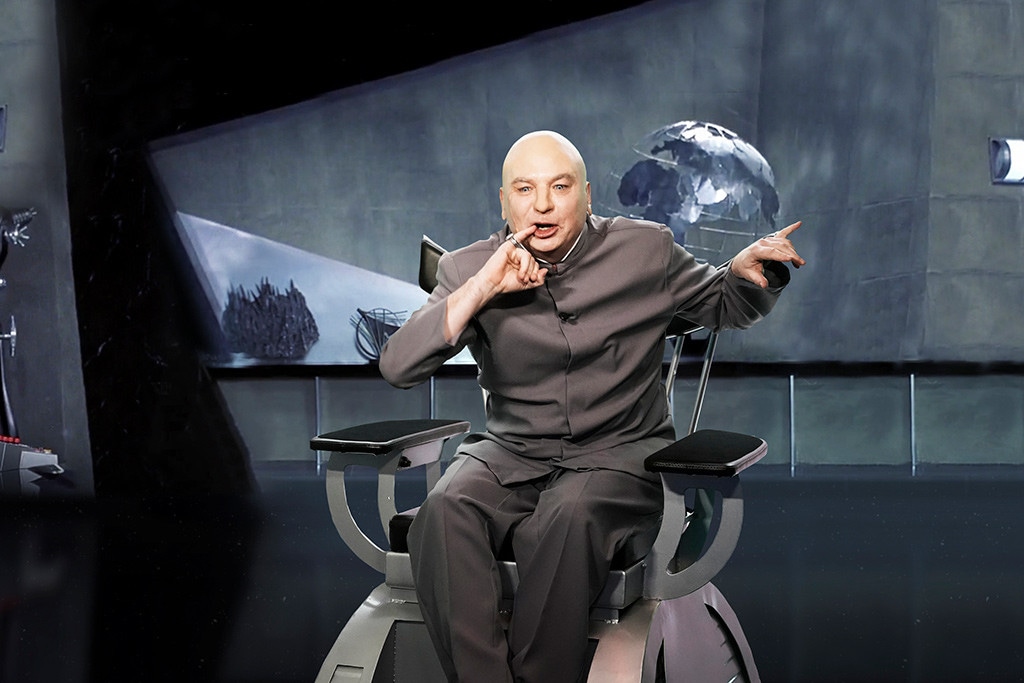 Andrew Lipovsky/NBC
Dr. Evil is back.
Mike Myers revived his role as the famous Austin Powers character on Monday's episode of The Tonight Show and announced the villain's fictitious plans to run for congress. 
"It's 2018. Evil is 'in' right now. It's 'hip,'" he said. "It's like playing Fornite while slamming a Tide Pod and doing the Shiggy Challenge."
When asked about his motivations behind running for office, Dr. Evil said he was "hoping for Brett Kavanaugh's job but Trump said I was too even tempered for that."
Jimmy Fallon also questioned the character on what state he was running in (pointing out that the villain resides in a secret lair inside of a volcano).
"I do, but it's in Rhode Island," Myers' character explained.
As for his party affiliation, Dr. Evil said he was neither Democrat nor Republican.
"I'm running as an Eviltarian," he replied. "Our ultimate goal is to make America evil again."
He even had a five-point evil plan, which included limiting Pringles flavors to "screamin' dill pickle," making Donald Trump Jr. secretary of the treasury, increasing the YouTube ad playing time to 8 seconds, legalizing marijuana and changing the national anthem to "Baby Shark."
Watch the video to learn more about his pretend platform.
This wasn't the first time Myers has reprised the role. He also revisited the role back in April for another Tonight Show appearance. In addition, he revived it in 2014 for Saturday Night Live.
But will fans get to see him take on the role in the future? Myers recently teased a fourth Austin Powers movie while attending the premiere of his new film, Bohemian Rhapsody. 
"It's looking good. It's just tough, you know. It takes a long time to write the script. You want it to be fantastic," the actor told E! News. "I have three kids under the age of 7 now, you know. [Director] Jay [Roach] is just back to back making movies. But we've met and, I don't know, it's looking good. We'll see."
Hopefully, fans will get to see more of Dr. Evil—just maybe not in office.
(E! and NBC are both part of NBCUniversal).