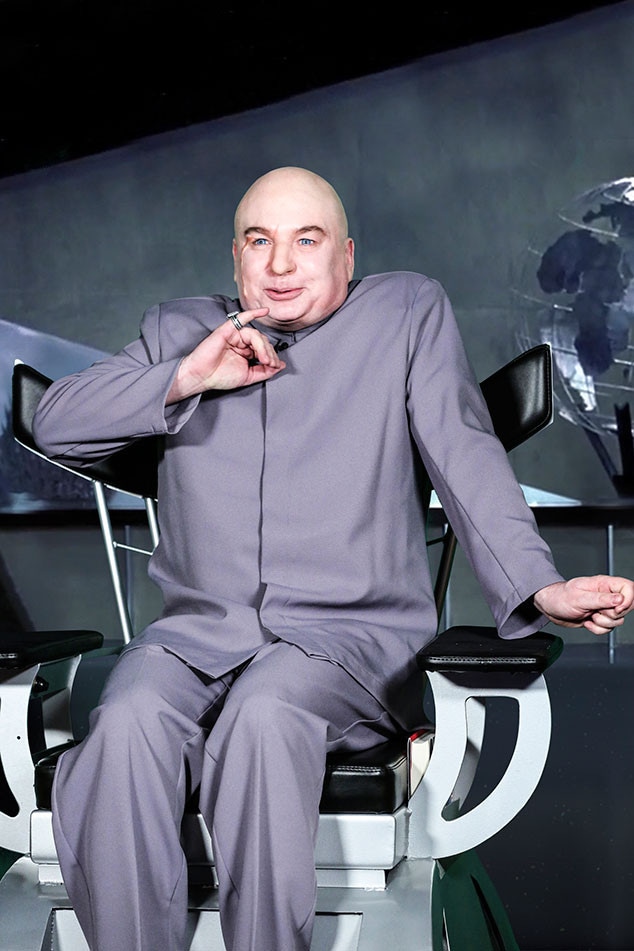 Andrew Lipovsky/NBC
Welcome back, Dr. Evil. 
The iconic villain of the Austin Powers franchise returned to the screen on Wednesday night, thanks in part to Jimmy Fallon. 
"The big story is still President [Donald] Trump and all the turnover in his administration," the late-night host told his audience. "It seems like every week someone new loses their job and, believe it or not, another person was just fired by Trump moments ago. This literally just happened and we're lucky enough to get an exclusive interview with them right now."
That person was Mike Myers dressed up as his iconic character. "Dr. Evil?" Fallon asked as he appeared. 
"No, it's Adam Levine," the actor retorted. "Of course it's Dr. Evil, numbest."
The star went on to riff about his fake position within the White House and his experience with members of the administration. Before signing off, he announced his candidacy for president and showed off his merchandise. 
Of course, Dr. Evil couldn't leave without his signature laugh and invited Fallon to join. "C'mon, Jimmy. Evil laugh with me," he requested before it got awkward. "Ok, gotta go!"
It's been more than a decade since Myers last brought Dr. Evil to life on the silver screen in 2002's Austin Powers in Goldmember and, hopefully for fans, it won't be long before we see the villain again. 
"I would love to do another [movie], but you just have to see," Myers told The Hollywood Reporter last year. "I was devastated by my father's death. But to have that turn into something that makes people happy is unbelievably satisfying. It's that kind of stuff you never get used to or get tired of."
In the meantime, Dr. Evil can pop up on the late-night shows. 
(E! and NBC are both part of the NBCUniversal family.)