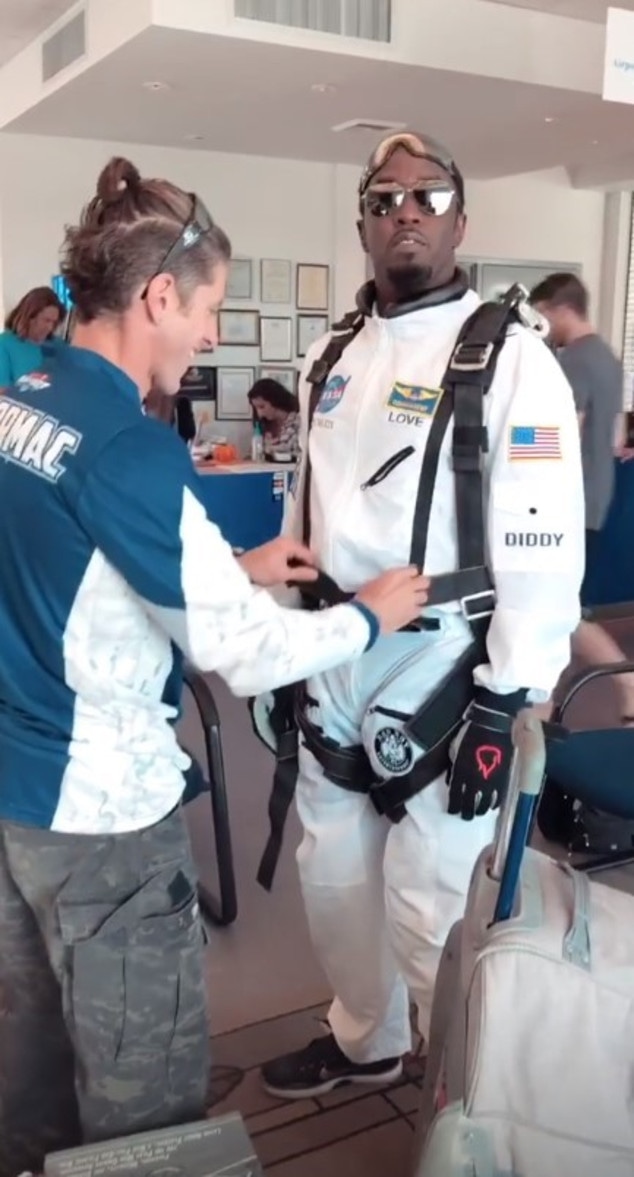 Instagram
Sean "Diddy" Combs may have "Been Around the World" a few times, but what about being on top of the world?
The rapper turns 49 today and decided, much like Will Smith, that he would jump out of a plane to commemorate his birthday. Diddy posted a video on Instagram before taking flight and provided some updates along the way in his Instagram story. 
"I'm about to jump out a plane. I always wanted to do it," he said to the camera. But then he had a quick change of heart. "No, I didn't really always want to do it. I started thinking about it this year. I wanted to do it in Dubai. It didn't happen, and then I said I would do it for my birthday." 
While lacing up his shoes and decked out in an outfit that's a play on a NASA space suit (with the name Diddy on it, of course), he provided his big plans and goals for the jump. "So I'm gonna jump out a plane and attempt to land two houses down in the backyard of the Playboy mansion."
He added, "I'm living my best life!"
Diddy also encouraged his viewers to get out and vote on Tuesday for the midterm elections. He gave a shout out to Will Smith, who jumped out of a helicopter over the Grand Canyon for his big 50th birthday. "I wanted to do this before I saw Will Smith jump out of a plane," the "I'll Be Missing You" artist added. "He definitely gave me some inspiration after seeing him jump out, so Will, I don't want you to think I'm biting."
Later on, Diddy shared videos of himself getting strapped in and ready to go before the jump. At one point, he started singing the R. Kelly song "I Believe I Can Fly." 
As it turns out, Diddy successfully landed in the backyard of the Playboy Mansion. He was even greeted by a throng of cheering family members and other friends. "I DID IT!!!" he captioned the video of him coming to a stop on the lush green grass chez Playboy. "Thank you to my neighbors at the Playboy Mansion for letting me use their house to land. NO FEAR!!!!"
Congrats on the epic dive and happy birthday, Diddy!