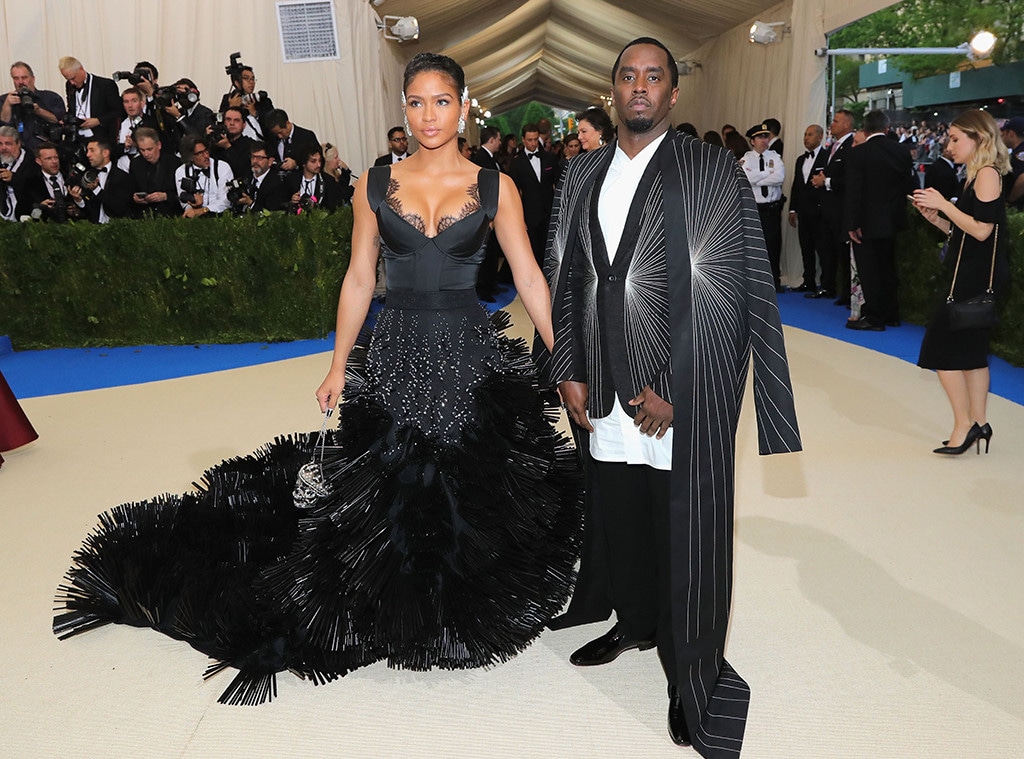 Neilson Barnard/Getty Images
Diddy and Cassie have been on the outs before, but this time it could very well stick.
The power couple weathered some serious ups and downs in their decade together, always eventually reuniting after spending a bit of time apart. So it's hard to say whether this breakup, which reportedly occurred a few months ago, is for the long haul. The latest picture of him on her Instagram is from May 11, a shot of them all dressed up for the Met Gala a week prior.
"Diddy won't ever let Cassie get away. He loves her so much," a source told E! News back in the summer of 2016 after Sean "Diddy" Combs and Casandra "Cassie" Ventura got back together in time for her 30th birthday party.
"HAPPY BIRTHDAY BABY! @cassie I LOVE YOU ALWAYS. GOD BLESS YOU," he wrote on Instagram alongside a video slide show of some of the actress and singer's loveliest pics.
Regarding their recent split, a source told People this month that "the decision was amicable and they remain friends."
In response to rumors that Diddy was already dating again, model Jocelyn Chew having been spotlighted as the possible new woman in his life, People heard that he was single.
Cassie—who appeared on Empire last season and is said to be focusing on her music and acting right now—added a little fuel to the post-split fire when she posted a grab saying "F--K THESE HOES" on Instagram Story Sunday night—but really, that could have been about any number of things.
The duo first met in 2006, after Diddy heard Cassie's single "Me & U," which she had originally put out on MySpace, in a club and asked producer Ryan Leslie, who was working with her at the time, to produce her debut album for his Bad Boy Records.
Cassie dropped in August 2006 and debuted at No. 4 on the Billboard 200. When critics panned her promotional performances on TRL and BET's 106 & Park, Diddy threw his support behind the 19-year-old, calling her appearances "all right."
"You could hear the nervousness in her voice," the veteran rapper and producer told MTV News. "And to be honest, I kind of smiled at it, because it made me really appreciate what I really love about her: She's a regular person. And we, as artists, we sometimes get nervous. I told her it's like riding a bike: You're gonna fall down, you got to keep on getting on it. I'm with her through her development, and I have no questioning on her ability, on her singing ability. It just made me appreciate that she got nervous, and it was kind of cute to me, to be honest."
He concluded, "The thing about Bad Boy is, we're with our artists through all days. She's not an artist that has a problem with her vocals or singing. You've got to understand that success for her is coming out of nowhere. It's just so huge, and sometimes everybody handles it differently. So I'm quite sure she'll get over it. She's going to have to. That's part of being a recording artist, and sometimes it takes time. I don't care how many performances it is, I'm going to be with her until she gets it right."
In addition to getting started on a follow-up album, Cassie also became a face of the new women's collection from Combs' Sean John clothing label.
But by June 2007, there were rumors that Cassie had been dropped from Bad Boy.
"She's in the studio," Diddy told MTV in denying the speculation. "So many people are excited to be working with her... She was just in the studio with Kanye West. She's going to be doing some stuff with Pharrell. People really understand that she does have some talent and it takes some time to mold it. Everybody's not perfect. I think she had some rough shows, just being nervous. Sometimes people have to break out of that."
True story, Cassie was busy racking up the guest appearances in music videos for Kanye, Chris Brown, Jay-Z and Rick Ross, and she and Diddy collaborated on a number of tracks, including her "Must Be Love" and his "Coming Home."
Until 2007, Diddy was in a relationship with Kim Porter, the mother of four of his six children, including Quincy, Porter's son from a previous relationship. Quincy was on My Super Sweet 16 in 2008, and Justin (Diddy's son with high school sweetheart Misa Hylton-Brim) was featured as well in 2010. Both teens received luxury automobiles from Dad. (Actually, while Justin received a Maybach, Quincy was gifted a Range Rover and a white Cadillac convertible, for low-key drives around Atlanta.)
About five months before Combs and Porter's twin daughters, D'Lila Star and Jessie James, were born in December 2006, his daughter Chance, whose mom is Sarah Chapman, was born.
"It's not an original script. He's not the first man who's cheated," Porter told Essence in 2007 after she broke up with Diddy. "He's not the first man who's had a baby outside of his relationship. He's not the originator of this. But at this point in my life—I have girls now—it's a different program."
Jean Baptiste Lacroix/WireImage
She found out about the other baby from a friend, so she knew by the time Combs told her himself, after their daughters were born, Porter said.
At the end of the day, Porter said, "I wasn't waking up feeling happy. There's no other way for me to articulate it, other than a feeling. I just wasn't feeling it, that's why I had to leave."
And not just leave. She waited till he was out of town and then she packed up everything, from the cribs to the kitchen table, and took off with the kids (and the cars). But by the time she talked to Essence there was "no ill feeling or 'I can't stand you, I hate you, don't call.' There's none of that. We have three children together so that's just not an option. We're committed to our children even if we couldn't commit to each other."
Justin, Quincy, D'Lila, Jessie and Christian (Porter and Combs' son together) were all there with Porter in 2008 to support Combs when he got his star on the Hollywood Walk of Fame. 
Combs explained his complicated family tree to Wendy Williams last year: "I wasn't running around through my career and every couple of years just being with a new person. These are people that were my friends...Then I would get my heart broken and then my friend would be there, and I would fall in love with my friend, and then I would get my heart broken."
Recalling where it all began for her, Cassie told The Urban Daily in 2012 that Diddy "always gives great advice. In the beginning with the first album, everything was moving so quickly and I was moving around so quickly and bouncing from country to country, I never had the opportunity to really talk to him. 
"We just signed and got on the road. Up to now, when we have conversations about the past three, four years and how I automatically changed and everything, he would say patience is what helps you. If you really take your time and wait and work hard and observe and learn, just take your time at the end of the day it will all work out, 'cause your time will come."
It wasn't until 2012, actually, that she and Diddy stepped out publicly as a couple, and she duly refused to kiss and tell in that interview.
"I don't talk about my personal life," she said politely. "Whatever people want to choose to believe or not believe is really up to them."
Jeff Vespa/Getty Images For GQ
After the relationship cat was out of the bag, Cassie opened up a bit to Vibe in October 2013.
"Just being around him is a completely inspiring experience," she said about Diddy. "Starting my own empire would be great. I'm trying to figure that out. I'm still working with Cassie Enterprises right now but I think that would be something I would love to do."
Asked how two prohibitively busy people such as themselves made a relationship work, Cassie said, "The key to maintaining any relationship—be it a romantic relationship or a friendship—is honesty and communication. I travel so much, host parties and I just signed a new deal with Skam Artist, who predominantly deejays in the same bookings that they do at different parties. It's New York, Chicago, Vegas so I'm constantly going."
Diddy, who's never been married, said on The View in 2013 that he still wasn't ready.
"It definitely would be a dream come true for me to just one day be ready for that," the No Way Out artist said. "I'm not really looking because I know the responsibility that comes with that and I think that a lot of people, they jump into that and they're not honest with themselves. I'm brutally honest with myself. I don't want to get married and not make that woman be the best."
On Feb. 1, 2014, however, he posted a photo of a diamond ring with the caption, "Baby do you like it? I just want to get you wat you Like ! I just wanna Mk you smile :) #takeDat. !"
Cassie was in turn spotted wearing a massive ring.
Photo By A Turner Archives
In 2015, they co-starred in a steamy ad for Diddy's Sean John fragrance 3 AM.
But acording to Page Six, the duo took what ended up being a short break starting in December 2015. Cassie had been busy shooting Honey 3 in South Africa, and she posted-then-deleted a pic of a sleeping baby meme on Instagram (captured by The Jasmine Brand) that read, "How I sleep...knowing that Im single and nobody cheating on me."
They were back together by the summer, however, because cops were called in August 2016 after they got into a screaming match in the car on a Wednesday afternoon, reportedly after Cassie told Diddy she wanted to break up. Diddy grabbed Cassie's phone before he got out of the car, and she had the driver leave without him. He returned the phone to her later that day, but according to TMZ her mother had called the cops and they took a domestic incident report. No one was ever charged with any crime.
In response to rumors that Diddy took Cassie's phone to mine it for clues that she was cheating, a source told E! News, "Cassie would never cheat on Diddy, though. She just wishes things were better with them. It's always up and down."
Nicholas Hunt/Getty Images
The insider added, "They are taking another break now. He loves her so much so likely it won't be a long break. He always finds a way of coming back to her."
A week later, he threw her a 30th birthday bash.
At least when Cassie co-starred in the 2016 rom-com The Perfect Match with Terrence Jenkins, she told E! News at the premiere that Puff had been "so understanding" about the movie's love scenes, though she admitted to having a bit of anxiety about him seeing the finished product. Asked if it was love at first sight for her and Diddy, she acknowledged, laughing, "That was a long time ago." 
In October 2017, Cassie released a single featuring G-Eazy called "Love a Loser," which, she explained to Power 106's Krystal Bee, meant that she would "rather lose, like, the love of my life than to love a guy that's just wack. And I think the experience of getting over it is usually pretty quick and easy if you really don't think that he's right for you anyway. Just keep it moving."
Neilson Barnard/Getty Images
Over the years, the couple became fixtures at the Met Gala, attending in 2015, 2017, when Diddy artfully lay in repose on the steps while Cassie posed for some solo shots, and again in 2018 when both opted for suits to suit the "Heavenly Bodies: Fashion & The Catholic Imagination" theme.
Whatever the future holds, Cassie also told E! News that her big secret for making "any relationship work, if it is working, is just not talking about it too much and just keeping it close to your heart."