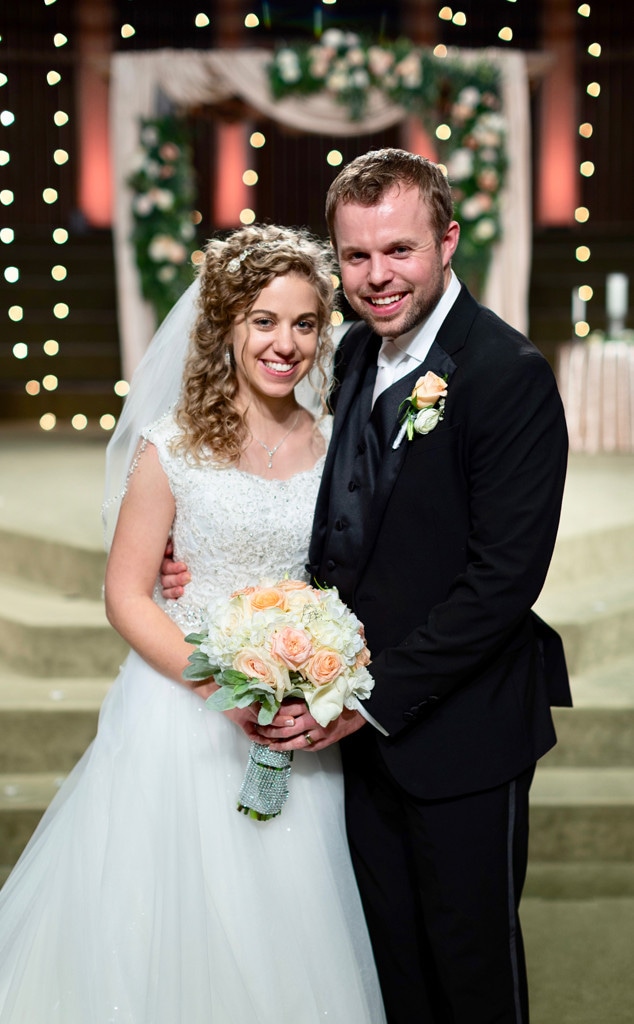 TLC/Lori Blythe Photography
Wedding bells are a-ringing!
John David Duggar and Abbie Grace Burnett tied the knot on Saturday after about four months together. The Duggar family confirmed the nuptials on their website in a post called "Husband and Wife!" The update about their marriage said, "We are overjoyed for the two of them to begin their married life together.  We know the Lord has brought them together and will use them to reach many people. We are so happy to be surrounded by family and friends and we thank you all for your prayers and support for John and Abbie!"
The post included a comment from John and Abbie as well. "We are so excited to be married! It was a beautiful moment and we so appreciate our friends and family for sharing this day with us," the newlyweds said. "Most of all we are thankful to Christ for bringing us together. This is going to be an amazing journey!"
In June, Jim Bob Duggar and Michelle Duggar announced that John-David was officially courting Abbie. The Duggar parents revealed the news on their website. "We are so excited to announce the courtship of John David and Abbie!" they wrote. "John David brings our hearts so much joy and we've watched him faithfully pray, wait, and trust God for the right girl to come along! Now, a beautiful relationship has blossomed between the two of them. We can't wait to see what the Lord will do in the future."
John and Abbie spoke about their relationship in another video. The couple said they "fell in love very quickly" and that they have "known of each other for several years." It was a church event in Oklahoma that initially brought the lovebirds together. 
The newlyweds announced on July 25 that they were engaged. They posted a photo on their couple Instagram page of him popping the question on one knee while the two of them were in the middle of a heart made out of rose petals. "Looking forward to spending the rest of our lives together!" the caption said.
They elaborated on their excitement about the engagement in a separate video. "We've been ready for this step for a little while, but it was really just I had a lot of things that I wanted to get done to make it really special," the reality TV star said. 
It's wedding galore over in the Duggar family. In June, another Counting On family member, Joshiah Duggar, married Lauren Swanson in Siloam Springs, Arkansas.
Us Weekly was the first to report the news.
Congratulations to the couple and the Duggar and Burnett families!