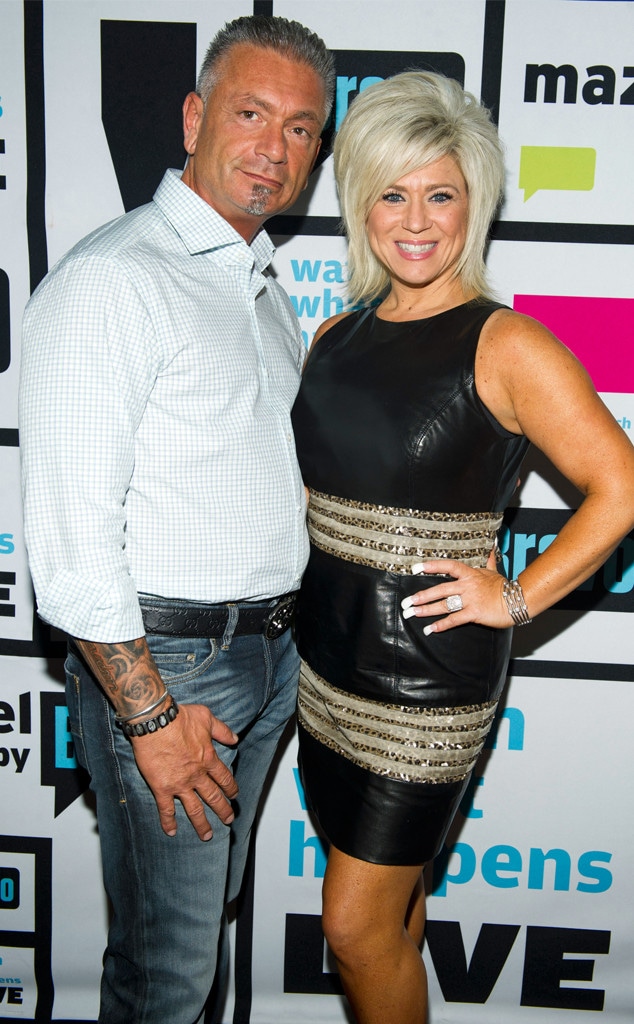 Charles Sykes/Bravo/NBCU Photo Bank via Getty Images
Theresa Caputo's romantic relationship with Larry Caputo may be over. But that doesn't mean their friendship is too.
Back in December 2017, the TLC reality star and her husband of 28 years revealed they were legally separating. And this past summer, fans learned that the couple was in the middle of divorce proceedings.
While Theresa and Larry have tried to keep details about their split private, the couple will have their first reunion in nearly eight months on tonight's all new Long Island Medium.
"I was going out to do the celebrity readings [in Los Angeles] and I wanted to just catch up," Theresa shared with E! News exclusively before the episode airs. "We talk, we text so to be able to just sit down and be able to reconnect in person was really great."
Although the episode was filmed a while ago, Theresa insists that the pair remains friendly today.
"I just spoke to Larry last week," she shared with us. "There is no purpose in being angry and being mad. We have over 30 years together and you just can't forget about that. You know we still have to honor and treasure that and more importantly, respect that."
These days, Theresa remains focused on her career that includes a tour across the country including a stop at the Agua Caliente Casino Resort & Spa in Rancho Mirage, Calif., on January 26, 2019. And for those wondering if she's dipping her feet in the dating pool, it's still a bit too soon.
"Let me finish getting divorced and then you can look for me on Tinder. How's that?" Theresa joked to us.
And while fans may be used to seeing Theresa deliver messages from spirit at various locations throughout New York and New Jersey, the TLC star knew she also had to share the highs and lows of her personal life on the small screen.
"We decided almost eight years ago to share our lives on the show and of course [the split] was really, super personal. But so was having a colonoscopy," she shared with a chuckle. "I never thought in a million years that I would be getting divorced."
Theresa continued, "We worked hard on it…[We were] able to come out of this and be friends. I'm incredibly proud of both of us and how he has handled the whole situation, on and off camera."
Long Island Medium airs Monday nights at 8 p.m. only on TLC.