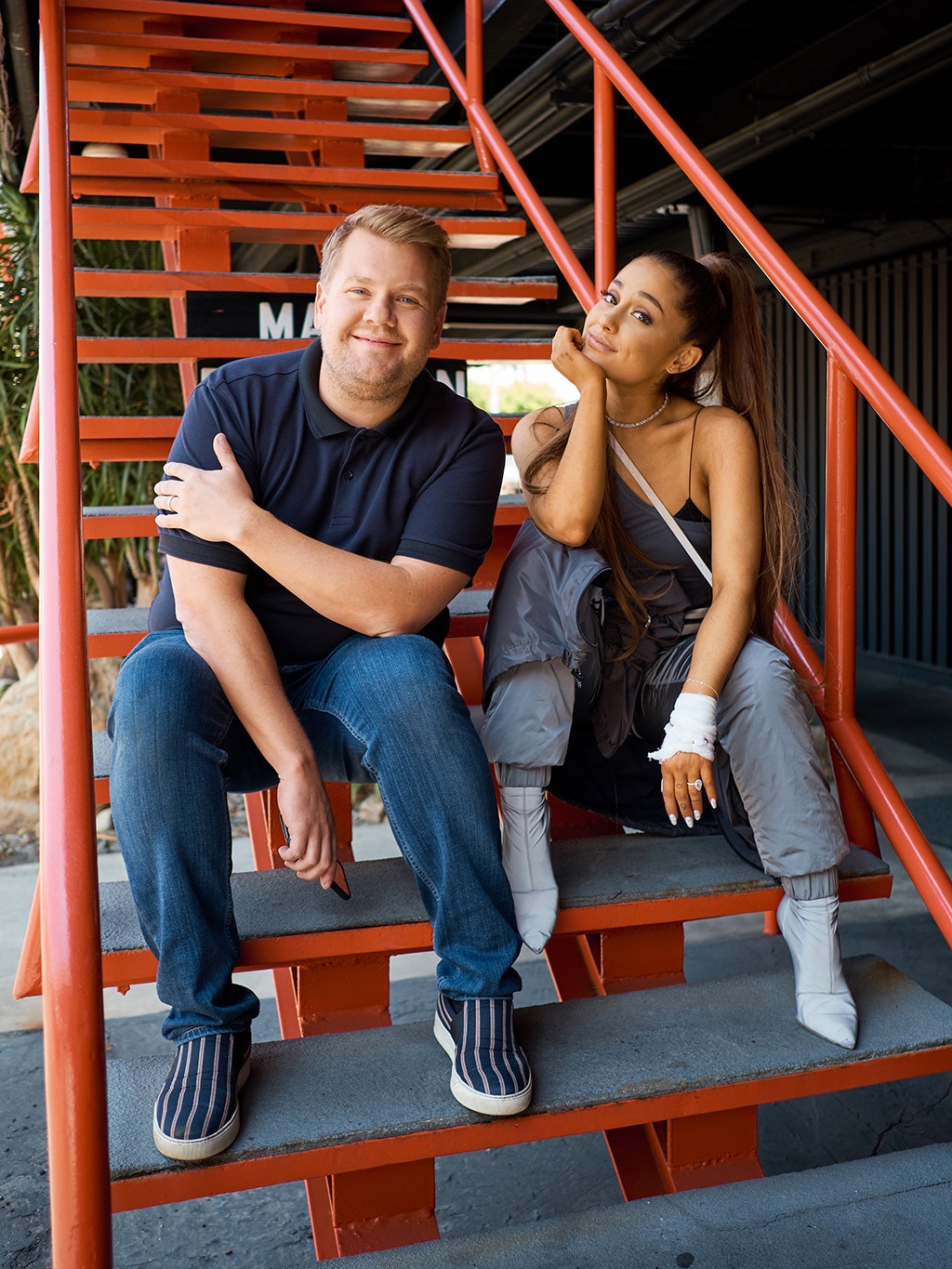 Terence Patrick/CBS
Back when Ariana Grande filmed her "Carpool Karaoke" segment for The Late Late Show in August, she and James Corden took a detour to visit 60OUT Escape Rooms' The Orphanage. That part of the sketch didn't air until Tuesday—just in time for Halloween, her favorite holiday.
"I love being scared," Grande said. "I think it's so much fun."
The "God Is a Woman" singer added she'll often visit haunted houses. "Usually escape rooms aren't that scary, but I do love escape rooms," she told the late-night host. "We should do one."
"I've never done one," Corden said. "I'd do one with you."
Once they stepped inside, Grande wasn't as brave as she'd made herself out to be.
"Oh, it's dark!" she screamed. "No, no, no, no, no!"
As lights flickered and mysterious sounds echoed through the hallways, Grande's panic only intensified. "You told me it was an escape room," she shrieked. "Oh, my God! What the f--k?"
While they were still in the first room, Corden and Grande decided to hold hands as they searched for a way out. "I don't want to touch a person!" the pop star said in fear. "Is there a person in here?" After Corden knocked, a light came on and he found a key on a rocking horse.
In the next room, Grande said, "Oh, there's bed. That's not tight."
A child jumped out of one of the beds, and a scared Grande screamed, "You're a bitch!"
After making their way to the next room, Grande crawled into a fireplace to look for a clue. "I'm gonna pass out," she said. "I can't do it." Corden took the lead and found a clue, which brought them into the final room. After Grande solved the puzzle, a man entered the room and crawled in their direction. Startled, the diminutive diva dropped to the ground, hurting herself in the process. After they had escaped and were in the car, Grande told Corden, "That was traumatic."
"I'm not gonna lie—don't I look kind of hard?" Grande asked, looking at her bandaged hand. "I've done 300 escape rooms. That's not an escape room; that's one of the seven gates to hell!"