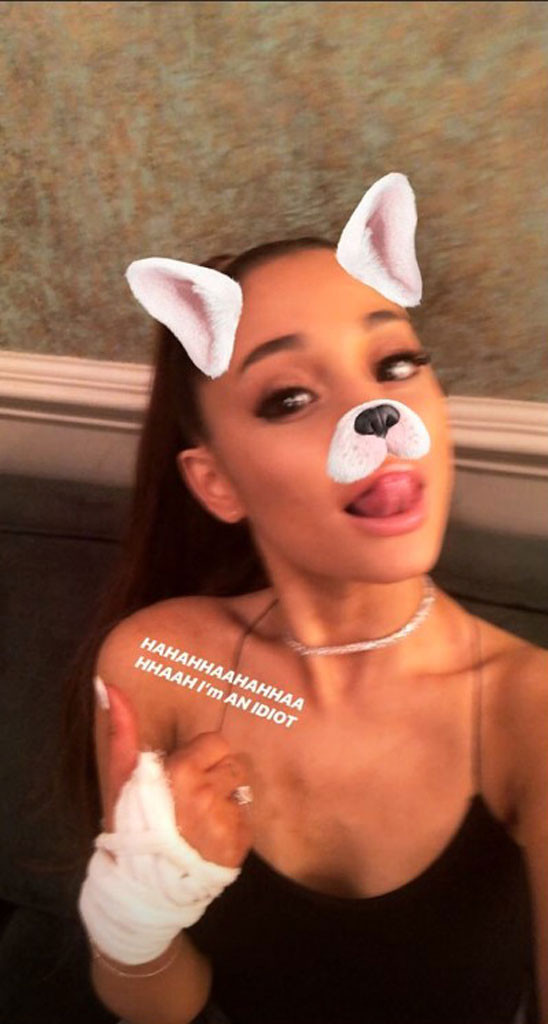 Instagram
Ariana Grande shed blood, sweat and tears for her and James Corden's "Carpool Karaoke" segment. (Seriously!)
The pop star injured her hand while filming the wildly popular sketch for The Late Late Show on Tuesday, but don't worry Arianators—she's expected to make a full recovery and even poked fun at the wound with several posts on social media.
"Well Mr. Corden, today is off to a wild start," Grande said in a video posted to her Instagram Stories. In another selfie, the "No Tears Left to Cry" songstress called herself an "idiot" while posing with her bandaged hand.
It's unclear what caused Ariana's apparent abrasion, which didn't get her down for a second. The 25-year-old said she "never had more fun" participating in "Carpool Karaoke," tweeting, "That was the best day ever @JKCorden thank you so much to you and your incredible crew and band and writers ! sm fun. can't wait for y'all to seeeee what we been up to."