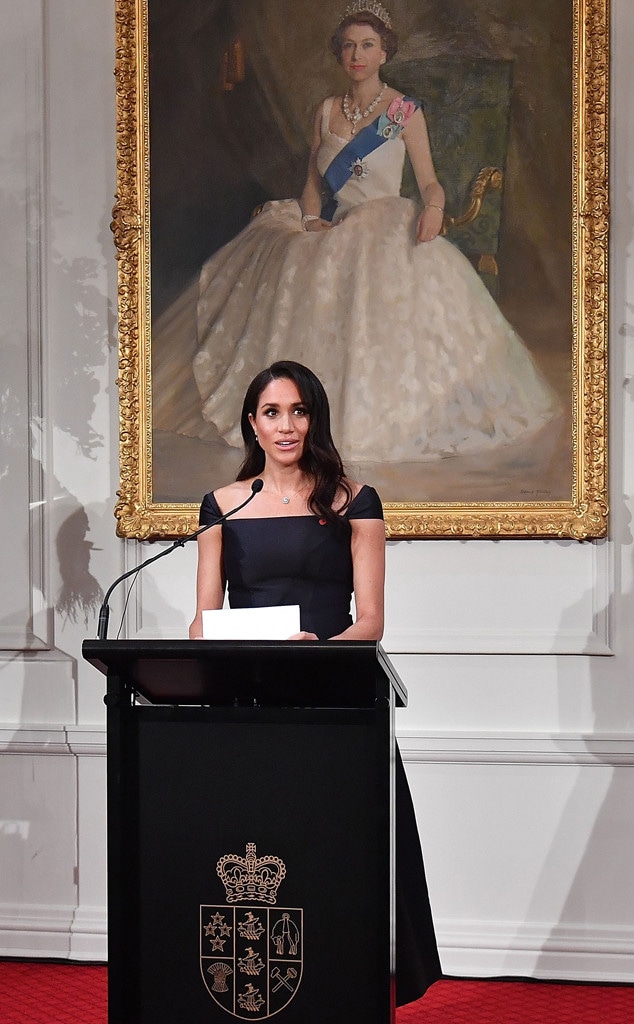 Marty Melville - Pool/Getty Images
A well-deserved round of applause for Meghan Markle. 
After touching down in New Zealand on Sunday for the final leg of her and Prince Harry's joint royal tour, the Duchess of Sussex topped off their first day in the country with a standout speech on the country's history spearheading women's suffrage. 
Donning a Gabriela Hearst cocktail dress with custom cap sleeves and a Māori-inspired necklace, the expectant royal stood in front of a portrait of Queen Elizabeth II as she delivered her empowering remarks at a Government House reception on Sunday.  
"We are proud to be able to join you tonight in celebrating the 125th anniversary of women's suffrage in your country," the mom-to-be began as she spoke steadily and articulately. 
"The achievements of the women of New Zealand who campaigned for their right to vote, and were the first in the world to achieve it, are universally admired," she continued. "In looking forward to this very special occasion, I reflected on the importance of this achievement, but also the larger impact of what this symbolizes...because yes, women's suffrage is about feminism, but feminism is about fairness."
As the duchess continued, "Suffrage is not simply about the right to vote but also about what that represents: the basic and fundamental human right of being able to participate in the choices for your future and that of your community, the involvement and voice that allows you to be a part of the very world that you are a part of."
Markle then honed in on women's suffrage, noting, it "is not simply about the right to vote for women, but also about what that represents: the basic and fundamental human right of all people, including those members of society who have been marginalized whether for reasons of race, gender, ethnicity or orientation, to be able to participate in the choices for their future and their community."
The self-proclaimed feminist and longtime champion of gender equality and women's rights hailed the country, concluding, "So bravo, New Zealand, for championing this right 125 years ago—for the women who well deserve to have an active voice and acknowledged vote, and for all of the people that this effort has paved the way for globally. We all deeply thank you."
In finishing her speech, the royal borrowed a quote from the country's most famous suffragette, Kate Sheppard: "All that separates, whether of race, class, creed or sex, is inhuman and must be overcome.'" 
Well done, Duchess!