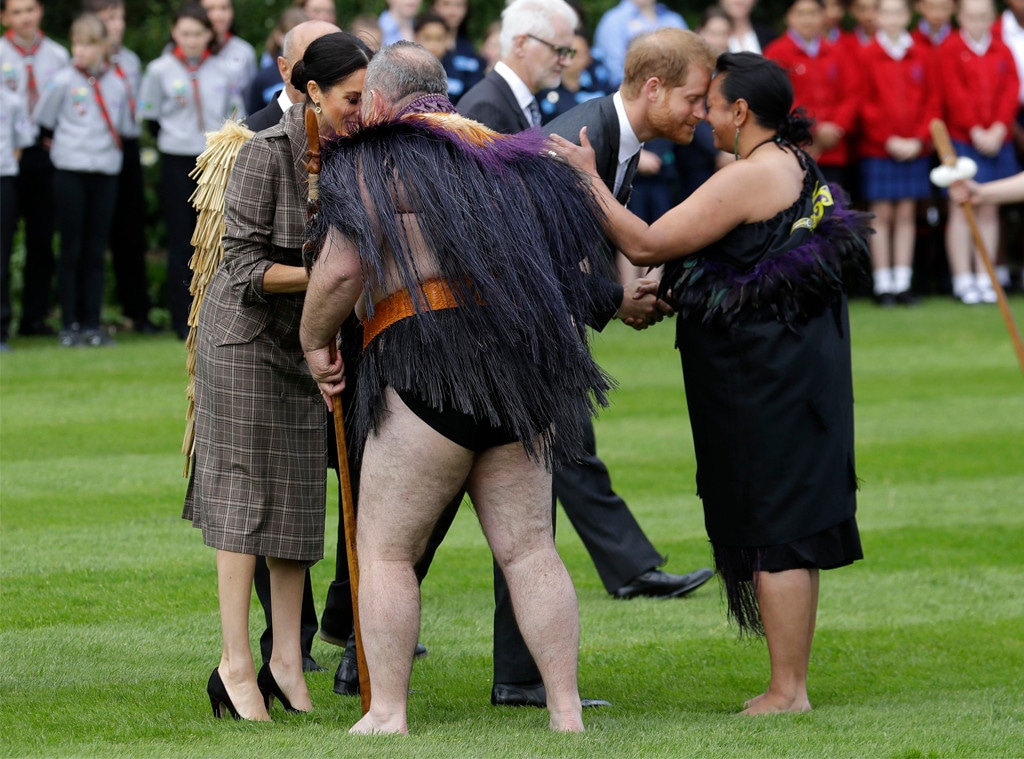 Kirsty Wigglesworth/AP/Shutterstock
The royal tour has officially reached New Zealand. 
Approaching the end of their 16-day tour, Prince Harry and Meghan Markle touched down in Wellington, New Zealand on Sunday to more throngs of ecstatic natives waiting to catch a glimpse, snap a photo or—hopefully!—exchange a few words with the Duke and Duchess of Sussex. 
But, first, it was time for the couple to be welcomed to New Zealand with a traditional Māori greeting—a hongi. A hongi, which serves a similar purpose as a handshake, is done by pressing one's nose and forehead to another person's. The royals are no stranger to the practice as they've both participated in a hongi at past events. 
Upon arrival at the Government House, Governor-General Pasty Reddy greeted the pair at her home and a Powhiri, a Māori welcome, began. The Duke and Duchess first rubbed noses with Kaumatua Professor Piri Sciascia and Kuia, Te Ripowai Higgins.
Kirsty Wigglesworth/AP/Shutterstock
Chris Jackson/Getty Images
Three Māori warriors then challenged the dad-to-be to see if he was acceptable of being invited in. Chief warrior and Warrant Officer Aaron Morrison from the New Zealand Army then performed a dance and placed a dart on the ground, which Harry knelt down to pick up and accept their challenge.  
While shouting a greeting and hitting his leg, Officer Morrison signified that the royal was accepted and could come forward to view a haka performance, a Māori war dance used both on the battlefied and when groups peacefully come together. 
When the haka ended, the royals greeted Officer Morrison and Officer Nikau with a hongi and then watched boys from the Hato Paora school perform a second haka in their school uniforms. 
Rosa Woods - Pool/Getty Images
Later, after the couple laid a wreath at the Tomb of the Unknown Warrior at the Pukeahu National War Memorial Park, they took a walkabout among the crowd. 
In addition to chatting with natives, the couple also accepted gifts, including a Buzzy Bee, a popular New Zealand toy, for their baby on the way, as well as a homemade red rose brooch from 10-year-old aspiring designer Alexandra MacKay, which Markle immediately fastened to her Karen Walker plaid trench coat. 
There was no shortage of sweet moments, including Markle comforting a crying fan. According to a reporter on location, the duchess spent "quite a while talking" to the teen. 
What a great mom the expectant royal will make!